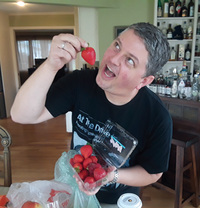 For Steve and Tracy Huff, charity begins at home.
The Yankton couple enjoys sharing family time in the kitchen, dining room and back patio. They also love rolling out the red carpet and entertaining guests, usually in kick-back style.
But their most rewarding moments may come when they offer up their culinary talents for a good cause. Their made-to-order meals, served at their home or anywhere else, have become big draws for local fundraisers.
'We do it for things like Dakota Theater or Habitat for Humanity in Yankton and Clay counties," Steve said. "We offer a meal and have gotten as much as $2,500 for a bid. The guests look at it as a donation, but they know they're coming for a good meal."
This time, the Huffs fired up the grill for a cause that hits close to home — the Science Olympiad program for the Yankton School District. Their son, Nathan, competes on the team and their daughter, Abby, has shown interest in trying out for it.
"We have done benefits in the past, but this is the first year we've donated a meal for the Science Olympiad program," Steve said.
"Tracy and I were sitting at (Science Olympiad) orientation. We thought, if they're going to be selling tickets on donated items, one of our meals would fit into that scheme really well."
The Yankton School District literally owns the state title. Its teams have won nearly every middle school and high school championship in the existence of the South Dakota competition.
However, maintaining the Yankton award-winning program and traveling to national competitions does bring expenses. The Huffs' fundraiser helps meet the price tag.
"We offered a meal for eight. We hoped to advertise it as a 'Huff Meal.' It would consist of any main course, your choice, along with all the appetizers and booze," Steve said. "We provide whatever you want, and we even provide the transportation. We take care of you, doorstep to doorstep."
The meal had no cap or budget, and the Huffs receive no compensation for their time or reimbursement for the food and drink, Steve said.
"We never even turn it in on our taxes," he said, referring to a charitable deduction.
For the Huffs, this fundraiser was different than previous ones.
"Before, people bid on our dinners at an auction. This time, it was given away in a raffle. People were only spending a buck (on a ticket)," Steve said. "It's a much better return for the consumer. It's a case of spending a dollar and it could mean 'winner, winner, chicken dinner.' But in this case, they're getting a porterhouse steak dinner."
Under the raffle, the meal was winner's choice. The Huffs were ready for any kind of entrée.
"We've done it all in the past — brats, hamburger, fish and shrimp," Steve said. "But this time, I suggested, 'If this is me, this is what I would do. I would go with the steaks.''
The winner agreed, going with porterhouse steaks.
"We had the steaks custom cut at Steiner's (meat locker in Yankton). We were at the $400 mark just for meat, and this is (valued as) a $1,000 meal," Steve said. "You paid $1 for a ticket and you get a $1,000 meal. That's a pretty good deal."
Getting Ready For Guests
On this particular day, the Huffs were busy preparing the meal for their evening guests. Steve rolled out 16 porterhouse steaks, with 12 for the raffle winner's meal and the other four reserved for a later meal with their own friends.
"These are great looking steaks. They knew right away, when they took them out of the locker," Steve said. "But you still trim off the porterhouses at home, to get rid of some spots like blood vessels. You get it ready to go on the smoker as soon as you want."
However, some fat is a good thing, Steve said. "These are very thick. There's marbling around the edges so it doesn't get dried out," he advised.
In this case, Steve was refrigerating the steaks until the guests arrived for the social hour. At that time, they could state their individual preferences for how well done they wanted their steak, and he would adjust the grilling times.
"My Traeger smoker can go up to 400 degrees and my Louisiana smoker can go up to 650 degrees. I'm using the Louisiana today," he said.
"The guests will arrive at 6 p.m. tonight, and we'll put the steak (on the grill) at that time. In the meantime, they'll have a beer or other drink. "We'll offer them a fruit and cheese tray with Dimock cheese, cherries and grapes."
Steve remains a huge fan of cheese made at the dairy plant in Dimock, a small town 15 miles south of Mitchell or about 70 miles north of Yankton.
The Dimock dairy uses farm-fresh ingredients and the old-time way of making cheese, Steve said.
"There are some certain types of cheeses that just seem to me to be naturally awesome," he said. "I like the garlic and parsley. And Dimock makes Colby longhorn cheese. You see Colby and longhorn, but hardly see Colby and longhorn together. You also have the goat pepper cheese, jalapeno cheddar, horseradish cheese and a bleu cheese to die for."
But back to the steaks for a minute.
Steve planned to use his own rub for grilling, and he prepared grilled onions covered with oil and rub. He put the onions on toothpicks for sampling with the rest held back for the grilled meat.
The meat isn't the only start of the meal. Steve's "salad" isn't your standard bowl of lettuce. He again redefined the opening course by putting together a vegetable combination sure to please.
He grilled 12 ears of farmer's market, non-GMO sweet corn for some brown coloration. The kernels are cut off the cob and combined with banana peppers, chileno peppers and green peppers.
"This salad is pure vegetable," Steve said. "I used banana peppers from the (Hutterite) colony. They were really sweet. The chileno and green peppers are what you see mostly in the Hispanic culture and cooking. It's all a nice contrast, and you get some crunch."
When it came to the corn-and-pepper salad, Steve was left with a couple of pre-dinner decisions.
"With this crowd (coming for the meal), I didn't' know if I wanted it on the high end of spicy," he said. "I'm also not sure if I want to serve it cool or warm it up. I put it in the fridge, but I might want to put it back on the smoker."
Despite the warm weather, the Huffs were excited to host the party on a summer evening.
For Steve, it wasn't just about the weather.
"In the summer, you look at all the fresh food out there, like the cherries right here (on the counter)," he said. "You can be outside and have the world at your feet for raw ingredients (from the garden). And if your nights are too busy, start earlier. Get some bacon on the smoker and have breakfast together as a family. It's not hard at all."
While Steve tended to the steaks and salad, Tracy worked on the just desserts.
"This is flat chocolate. I roll it onto the pan, then put it in the smoker just like an oven. When it's done, I cut it into squares," she said. "I'm making naked brownies. When it's done, you can build your own brownies with ice cream, homemade caramel sauce and other toppings. I may put out sprinkles."
When it comes to brownie toppings, anything goes, Steve joked. " There are no rules. We don't judge you in the Huff house," he said with a chuckle.
Party Time!
The Huffs are no strangers to putting out a full meal with porterhouse steaks. However, the raffle winner's meal proved a far smaller task than a previous request from another party.
On that occasion, Steve said he received an unexpected early morning call on his cell phone from Yankton resident and former mayor Jake Hoffner.
"I was sitting in the McDonald's drive-through at Mitchell getting oatmeal. I was on the way to a deposition or client meeting," said Huff, an attorney.
"The phone rings, and it's Jake on the other end. He said, 'Can you do me a favor? We're having a 60th birthday party, and we want it to be at your house. Can you do it for us?'" Huff recalled.
"I said, 'Sure, what did you have in mind?' Jake told me they would have 40 people and wanted porterhouses. This was a Tuesday, and they wanted the meal for the following Saturday."
After being a bit stunned by the logistics, Huff said he felt up to the challenge and agreed to the request.
"For that meal, we had to wing it. We went with five T-bones rather than all porterhouses. You can get T-bones pretty good on short notice, but the porterhouses are a lot tougher. (The guests) were all right with the T-bones," he said.
"I did 20 with salt and pepper, and 20 with a steak rub that consisted of lime juice, Worcestershire sauce, powdered mustard and white peppercorn. The crowd was pretty torn. They went 50-50, maybe even a 60-40 split for the salt and pepper."
Hoffner tried to pay for the meal, but Huff turned it down.
"I did it as a favor, as a way to thank Jake (as a pilot) for what he has done for the kids," Huff said. "Every year, Jake gives free flights to Big Friend, Little Friend. He's been doing this for 20 years, since I came to Yankton. Jake is losing his shirt on the fuel cost, but he doesn't care."
The timing for the Hoffner party was unusual, Tracy said.
"This wasn't a nighttime party," she said. "They came in at 1:30 and were gone by 4 o'clock."
Steve said the group had spent the morning on the Missouri River or Lewis and Clark Lake. "It was a fun birthday party, and a great time was had by all," he said. Steve said he had no qualms about rolling out the free meal for such a large gathering.
"That's one of the meals I would do for an honored guest or a really close friend. In fact, I'm planning such a meal for a buddy and his son," he said. "It'll be a Beef and Bourbon meal with the porterhouse steaks and drinks. My buddy doesn't get to treat himself (with special evenings) like he should. This is a way of saying 'thank you' with a great meal and bonding. It's not like I'm expecting anything (in return). It's just a good karma thing."
Practice Makes Perfect
The Huffs believe that practice makes perfect. They experiment with their own meals for pleasure and for whatever requests they may get for their special dinners.
"We really like crab legs. Two weeks ago, Tracy and I were shopping for (ingredients for) jambalaya pizza, and here were the biggest crab legs I have ever seen in the Midwest, whether it be at the meat market or fish counter. We took four legs, 3 ½ pounds of crab, and paid $100. That's $30 a pound," Steve said.
"They were already pre-cooked, but they were so big we broke the knife tip off on the sucker. Now we have an even bigger knife. I may never see crab legs that big again."
The Huffs prefer their crab with melted butter and chopped garlic. They used the crab as part of a mash with corn, potatoes cilantro, brown mustard, salt and pepper — like a seafood boil.
"In order to put out good fundraiser meals, and get good donations, you need to widen your menu," Steve said. "I considered (the crab meal) as our research and development project."
Good Food, Good Times
For the Huffs, food is more than nutrition or satisfying hunger. For them, food is about sharing, love and friendship.
"This goes back to the Bible. How many times does the Bible talk about food, meals, bread? In fact, it goes back even earlier, to Greek and Roman times," Steve said.
"And you find the same thing in politics. We need to go back to the way it used to be done. Let's get rid of the electronics and let's have a meal where we talk together and communicate. We share each other's company and joy. People put down their differences and say, 'We can deal with it. Together, we can work out all of the challenges.'"
Food can provide a bonding experience in the kitchen or at the grill, Steve said.
"For Tracy and me, one of the best ways to unwind is to cook," he said. "We start talking about things we never thought about before, but it relieves your stress when you bring it up."
Food also brings comfort, Steve said. He told stories of how good food can bring back great thoughts even for those struggling with memory loss. The good times associated with the sights, smells and tastes of good food in turn strike a chord with everyone.
"We had one Thanksgiving meal where the family demanded that I do it without anything traditional, not one thing," he said. "I thought, 'OK, I'm up for the challenge,' and we did it."
Whether it's a benefit for a good cause or just time with family and friends, the Huffs want to maintain their reputation for a first-class experience.
"When they go with Steve and Tracy, they know they're going full bore," he added with a laugh.