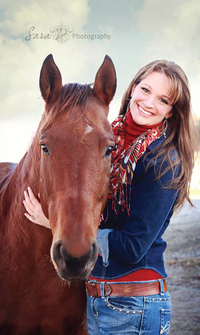 Dr. Erin Schroeder, owner and veterinarian of Cedar County Veterinary Services, has the remarkable ability of balancing a growing family and successful veterinary career alongside husband Dr. BenSchroeder.
Schroeder was born in Westport, New York, a small town located only a mile and a half south of Montreal, Canada. She was an only child of father Michael Pratt who owned and operated a lumber mill and mother Cynthia, a librarian at the State University of New York at Plattsburg. Schroeder attended school at Westport Central School and was salutatorian of her class.
After graduating high school, she received a full athletic scholarship to Syracuse University for women's basketball and obtained her Bachelor's degree in Biochemistry with a focus in molecular genetics.
She further attended school at Kansas State University and obtained her Doctorate of Veterinary Medicine in 2004. During this time, she met Dr. Ben Schroeder. They fell quickly in love, were engaged two weeks after they met and were married six months later.
She has always loved working with animals and knew from a youngage what she wanted to do as an adult. "I have always wanted to be a veterinarian. Even as first grader, I knew that this would be my career goal," she explains. Her parents were very supportive of her and allowed her to follow her dreams and encouraged her put effort and hard work into opportunities that she pursued.
She admires her parents' personality traits. "My mom is the hardest working person I know and I only hope that I have half the toughness and gumption she has! My dad was very entrepreneurial and dared to push the envelope. He helped me see that if you are willing to believe in yourself and add some blood, sweat and tears to your dreams, you can make them a reality."
She also looks up to her husband, Ben, stating, "It is a cliché that you hope to marry your best friend, but he is truly my rock. When one is down, the other one lifts (that one) up. When we have different opinions, we respect each other enough to debate and not just agree to avoid conflict. We are just really passionate about what we do and not only love, but actually really like each other!"
Now married for more than fifteen years, Ben and Erin have added two sons to their family, Charlie, age thirteen and Chase, age eleven. A tight family, they do most of their activities together as a group. The boys are devoted basketball players and both Ben and Erin find time to coach junior high boys basketball at Cedar Catholic High School in Hartington, Nebraska. They also coach 5th, 7th and 8th grade boys' basketball travel teams.
Schroeder explains how she and husband Ben joined Ben's father, Dr. John Schroeder and his wife Sally's practice at Cedar County Veterinary Services (CCVS) in 2004. They bought the practice from them in 2007. At that time, they had four support staff members and had an office in Hartington and a small satellite in Coleridge, NE. They have since grown to open a satellite clinic in Vermillion, a location in Yankton, including seven total veterinarians, eight licensed technicians, eight other full time support staff and two-part time staff.
When she began working at CCVS in 2004, her duties ranged from cleaning kennels, grooming dogs and veterinary work. She explains that she "even drove a combine to help generate the income needed to keep things going. Dr. John took a huge leap of faith to have us come back and work with him. He really put his neck out there to get his son and I back home to be part of the family practice. I felt that I had to do whatever it took to make it all work!"
They grew their small animal and horse portions of the clinic over time and expanded their large animal services. Balancing the clinic and family life was challenging, as Schroeder explains that they would often take the boys with them to care for cattle all day. It's great to see a couple with a good sense of humor as she explains their romantic date nights. They wouldn't spend the evening going out to eat or going to movies, but would spend time together as they would help with the birth of a calf or performing a foreign body removal on a dog. I laugh as I picture it because it's not really the ideal date night!
Schroeder headed up the small animal departments in the growing clinic and worked in the new clinic. She mentored new staff, training them on the CCVS philosophy. She now takes on a management position and oversees much of the clinic operation. As she explains of her recent managerial role, "l still fill in as needed, but I also get to spend more time in my favorite role, mom."
She loves to see how their vision for the growing practice has become a reality. "We have doctors who are absolutely brilliant and our technicians, receptionists and other staff provide second-to-none support, care and TLC to our patients and clients. That was our dream from the start, to provide outstanding patient and customer care for the people and animals of Northeast Nebraska and Southeast South Dakota," she explains.
Running the business of veterinary medicine, she feels is the most difficult part of her job. Those that choose to work in the veterinary field are not in the field for the money but are in it purely for the love of animals. "When someone has an accident, they can walk into a hospital to have emergency care and no one worries about how the bill gets paid until later. As a small business and veterinary hospital (compared to human medicine), we unfortunately don't have that luxury. That is the toughest part of my job- trying to provide the best care we can for our patients and clients while making sure that I take care of the people who are providing that care."
People are becoming more attached to their companion animals, such as pets and horses, and are viewing them as family members, feeling that they deserve the same care as a child or spouse, she explains. Pet owners are seeking information from diet and healthcare to entertainment and travel."Livestock farming has also changed and owners have accountability for the food that they raise, while also increasing the transparency of their farm practices to their consumers. For the veterinary business, both livestock and companion animal owners/"parents" are demanding a higher level of expertise and very individualized patient care plans," she continues.
Though I had never heard of the term "designer" breeds, she said more and more people are seeking them. These are new breeds of dogs which are created by crossing two purebred dogs of different breeds. Examples Schroeder gives are Pomskis (Pomeranian crossed with Husky) and Labradoodles (Labrador Retriever crossed with Poodle). These dogs, though often very expensive, can be wonderful pets.
She feels that there are wonderful, responsible breeders with a beautiful, healthy line of dogs but unfortunately there are also breeders that are irresponsible and create puppies that have congenital disorders and health problems. She advises, "Like anything in this world, there are lots of both good and bad folks out there, do your research. We work closely with Heartland Humane Society as well and there are lots of wonderful mutts and cats out there that just need some love."
Schroeder enjoys seeing the pet industry evolve to include preventative care and what she refers to as "fire engine" medicine. She explains, "People are trying to make sure that their pet's health is monitored to detect any changes early so that we can help slow or stop these things before they cause a reduction in quality or quantity of life. We have tried to help educate our clients that every 6 months for us equals about 3.5 years to your pet and a lot can change in your pet's health over the course of a half a year. However, if detected early, many of these things can be corrected or controlled with diet changes, supportive therapies and non-invasive modalities, keeping your beloved furry family member happier and healthier longer!"
She believes that the pet industry is leading toward individualized patient care. Each animal is different, with no one animal having the same genetics, family, lifestyle or exposure to disease as another. She explains one household may include a variety of indoor and outdoor pets. Because each of these pets will have different diets and maintenance needs, it is up to your veterinarian to make individual recommendations for each pet based on their individual needs and history. "That is where we feel our clinic is really on the cutting edge. There are core health concerns for each species and recommendations that the American Veterinary Medical Association (AVMA) makes, but it is the veterinarian who puts all the pieces of puzzle together and customizes that program to YOUR pet," she states.
Compassion, fairness, thinking outside the box, and not being afraid of change are Schroeder's best attributes, and said she has been known to try to do too many things at once. Her children are her pride, Schroeder crediting them for being the reason to push through the tough days and do it with a smile. "Those boys are the best thing that I have or ever will do," she explains.
She manages to find time for one of her main hobbies in her busy lifestyle, remodeling and designing buildings. She has remodeled all three CCVS clinics and her personal farmhouse and is currently remodeling the Globe building in Hartington, NE. This will be the new home of their vintage/antique store, The Rusty Mustang, which is currently located in the back of the Yankton clinic. It will also serve as the home to The Globe Clothing Company which will offer boutique style clothing and The Globe Interiors, decor and home accessories.
Though Dr. Schroeder has many items to balance: a family, children, activities and a growing veterinarian business, it appears like she's found the ideal balance judging by her success. The traits she inherited from her parents have proven that hard work and determination could turn a young girl's dream in to a reality.