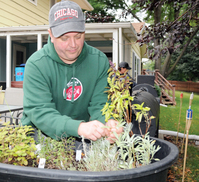 With the fall garden harvest in full swing, Steve Huff decided to add some zip to his meals.
On this Saturday in October, Steve and his wife, Tracy, had spent the morning at the Farmer's Market in downtown Yankton. The Huffs were pleased with the bountiful produce now spread out in their kitchen.
"This all came from Hebda Gardens," Steve said, referring to the orchard and farm east of Yankton.
The Huffs are frequent visitors to the farmer's market. They like the idea of supporting local farmers and purchasing fresh produce from known sources.
"We usually shop there, and I love it," Tracy said.
The local produce takes cooking to a new level, Steve said.
"You can really tell the difference. It's better tasting and actually cheaper," he said. "Fresh food is very affordable, but you have to buy what's in season and stock up. For $100, you can pick up a good load of organic vegetables."
At the time, two particular vegetables were in good supply.
"Tomatoes are huge right now," he said. "You just cut them up and throw them in with some balsamic, salt and pepper, and fresh basil. Add some mozzarella cheese, and you have a delicious salad."
Corn was also coming into greater supply, Steve said. "Right now, corn is cheap as heck. You can get 12 ears for $5 or even $3," he said.
The Huffs had definite plans for their produce, and they worked quickly. That evening, they were hosting guests who had secured the dinner through a Dakota Theater fundraiser.
"I was concerned about the weather. It could rain, so I moved back our prep and cooking time," Steve said. "The preparation and pre-cooking is very important. Together, (Tracy and I) need to be skilled and focused. As a team, we can do it."
What's For Dinner?
The Huffs have become known for donating and hosting meals as a fundraiser for local charities and organizations. They open up their entire house, encouraging guests to mix, mingle and wander.
"We're expecting 12 people tonight," Steve said. "We're giving them some grace. Usually, we limit it to eight or 10 people, but we're not going to turn down two additional people, and it's for a good cause."
So, what's on the menu?
"I went wild. They told me they wanted eggplant and they wanted meat. I said, OK, so I went for braised short rib osso buco. It's an Italian dish that is a little bit rich. It's typically done with veal and pork. It's rarely done with beef short rib, but I decided to get after it and use ribs. I also went with brisket for this meal," he said.
"As for the eggplant, I went with eggplant parmesan for an appetizer. It's pure veggie and pure love. You may have someone who says they don't like eggplant, but they love cheese. We use Dimock cheese, and it's the best cheese. You can prove it with relative ease."
The osso buco represented a roll of the dice, particularly for a houseful of guests who paid top dollar for the meal.
"I love it, but I've never made it at home," Steve admitted. "But today, I had the right ribs, the right equipment and I can get all the raw ingredients at the farmer's market.
Osso buco can be tricky, as it requires a great deal of time and preparation, Steve said.
"It can take a half-day to a full day to make, and that doesn't include the prep time. I started yesterday with getting things ready," he said.
"You're taking meat that you're searing and braising. You introduce it into a pan with vegetables and it becomes a delicious, almost soupy dish."
When it comes to beef ribs, Steve noted many Americans associate the meat with Korean, Chinese or other Asian cuisine. But in this case, he made ribs the base for an Italian favorite.
Steve wasn't short-changing his guests when it came to the meat.
"These suckers aren't small. You have 12 of them, and they're big," he said of the ribs. "I took these bad boys and brined them in beef stock, wine and tomato juice. I gave them a good vegetarian prime rib rub that I made myself. I dried them off, put on more rub and seared them at 450 degrees."
The ribs would need to share the stage — or in this case, a massive pan loaded with other ingredients.
Steve combined four cups of beef stock, two cups each of red wine and white wine, and a tomato sauce made at a Hutterite colony. He added tomato paste and the trinity of carrots, celery and onions.
"For this dish, I'm substituting Swiss chard as my celery because it has the same look and taste," he said. "I'm also a fan of kale, because it has more flavor to me. You can do different things with it, like grilling kale and adding bacon. Dude, you've got a whole different deal.
"I like spinach, but you can also put kale instead of spinach with eggs, a soufflé and frittatas. And for salads, if it comes down to spinach, iceberg lettuce and kale, I'll take kale."
For the osso buco, he added bacon for flavoring and fat.
What is it about bacon that draws raves?
"There's a deep love of bacon. It matches with almost anything," he said. "You take Brussel sprouts. That may be something that most people might not eat. But you put bacon with it, and people want to try it. The bacon makes vegetables something to behold."
While loaded with meat, osso buco is also appreciated for the vegetables and stock, Steve said.
"There's no better meal on earth," he said. "Tracy doesn't like it as much as I do, because it's a meat-oriented dish. But she does like it as a side with all the vegetables and the meat juice on it."
A Second Selection
Not satisfied with one meat dish, Steve added brisket to the menu.
"I'm doing the brisket low and slow, 150-180 degrees until I get the color I want," he said. "It's been on since 11 a.m., and I can see it's been cooked through."
When it comes to the best meat, Steve differs from the opinion of others.
"Here in the Midwest, people consider the prime cuts to be filet mignon, ribs and top sirloin," he said. "I consider it to be the brisket, flat irons and skirt steak. Those cuts are less expensive, leaner and I think taste better."
Steve advised that some fat is good, as it provides meat with flavor and marbling.
"People need some fat, unless they have health concerns such as a heart attack or stroke," he said. "Most people can take fat in moderation. Those with health issues won't eat an entire side of bacon, but they can eat the ends. If you have any kind of beef, just cut off the fat. You can cook with some fat. It keeps things moist and not dry as a hockey puck."
Steve considers himself a fan of Tex-Mex and Southwestern food. He also enjoys barbecue, which can mean different things to different people.
"Barbecues are a national phenomenon," he said. "But there is a difference in barbecue when you're talking Texas, Memphis and Kansas City."
Steve also likes Greek food, dating back to his childhood in Sioux City. He noted the ethnic stores that still operate in Sioux City, including Hispanic, Asian, Greek and Jewish.
But back to the task at hand in preparing for the Dakota Theater group.
A Spicy Kick
To open the evening with a spicy kick, the Huffs made their own salsa verde to go with chips. The decision added a little uncertainty.
"We're deciding how this will work out because we made it fresh," Steve said. "But as far as produce, this is coming from the Garden of Eden. This is a very healthy dip, and there's a lot going on in your mouth."
Steve believes in grilling and smoking vegetables, which he did for the homemade dip.
"We have the green tomatillos that we pulled the husks off and threw on the smoker, the pablano peppers painted with oil and throw on the smoker; and the jalapeno peppers thrown on the smoker. We also have the red fresno peppers," he said. "I didn't even wash them because I'm going to peel the skins anyway."
He also likes ancho and pasilla, which are milder chili peppers.
Steve prepped another ingredient outdoors by cooking the corn.
"The best way is to throw corn right on the grill and leave on the husks. It cooks the corn from the inside out. You don't even need to wash the husks, because you can peel the corn all the way down to the cob and the moisture is already in there."
Steve also took the skin off garden fresh onions, cut them in half and put them on the grill. After the peppers were done, he peeled off all the skins. Then, he threw all of the ingredients in the blender.
The result was a colorful and kicky salsa verde that went well with the chips. Tracy preferred the blue corn chips, which added more color and a different taste to the combo.
"The blue corn chips are much healthier because they have less sodium in them," she said.
The day was already a long one, even before the guests arrived. Before heading to the farmer's market, Steve cleaned the grill to ensure food safety. He operates two smokers, the Louisiana that gets up to 600 degrees and the Traeger that reaches 450 degrees.
While Steve finished the meat, Tracy was polishing off the Rice Krispies treats with a coating of melted chocolate.
"I think a good dessert is important," she said, choosing the treat to fit the rest of the meal.
Tracy likes to use variety and creativity for the bars.
"I use all sorts of cereals as the base. I use corn flakes and even Frosted Flakes, which is Steve's favorite," she said. "For the topping, I'm using melted Nestle's chocolate chips, heavy whipping cream and butter. I'm also using cocoa and marshmallows."
Looking Ahead
The Huffs already have another benefit dinner on the horizon. They offered a meal as a fundraiser for Dive In Yankton, the proposed new aquatic center.
"We drew a bid of $1,250," he said. "Then we got a call from the high bidders who said, if they could double the number of guests, they would double the donation to $2,500."
The donation floored the Huffs, who gladly accepted the change. The meal will set a personal record for them in terms of number of guests and the donation.
"This is a chance, once in our lifetimes, to replace the Memorial Park pool which has been out of date for years. It's an opportunity to raise money for a good cause," Steve said.
"We haven't figured (the meal) out yet, and they haven't given us any requirements. But knowing this crowd, I think it will be something like porterhouses."
The Huffs see their donated meals as a labor of love.
"I had a long week at work this week," said Steve, an attorney for a Yankton law firm. "I typically take off Saturday and work on Sunday, if needed. But this is a nice therapy day for me to cook and to be around my family. And we'll join the guests tonight for the meal."
While others have put away their grills for the season, Steve sees many good opportunities still ahead.
"We have leaves on the ground and it's crisp in the afternoon. We're now in true barbecue season," he said. "I won't cook outdoors on the grill when it's zero degrees or below and there's a high wind. At that point, the grill is struggling to stay warm.
"I think the dead zone for grilling is between Christmas and March. That time of year, you're lucky to get a couple of days a month out of it. You have snow on the deck and you want to try as best you can not to freeze to death."
Tracy said she's enjoying the change to autumn.
"As far as fall cooking, I absolutely love this time of year," she said. "This is the time of year I would use the smoker for things like soups, stews and even the naked brownies (without frosting)."
Regardless of the season, people enjoy coming together for a meal, Steve said. "People like breaking bread together," he said.
He asks the same question, whether it's a meal for family, friends or even strangers.
"How do we thread the needle so it tastes good, looks good and brings us all together for a good meal and a good time?" he asked.
Tracy thinks the couple has found the secret to making people feel comfortable.
"I think, by word of mouth, they know it's going to be a good time," she said. "They may not know what to expect, but they know they won't need to worry once they get here."
The Huffs hope to spread that message through His Voice and other avenues.
"People want to enjoy good food and each other's company," she said. "You can celebrate the entire year. You don't need a season."
Steve agreed. "Just celebrate life!" he said.