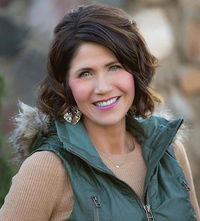 On Election Night 2018, Kristi Noem smashed one of the last major glass ceilings in South Dakota politics. The Republican became the state's first female governor.
The Castlewood native has built a career of public service at both the state and national levels. She was first elected as a South Dakota state legislator and then as the Rushmore State's lone representative in Congress.
In claiming the House seat a decade ago, she defeated the first woman to hold that seat, Democrat Stephanie Herseth Sandlin.
Now, Noem has returned from Capitol Hill to take another political role much closer to home.
Noem emerged from two 2018 political battles on the path to the governor's office. She won the hard-fought Republican primary over Attorney General Marty Jackley, advancing to the November general election. She then emerged with a tight victory over Democrat Billie Sutton, with Libertarian Kurt Evans as a third candidate.
During the 2018 campaigns, Noem said she didn't play up her role as a female candidate. In a mid-December interview, she described herself to the Press & Dakotan as a candidate who happened to be a woman.
"I didn't run for governor asking people for their vote because I was a woman. I wanted them to vote for me because I had the best experience and was the best person for the job," she said.
"But now that we're past the election cycle, I'm recognizing how special it is to many in the state (to have a female governor), especially young women who want the opportunity to show their leadership in the future."
Other women have run for governor and even won their party's nomination. However, Noem became the first female to achieve the ultimate goal.
She finds the timing of her win as historically significant.
"It's been 100 years since women got the right to vote," she said. "So in this centennial year, it's pretty neat to be sworn in as South Dakota's next governor. I'm starting to recognize the historical importance of it. This may encourage more women to run for office."
Noem's win came during what was termed "The Year Of The Woman." For various reasons, increasing numbers of women ran for — and won — office at different levels across the nation.
While Noem's victory came during the wave, she doesn't believe her gender played the defining role in her gubernatorial triumph.
"I don't think it's part of the setting. The post-election analysis that looked at the race said I didn't win because I was a woman. I won because of my stands on the issues, my platform and what is important to our state," she said. "The 'Year Of The Woman' was certainly a national narrative. But in our (South Dakota) races, we tend to elect people based on who they are and their stands on the issues."
Taking On A New Role
During her campaign, Noem emphasized her experience and the relationships she had built both in Pierre and Washington. However, she told the Press & Dakotan that congresswoman and governorship represent very different offices.
"In Congress, you're fighting for South Dakota's values as one of 435 House members," she said. "It's very important work, but as governor, you're CEO of the state. It's a very different role with its responsibilities and decisions that you make every day."
At the time of the Press & Dakotan interview, Noem found herself with a foot in both Washington and Pierre, transitioning out of her U.S. House office and into the governor's seat.
"I'm wearing two hats right now, but when I become governor I need to hit the ground running," she said.
"The transition has gone well, but we have to make a lot of decisions (as the incoming administration). We have to hire staff, we're appointing cabinet members, and we're preparing the state budget and policy proposals. It all has to be finished before the Legislature begins its session January 8."
Gov. Dennis Daugaard, who held the office for the past eight years, has provided tremendous assistance in the transition, Noem said.
"Governor Daugaard has opened up his books as far as running his office," she said. "We have spent hours together, going over information and background on how he made his decisions. I can use that information in making my own decisions."
At the same time, Noem is closing down her U.S. House operation and handing the reins to her GOP successor, Dusty Johnson.
As she leaves Congress, Noem noted the passage of a farm bill. She has also spoken of the need to keep open the Yankton Federal Prison Camp, which had been the subject of possible closure under federal budget cuts and streamlining of the U.S. Department of Justice prisons.
"I'm wrapping up things in Washington," she said. "I have given Dusty all of my files, emails and contacts so he's able to hit the ground running from where I left off. I don't think people will sense any changes (in the office's operation)."
Making Good On Promises
As she takes charge of the governor's office, Noem seeks to follow through on her campaign promises.
"I am committed to my 'Four Pillars of Protection' against higher taxes, big government, federal intrusion and government secrecy," she said. "It will require collaboration and input to preserve these values, to improve our education and workforce training opportunities, and to tackle drug abuse and crime."
One of the Noem's first major tasks in office is presenting her budget
to the Legislature.
"I'm working on a balanced budget without raising taxes," she said. "And we have several pieces of legislation that we're getting done."
Noem has laid out a number of areas she wants to address during her administration. She spoke to the Press & Dakotan about this issue during a November stop in Yankton.
Those areas include more vocational programs and other educational opportunities, in turn benefiting workforce development. Agriculture will continue to remain a top priority, she said.
In addition, she sees herself provide an important face in representing the state in trade talks, business recruitment and other official capacities.
"The governor is the salesperson-in-chief, who will go out and promote our state," she said. "My experiences are very different. I have started and run a business. I have been a manager and a boss. I have served in the Legislature in leadership and understand how federal dollars impact our state. I hold a unique perspective that we've never had in the governor's office."
During her political career, Noem has also targeted the importance of social programs and quality of life. She has spoken out on issues such as drug and alcohol abuse, which in turn often leads to crime and imprisonment, and the growing problem of human trafficking.
Noem has also spoken out on the importance of mental health issues, including needed funding and staffing at the Human Services Center in Yankton.
In addition, Noem has emphasized the importance of partnering to make the most of state and federal dollars. At the same time, she stressed her record of standing up for South Dakota's rights, particularly in dealing with federal agencies.
As governor, she plans to work with initiatives to protect South Dakota's resources. Those issues range from improving habitat to fighting Missouri River sedimentation.
As governor, Noem is drawing upon her family for assistance in her administration. Her daughter, Kennedy Noem, worked with the campaign and transition team, and Kennedy will serve in the administration as a policy analyst.
And with Kristi Noem as the first female governor, husband Bryon Noem becomes the state's initial "First Gentleman."
Byron Noem will have ceremonial duties, but he also plans to offer his talents to serve the state, Kristi said.
"Byron will have initiatives that he'll be working on," she said. "The advice that (former First Lady) Linda gave to him is to wait six months and find out exactly what is the most effective way to use his time."
Byron Noem holds an agriculture and business background, and he already has ideas on how he can serve the state, Kristi said.
"He cares passionately about small towns and the history of this state," she said. "He wants to help small towns to be successful and to preserve our way of life in South Dakota."
With fewer than a million residents, South Dakota is considered a large land base with few residents.
Kristi Noem likes the idea of governing such a state.
"We're a small state. Many people talk like that's a challenge. But I view it as a huge opportunity, because we can do a lot of things in a very flexible way," she said. "We can be innovative and do a lot of things that other states can't do."
Commander-In-Chief
Noem's administration isn't limited to domestic affairs. As governor, she serves as commander-in-chief of the South Dakota National Guard (SDNG).
She faces an immediate task in replacing Adjutant General Tim Reisch, who announced he will retire in June.
The replacement selection will follow a set process, Noem said. Candidates will undergo background checks and interviews before a final decision is made on Reisch's successor.
Noem noted a connection, as her father served in the National Guard. In addition, she served in the U.S. House on the Armed Services Committee.
"The military has always been special to me," she said.
Noem received another reminder of her role as commander-in-chief when she attended the December activation ceremony for the Yankton-based Bravo Battery of the 1/147th Field Artillery of the SDNG.
The 114 members — which includes Bravo Battery, Alpha Battery, Higher Headquarter Battalion and Forward Support Company — are serving in Europe as part of Operation Atlantic Resolve.
During her remarks at the activation ceremony, Noem referred to the local soldiers' courage in taking on the mission a strategic — and possibly volatile — part of the globe.
"We live in the greatest country on earth because of these brave men and women who are serving so we have freedom every day and can enjoy that freedom," she said.
She pointed to the significance of Yankton as the birthplace of the South Dakota National Guard and the 100th anniversary of South Dakota soldiers returning home from World War I.
Noem told the Press & Dakotan she was struck how many of the deploying soldiers had very young children.
"I think it's impossible for me to understand the sacrifices they're making. I look at the crowd and see so many little kids. Some many of those kids are under the age of 5," she said.
"But what's neat about this community is that it stands along with these families. These soldiers will miss events (in their families' lives), but the community will stand alongside their families when it comes to juggling responsibilities and paying bills, the (things of) day to day life."
Bravo Battery's ranks now include female soldiers. Noem noted those women who are deployed on the mission.
"In this battery, of the 114 soldiers activated today, 10 of them were women. I was talking with those women and visiting with them. Some have very small children, which is a definite element," Noem said.
"I have visited war zones in other parts of the world and have talked to women who left theirinfants to serve and defend this country."
Regardless of gender, the Bravo Battery soldiers are completing a vital mission in a strategic part of the world, Noem said.
"These soldiers are going to Europe and deploying to show our strength to the rest of the world, specifically Russia. by their presence in Poland," she said.
"(They are showing that these Americans mean business and will protect our country and not let bad actors thrive and conduct their nefarious activities.
"We're sending a strong message on the world stage, with South Dakota playing an important role, that we will defend freedom and that America will remain the leader (of the free world)."
As she takes office, Noem wants to lead the Rushmore State to a better future.
"It's very important to be the first woman (to become South Dakota's governor), and it's very humbling to be part of this whole process," she said.
"Going forward, I want to create opportunities and to take South Dakota to the next level, where we want to be."