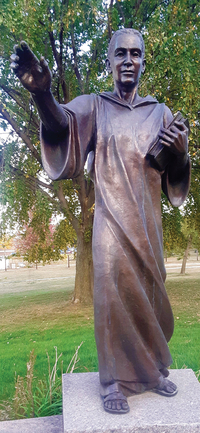 Sacred Heart Monastery has been a beloved fixture in Yankton since the early 1900's, and its towering steeple is a symbol of enduring faith and serves as an easily recognizable landmark. Many people may have heard of the Benedictine Oblates without knowing about their beautiful history, which has only grown richer over time. While the teachings of Saint Benedict goes back over 1,500 years, it continues to inspire people to this day, with new followers continually wanting to learn about his tenents. Lay people who have chosen to live their lives guided by his wisdom are known as Oblates. Sacred Heart Monastery freely offers this guidance to anyone interested in learning with an open heart. The lay people who feel drawn to this path are usually seeking a deeper relationship with God and more meaning in their lives. Many are striving to balance and integrate various aspects of their lives with their spirituality. Oblates seek to incorporate Benedictine values into their daily lives, and share this living spirit of the monastic community with others in their personal and professional relationships.
The Oblate's Prayer is said at the beginning of each gathering, and is a perfect example of the oblate's purpose.
O Loving God,
I ask your blessing this day
on all the Oblates of Saint Benedict
and those with whom we are affiliated.
Help us to become people
of prayer and peace.
Though scattered far and wide,
help us to be together
in the spirit of your love.
Give us hearts wide enough
to embrace each other
as well as those
whose lives we touch.
Enable us to listen and to learn
from each other
and those around us each day.
May we be models
in our homes, neighborhoods,
and communities
of wise stewardship,
dignified human labor,
sacred leisure,
and reverence for all living things.
Above all, O God, may our presence
among others
be a constant witness of justice,
compassion, and hope to all. Amen.
Sister Patricia Heirigs has been the Oblate Director for Yankton since 2014, and has an extensive knowledge about the formation of the oblate program which was first offered at Mount Marty when it was a junior college in the 1940's. Even then, the students on campus were considered an integral part of the Sacred Heart Benedictine Community. To strengthen the ties between them and the Sisters at the monastery, the Benedictine Order began the practice of teaching the Rule of St. Benedict to the young Christians who were eager to implement it.
Oblates of St. Benedict come from all over the world with varying Christian cultures and faiths, and all are affiliated with a Benedictine monastery. While lay oblates don't live in the monastic house, they are associated with their monastic communities in a mutually supportive bond of prayer, love and commitment. Oblates are Sister Patricia Heirigs people whose lives are shaped by Benedictine spirituality and they follow his rule as best they can in often complicated times. Oblates are considered as representatives of the monastery out "in the world".
Over time, the Yankton chapter expanded and grew and six additional chapters were formed. Sister Phyllis Hunhoff began one in Lincoln, Nebraska in 1993. In the ensuing years, additional groups in the nearby towns of Hastings, and Steinauer were incorporated. An additional chapter was formed in Sioux Falls, SD as well, facilitated by Sister Barbara McTague. Sacred Heart Monastery has also begun the only online Benedictine oblate chapter in the world in 2005. Sister Bonita Gacnik is the online oblate director and believes that the online group is a perfect option for people who have obstacles in time, location, circumstance or simply personal preference. She says that "There are as many reasons why people choose to be an online oblate as there are people."
At home in Yankton, Sister Rosemarie Maly has been the Assistant Director of Campus Ministry and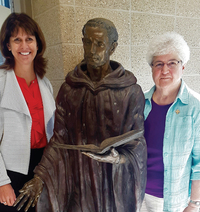 the Associate Director of the Sacred Heart Monastery Oblates since 2017. She leads the group of Mount Marty University students, staff and faculty members which meet regularly on campus. Sister Maly has been genuinely touched by the sincere interest from those at Mount Marty, and has felt particularly blessed by getting to know everyone and developing strong, lasting friendships. For a person just beginning to learn about Saint Benedict and his written rule, the main requirement is to come to regular discussions and participate. The first year is about inquiring, orientation and discernment. There is no timeline or race in becoming an oblate, and some people take more time than others to become a novice. One of the Mount Marty Oblates shared that, "It's a very worthwhile journey. It's a non-threatening, non-judgmental journey on which you will find tremendous support from the Sisters and other oblates. It's like everything in life…you get out of it what you put into it."
As a person begins to become more familiar, and perhaps decides to become a novice, more practices are implemented, which may include praying privately or with others as time and circumstances permit, of daily Liturgy of the Hours (Morning and Evening Praise) and Lectio (reading and reflecting on Scripture, a commentary, or the Rule of Benedict). These are things that are gently taught and practiced during oblate meetings. These moments of inner reflection can be short and simple, everyone finds different ways and times to pray.
Sister Rosemarie appreciates the gifts of praying at various times throughout the day because, "It gives me time to pause and reflect on who I am, and the important work that I am doing. It also reminds me that I belong to God and inspires me to continue to do my best."
Another strong member of the Mount Marty Oblate community is Barb Rezac. Barb is the Vice President of the Institutional Advancement Department at the university and felt called to become involved with the Oblates in 2017. She shares that, "After becoming part of the Mount Marty family and getting to know the Sisters, I felt intrigued and inquired about the program. Following the Benedictine path as an Oblate has helped me develop a more keen sense of how helping to build a strong community, can in turn help build a stronger Kingdom of God. Following St. Benedict and his rule, lays out a gospel infused way of making sacrifices and taking responsibility which creates a healthy, happy, joy filled community and life." There are different stages of growth within the Oblate program, and opportunities to make a deeper commitment over time and with participation. Barb has made the journey from being a candidate in 2017, to a Novice in 2018, and celebrated her final Oblation at the annual ceremony held in the Bishop Marty Memorial Chapel in 2019.
Saint Benedict has three vows. The first is stability the second is fidelity to the monastic way of life, and the last is obedience. The vow of stability is especially important during the world's current trying times. Another devoted oblate and Mount Marty Alumni is Jordan Foos. He is the Director of Campus Ministry at Mount Marty and addresses this need for stability directly sharing that, "The Benedictine Tradition has been an anchor in my life over the past decade, showing me a way that is rooted in a rhythm of mindful prayer. While life can feel chaotic, and we can often feel distracted and tossed about by the anxieties of daily life, the Benedictine tradition invites us to live in a way that is structured around the Word of God, around community and around humble service. Becoming a Benedictine Oblate has connected me with a community of other people who can support me in our common journey of integrating this Benedictine wisdom into everyday life."
Barb Rezac's thoughts on stability have to do with keeping a sense of personal equilibrium.
She shares, "I've learned that stability comes from not overextending myself in any part of my life. I realize more every day that stability comes from making sacrifices and taking responsibility… in good times and bad. It means keeping calm and working on humility. In our families stability is so important for children to thrive. In our work places, stability is important for employees to feel confident, and in the extended community, stability provides a sense of place and rootedness.
Those are the things we hang onto in difficult times."
These thoughts on the need for stability in life, is enthusiastically agreed with by Sister Maly. She encourages everyone to, "Never give up! Every day we can start anew. If we've had challenges and setbacks, every day gives us the opportunity for a new beginning." Sacred Heart Monastery has shared over 140 years of stability with the Yankton community, and welcomes anyone who has an interest in participating in the Benedictine oblate program. Sister Patricia Heirigs can be contacted for more information or to answer questions at: patricia.heirigs@yanktonbenedictines.org