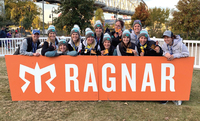 The Ragnar Tennessee Road is a relay race that takes place in Tennessee. It is about 200 miles in distance and lasts two days and one night. It consists of two types of teams, a regular team that is made up of 12 runners or an ultra team which is made up of 6 runners. The race takes runners through the serene Tennessee countryside to the finish line for an "epic party." But the race also starts with a pre-race party that combines music, food, and a whiskey tasting. From the pre-race party, runners line up on the "famous start line" which is on the banks of the Tennessee River in Coolidge Park which is Chattanooga. The race leads the runners northwest into the countryside during peak leaf season where they run along horse pastures and historic estates. As the teams run, there are live bands playing along the course and delicious BBQ to chow down on. Runners can run, dance, and eat as they go. And Ragnar doesn't end with the sun going down. The path is lit with vans, illuminated runners, and the stars overhead. The finish line is in downtown Nashville with city skyline views as the runners run along the Cumberland River Greenway to the finish line party.
Team TwoPack, who won in the open regular women division with a time of 32:03:05, are a group of women from the area who ran this race in November 2019. Their time was 18:32 faster than the second place. Molly Branaugh was the team captain, who according to Renae Brooks is "one of the most kind and genuinely nice people I know. And she did so much work to organize our team and make this a wonderful experience for everyone." A few other members were Katie Feimer, Erica Garvey, Renae Brooks, Steph Camp, Allison Anderson, Whitney Delforge, Annie Lancaster, Laurie Muller, Bobbi Karberg, Melissa Riechers, and Amber Ness. Her Voice was able to speak to a few members of the team to learn of their experience.
The first Ragnar race Team TwoPack raced in was in California in April of 2019. The team had such an "amazing experience" that 7 of those 12 decided to start planning Tennessee a few weeks after getting home from the first race. Luckily, they were able to find an additional 5 ladies to join the team headed for Tennessee.
Each lady in the team ran 3 separate times as the overall race is broken into 36 different legs. Concerning the different legs, Steph Camp said, "my motto is go big or stay home." They started around 8am on Friday and finished around 4pm on Saturday afternoon after running continuously, yes even through the night.
Molly Branaugh ran her legs around 3pm on Friday, 2am on Saturday, and around noon on Saturday. There are two vans that follow with 6 each in a van.
"Although a Ragnar sounds crazy, we are really just a group of friends who love the adventure and spirit of a group relay. We aren't competitive and we truly run for fun and for the experience," Molly said over the overall experience.
For Renae Brooks, this was her first Ragnar Race. She started running in March of 2019 and so for her first year she has run a 5k, 10k, a half marathon relay, and then the Tennessee Ragnar. Several of Renae's friends had run in the California Ragnar race and "hearing how much fun they had, I knew I wanted in." Renae started running because "it looked like they were having so much fun training for that together." And train, she did. Training for Ragnar involves increasing your endurance and speed but "there's no training for traveling in a van with 5 other sweaty women, sleeping very little, fueling your body with Sweet Chex Mix and Hot Tamales, and having to use porta potties in the middle of the night."
However, even this was made fun for Renae as "the comradery and friendships gained from going through this experience together" made it one of her favorite running memories to date.
Upon finishing the race, the team met for supper and tried to eat but Renae recalls looking like zombies and just wanting sleep. They had a brunch the next morning and then went on a Segway tour of Nashville and out for some dancing that evening. Renae also recalls finding out that they won. They initially thought they had gotten 2nd place and Renae remembers feeling proud. But later that day they found out they had actually gotten 1st place and Renae recalls all of them being in shock. "This group of friends from South Dakota that got together with the intent just to finish and have a good time actually won this thing!"
For Renae, the line-dancing in Nashville after the race and the support and encouragement amongst the teammates made the race. The only downfall for her was the lack of sleep in the van during the race but she sees it as a part of the overall experience. "I will do a few things differently next time but it's all part of it. The good, the bad, and the porta potties." For Renae, she is already thinking ahead to her next one which could be St. Paul to Duluth in August.
Steph Camp added, "Ragnar is absolutely unlike any experience I have ever done. I love the challenge and that it not only tests your physical endurance but also your mental grit. Doing this race with dear friends is just the icing on the cake."
For Laurie Muller who has previously participated in a lot of races, ranging from a 5k to 30k distances; this was her first relay race. The most miles Laurie has run was a 30k trail race in the Black Hills. "I love running, trying new races, and traveling to new places. I have always thought a Ragnar race sounded like fun, so I was very excited when Molly asked me to join the team!" She agreed that training for a Ragnar is unlike any other race, but she adds that it's what made it so fun. "I loved the challenge of running three times in a short period of time while living out of a van, not sleeping, and running at all times of the day and night." Laurie adds that sharing it with teammates who were a mix of friends and some she had just met made the experience even more fun.
For Laurie, the best part was getting to know her teammates and talking to runners from all over the country. But also enjoying all the creative van decorations. However, Laurie's favorite part was her overnight run. She had run a 10,7 mile run for her 2nd leg and started running around midnight. Her run was hilly and cold but very beautiful and peaceful. "After a few miles, I turned my music off and just enjoyed the quiet and my surroundings." Laurie agreed that the worst part was the porta potties. And agreed that another Ragnar is something she "definitely" wants to do.
Annie Lancaster just started races within the last two years although she has always enjoyed running. She wanted to do something to hold herself more accountable and that pushed her. Prior to the Tennessee Ragnar, Annie had run a half marathon, a half marathon relay, and a 5k. The most miles she had run at once was 13.1 during her half marathon. Annie thought the concept of Ragnar sounded crazy at first. "I was thinking being in a van for 36 hours, no sleep, running in the middle of the night, and being in unfamiliar terrain just seemed cruel and scary!" But then it also started to sound appealing. "When else are you going to be together with a group of amazing women, with the same interests, crushing some insane goals?" Annie also thought it would be a great way to enjoy some beautiful parts of the country, meeting new people, and checking something off her bucket list.
For Annie, she wasn't racing for a time or personal best but just to have fun and to give it her best. She enjoyed that she was able to take photos and video along her route which isn't something you usually have time to do when running any other sort of race. She also reflected, "during my night run, I even had a chance to call my dad at 3:30am and chat with him." For Annie, the comradery was the best part especially during the runner's exchange. And she agreed with the others, the worst part was the porta potties. "Ragnar was fun, it was peaceful, it was difficult and yet so satisfying."
Katie Feimer was one of Team TwoPack who ran in California in the spring and has also done several 5ks and one half marathon. The most miles she had run prior to Ragnar was 13.1 and for Ragnar she ran a total of 17.1. Katie didn't know much about Ragnar prior to the California race but after she was asked she started to read about it. "So many of the blogs and stories I read made it sound like a fantastic experience.
It is something I would have never imagined myself doing or being able to do so I wanted to prove to myself that I could!"
For Katie, the best parts were being a part of a team as she had never done a relay before. "Everyone cheers each other on and it's encouraging."
Team captain Molly Branaugh had run some races in the past 5ks, 10ks, and a half marathon, but the Tennessee Ragnar was only her second Ragnar. She was on the first team that went to California and then the Tennessee one. The most miles she had run at one time was a half marathon she did a few years ago which was 13.1 miles. During the first Ragnar, she totaled 16.5 miles. For the Tennessee Ragnar, Molly ran 17 miles total. She also agreed that the Ragnar race is different than other races but also "hands down better in every way." For her, she gets to explore a new area of the country, meet other runners, and be part of a team that is made up of her friends. "It was one of the best experiences of my life." She did also agree that it is mentally and physically challenging, even more than other races she had done but that it makes it that much more rewarding and memorable.
For Molly, the best part was enjoying the time with her friends and getting to cheer each other one while also seeing them accomplish amazing things. Winning also was a highlight. "We aren't competitive. We do these events for fun and our attitude has always been to enjoy the experience and we hope to do our best. So to then find out we got 1st place just felt like the icing on the cake."
Molly finished by saying that they don't have anything set in stone but that another Ragnar is likely. "Once you do your first Ragnar, you can't stop!" A sentiment shared amongst the ladies who accomplished one bucket list item and are likely to achieve even more when they set out to their next adventure; whenever that may be.