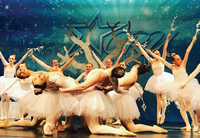 The town's two dance studios - the Green Room and Academy of Dance - provide dancers, from grade school through high school, with the opportunity to take their skills beyond local auditoriums. Each studio has a competitive dance team that compete in and out of state at a professional level.
Each of the studio's owners - Derota Dannenbring of Academy of Dance and Robert and Timera Massey of the Green Room - spoke of their respective competitive dance teams and the role it plays in their dancers' development, both personally and professionally.
Academy of Dance
Located in a private location near the edge of Yankton, the Academy of Dance boasts two dance floors with floor to ceiling mirror that enables dancers to view their movements with almost perfect clarity.
The location is still relatively new to Dannenbring and her crew, all of whom Dannenbring said are enjoying the new environment.
"The dance studio here is as big as the one at the Summit Center, so we can rehearse really comfortably," she explained.
The reception area of the studio displays past publications of Dannenbring and the academy, which Dannenbring has been a part of since the mid-1990s.
Also visible are the numerous awards the academy's dancers have won in years past, including a few from last year's dance season, which is held during the first few months of the year.
Dannenbring is particularly proud of the "Quantum Leap" and "Standing Ovation" awards her dancers won at a competition last year in Omaha.
"At times, we go to competitions that have 500 dancers, so it's very competitive," she said.
The academy accepts dancers in second through 12th grades, with most of those dancers eligible to join the competitive side of the studio.
Styles of dance taught range from classical ballet to Bollywood.
As far as competitions go, Dannenbring has a soft spot for "open category," which allows for the mixing of various dance styles.
"It's fun to go into that different category area where we can be very creative," she said.
There are no tryouts to be part of the competitive dance team; any dance student that wants to join can.
The professional dance competitions Dannenbring's students go to typically have two or three of the following levels: beginner, intermediate and advanced.
Dannenbring is insistent that the competitions she selects for her students to be a part of have to have professional judges, regardless of the competition size and location.
"I always make sure that the judges aren't semi-professionals, but professionals with a lot of education and background (in dance)," she said. "We appreciate the feedback we get from them because it helps (the students) to become stronger dancers."
She has witnessed this strength in her students grow over the last seven years the studio has offered competitive dancing, noting that most of the Yankton High School students that are part of the school dance team also take classes at the academy during weekends.
"They really put in a lot of hours and are still trying to be cheerleaders and take AP classes," she said. "I believe they manage their time wisely, and that's what makes them winners."
Those hard-working older students are a source of inspiration to the younger up-and-coming dancers, she added.
"They all grow together," she said. "I've heard from some of the dancers that have since graduated saying that their favorite part of the competitive season was all of the ages practicing together and encouraging each other."
While the students may find support among their fellow dancers, Dannenbring and her studio receive an abundance of support from the parents.
"Any challenges that I have, our parents truly help with," she said. "Any financial or labor challenges I have, the parents are there to fundraise and create. They support me so I can be with the dancers."
Watching her students' time and dedication pay off each year never ceases to bring Dannenbring joy.
"It's been a wonderful seven years," she said.
The Green Room
Though it's named after a term used to describe an area where performers in a show can relax, it is obvious that the downtown dance studio takes it's name literally.
With most of the walls and furniture bearing a light green shade, as well as some zebra print, the space conveys an aura of fun, which is needed with an activity that can be as grueling as dancing.
Owners Robert and Timera Massey purchased the space several years ago, but began a competitive dance team just within the last two years.
Timera said the decision to start the team out of the studio - which teaches its students styles such as hip hop and jazz - was largely driven by the dancers.
"We were beginning to see a group of students who were really craving more depth in their dance training and knowledge," she said.
The studio, which up until that point had been mainly recreational, became an official company to allow students to pursue their desire for improved dance ability.
Though students' ages range from 3-19, only those 12 and up can be a member of the company dance team, which typically competes in the jazz and lyrical/contemporary categories. The studio also recently began a junior/mini company, with juniors ranging from ages 10-12 and minis ages 6-9.
Timera noted that both she and Robert, each trained dancers, knew the benefits that would come with a competitive dance team.
"We believe that competition is a healthy push for our students to want to grow and better themselves," she said. "They can go to these competitions with dancers from different areas and get inspired."
She has already noticed improvements with how her dancers perform.
"They have begun to attach feelings to their movements and to dance with purpose," she said. "Dancing is very athletic, but it's an art first. Not only do our dancers have to excel in the physical and athletic component, but they have to evoke emotion and tell a story."
She said that the company dancers are doing very well thus far, having earned first, second and third place awards in various divisions and competitions.
In addition to competitions, students are encouraged to attend dance conventions.
"It is a fantastic opportunity for our dancers to take classes from nationally recognized professionals in the industry," Timera said. "Oftentimes, these convention teachers will say much of what we already say to our students, but it can take hearing it from someone else they don't see every day to help it click."
She also thinks getting the students out to these conventions and competitions helps expand their worldviews.
"By living in a small town, students can often become sheltered and unaware of the bigger world," she explained. "It's good for them to be exposed to what else is out there." She is eager to see how the students do moving forward.
"Their level of dancing has reached new heights and is still climbing," she said. "As dance teachers, these dancers become like our own children and we bend over backwards to give them everything to help them soar. We are so happy we are able to provide these students with a place to let their souls loose and be free to dance."