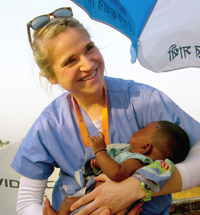 I have always been fascinated by stories of people who experience miraculous, eye-opening, life-changing events. Not just that we experience these things, but that it can actually shift our entire thought paradigm; it can create a whole new way of thinking.
Sometimes, these events are small or take time to slowly mold and shape us, while other times we encounter a massive, in-your-face type of experience that leaves us different.
I recently heard about a local woman, Dominique Boudreau, who had taken a trip across the world and returned changed. I was told that she experienced a culture and a people that had enabled her to see our world through different eyes.
Dominique is a current masters student at University of South Dakota and Yankton native. Below she gives an account of her time spent, and wisdom gained, while working on an International Medical Relief team in India.
Don't see yourself traveling across the world anytime soon? Allow Dominique's experience to inspire you.
On March 1, 2012, I boarded a flight to one of the most densely populated cities in the world, Kolkata, India. This city is home to 4.4 million people who carry out daily routines within 185 square miles. I would spend eleven days with an International Medical Relief (IMR) medical team. My days were stripped of my morning coffee, computers, toilets, and beds. The absence of all materialistic things left one thing-life in its simplest form. Over an eleven day period, I experienced something more powerful than could be offered by my strong black cup of coffee or delivered by my mega-pixilated, high definition TV screen. I experienced life: raw, and it was beautiful.
As my team and I walked out of Kolkata International Airport at 9:00 p.m. on March 1, I was in awe. I have had my fair share of experiences at JFK, O'Hare International, and Heathrow, but never in my short life had I seen so many people circulating outside an airport. Despite the swarm of traffic from departing and arriving flights, the atmosphere was calm. But, soon the calm was replaced by chaos and anxiety.
We loaded our luggage into our driver's car. Instantly, as we pulled into traffic I was given a crash course in Indian road rules. There are none.
Without lanes to organize hundreds of cars, the driver swerved in and out, honking as he went. Latchmin, a team member familiar with Indian traffic, assured me that the driver was experienced and that I could relax. Suddenly, we were on a narrow bridge with an RV coming straight for us.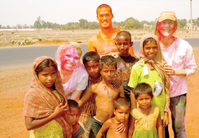 This was the first of many games of "traffic chicken." Every muscle in my body tensed out of fear of a collision. The driver came to an abrupt stop, causing a piece of luggage to fall from the trunk onto my head. A team member picked it off and ensured I was ok. The RV passed safely. I remember being intrigued that the driver was unaffected by the commotion.
Meanwhile, all I could think about was getting to my destination and was relieved when we did.
As I look back on my experience with Indian traffic and the drastic contrast between my anxiety and the driver's lack of it, I can't help but compare it to the journey of fulfilling our dreams. We have the incredible opportunity to not only develop dreams but also make them come true in America. The path of life is terrifying. The journeys to our goals hold fear, stress and anxiety. The fear and anxiety I had during that initial car ride prevented me from looking out the window to see the wonderful things occurring on the streets of Kolkata. Because of stress, I missed the important points of the journey, much like what occurs in our lives. A few days into my trip, I was able to ignore the chaotic traffic and look out the window. I watched as the members of the Kolkata communities carried out there daily lives; lives that emphasized the most important things in life.
The people of India place a lot of trust in one another, a conclusion I came to because of my driver. Family and community are priority in their lives. There isn't a sense of competition that dominates like in American culture. The love that the people of India possess in their hearts and wear on their sleeves is responsible for the sense of calm I experienced walking out of the airport. Half way through my time in India I witnessed the greatest love India possesses, the love of Mother Theresa.
Days before my trip I read, "Come Be My Light, the Private Writings of the Saint of Calcutta." The book is a collection of Mother Theresa's personal letters. In the book, I learned that it took Mother Theresa two years and countless letters to get permission to leave the Sisters of Loretto and start her own Mission. Each response to a letter refusing the mission could have created disappointment. Instead, her response to each refusal possessed hope and determination. This is a woman, as human as you and I; that wanted to sacrifice everything to fill the lives of the poor with love. When she was refused, Mother Theresa simply tried again. The letters composed after starting the mission expressed great emptiness and struggle. Before reading, "Come Be My Light" I, like the rest of the world, was under the impression Mother Theresa's work was natural and easy. It was far from easy.
The team I was a part of had the opportunity to witness the Mission that Mother Theresa established. Before entering the orphanage, I prepared myself to see rooms of abandoned children and expected to experience something sad. As I walked through the doors of The Mission I was blown away. The walls were covered in bright mural paintings. The volunteers were dancing with the children to children's music. The amount of love and number of smiles overwhelmed me. What I saw before me was something bigger than I had ever imagined and can't be described in words.
Witnessing Mother Theresa's Mission gave me the confidence needed to understand it isn't about how many times we fall. As we work toward our goals it is easy to get discouraged and settle for something less. But, getting back up is the only way we achieve great things. It also taught me if we fill our hearts with love as we work toward our goals, they become much greater than anything we could ever imagine. After two years of discouragement and years of sacrifices, Mother Theresa's work established 600 missions, schools and shelters in 120 countries.
My team consisted of three physicians, four nurses, two dentists, two health educators, two students, and several non-medical personnel.
How quickly 20 strangers from across the nation developed a bond much like a family. It was quite remarkable. Each of us played a unique role in our clinics and without each individual contribution our mission would not have been successful. We educated, checked vitals, and addressed complaints of over 300 patients daily during the first four days of clinic. Paulo Coelho wrote in The Alchemist, "When we love, we always strive to become better than we are. When we strive to become better than we are, everything around us becomes better too." Our IMR team embraced the Indian lifestyle throughout the initial days in India.
The community's influence, as well as Mother Theresa's, caused us to become better people in just a few short days. The growth that happened during our time in India contributed to the most extraordinary aspect of the trip. On the last day of clinic in the small town of Churkunda, India, the lives of 675 people became better too. We set the IMR record of patients educated and treated in one day.
The people of India possess a beautiful appreciation for life and the endless ability to love. Filling our hearts with love as we worked tirelessly during clinic allowed us to create something incredible. Although I speak positively about my time in India, it was far from challenge free. The greatest accomplishments in life come with the greatest demands. As long as we embrace the people around us that help us move the luggage off our heads, stay focused on our destination, and ignore the fears and stresses, we can lift up our eyes to see the beautiful things life has to offer. We can make the world around us better.