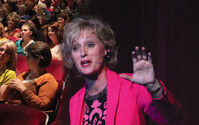 Holly Hoffman may not have won the "Survivor" reality television show and its $1 million prize, but she still considers herself a winner.
The South Dakota woman made the four finalists — the last woman and the last in her age bracket — who battled deep in Nicaragua during Season 21 of the CBS reality series "Survivor" in 2010.
In the process, she learned about the things that really mattered to her — faith, family, friends and an inner strength and passion that she never knew existed.
In turn, that made her a true survivor.
"It took me starving in the jungle to find out what life is about," she told an audience of nearly 250 during the ninth annual Celebrate Women program at the Dakota Theatre in downtown Yankton. The Press & Dakotan was a sponsor of this event.
Hoffman, who also spoke at the 2011 Celebrate Women event, shared with her audience the six words of survival: attitude, determination, confidence, desire, faith and perseverance.
"Feel it, know it, show it, believe it," she said.
Hoffman compared life to a shopping cart — sometimes stuck, sometimes with the squeaky wheel, sometimes filled with junk, and usually left empty.
It was that need for fulfillment that led her to seek out the "Survivor" show.
Hoffman and her husband, Charlie, live on their ranch near Eureka. In the end, he went from becoming one of her biggest doubters to becoming one of her biggest supporters.
Holly Hoffman started her odyssey in May 2009, determined to land a spot among the 20 contestants chosen from among the 100,000 applicants.
Hoffman wasn't even going to send in her audition tape, believing the dream was so unrealistic and out of reach. But her husband persuaded her to mail the tape.
"If you wait for opportunities to occur, you'll be one of the crowd," she said. "Never jump to the conclusion before taking the opportunity."
A stunned Hoffman learned she remained in the running for the show after several rounds of eliminations.
Hoffman then received the call for which she had been waiting.
She was chosen to fly out for final auditions. Once arriving on the scene, she endured a set of bizarre challenges set up by the "Survivor" producers to test the contestants and make the final cut.
The producers studied every small detail of the contestants, who even underwent a psychiatric evaluation.
When the smoke cleared from the process, a totally shocked Hoffman learned she was selected for the show and was headed to Nicaragua.
Hoffman was required to sign a contract stating if she leaked any details about the show or its outcome before its airing, she was required to pay the show $5 million. Holly and Charlie Hoffman also were required to sign a contract releasing "Survivor" from any responsibility should one or both Hoffman's die as a result of the show.
Once arriving in the Central American setting for the show, Holly Hoffman embarked on an odyssey that tested every fiber of her mental, emotional and physical fiber. She found herself confronted with situations in no way resembling her everyday life.
Hoffman was even taunted by a fellow contestant for her South Dakota roots. The Eureka woman didn't just get mad, she got even — by filling the contestant's $1,600 pair of shoes with sand and throwing the footwear into the ocean.
Hoffman many times wanted to quit, but fellow contestant Jimmy Johnson — a former Dallas Cowboys football coach — asked her a pointed question.
"What would your family think if you quit on national television?" he asked her bluntly.
Hoffman knew the answer. "I needed to do what is right, not what is easy," she said. "There is no failure except no longer trying."
As she remained alive in the competition, Hoffman felt a strange mix of emotions as well as her physical exhaustion and starvation.
Hoffman experienced guilt, which she described as "anger directed at yourself."
She felt worry, which she compared to a rocking chair. "Both give you something to do, but they get you nowhere," she said.
Hoffman also learned a great deal from her alliances throughout the competition. "In life, you become who you associate with," she said.
She found her mental attitude played a major role in whether she quit, was voted off the show or remained in her running.
"We can be happy or miserable. It takes the same amount of work," she said.
The South Dakotan also took on a leadership role, becoming a strong role model and taking on a stronger sense of self-confidence in the process. "When you better yourself, you better others," she said.
She also learned how to overcome disappointment and challenges, including a fire that destroyed her team's hut and possessions.
Hoffman relied on her faith and in the emotional toughness she gained from thinking of her family and needing to remain strong for them.
She became heartbroken, watching a video of her family sent from back home. As a finalist, she was allowed to reunite briefly with her husband in Nicaragua.
She made the final four before a fellow contestant betrayed her and she was voted off the show. She had come so close to winning the $1 million prize.
During the series, she lost 22 pounds and suffered physical hardships. When she arrived home, her family was stunned at her condition as she walked into the airport.
"My mom was crying," Hoffman said. "But my 24-year-old son put his arms around me, looked me in the eyes and said, 'I'm proud of you, Mom.' My son had never said he was proud of me."
Then came the son's words that tore at her heart.
"He said, 'I don't care if you win or not (on the reality show), you just made me proud,'" Hoffman said.
"I just won the $1 million. Those words meant more to me than $1 million."
Hoffman reminded her audience once again of the six words at the start of her talk. Then, she left the Yankton audience with one word.
Believe.
"Believe in yourself, and take control of your life," she said. "Create your own future."