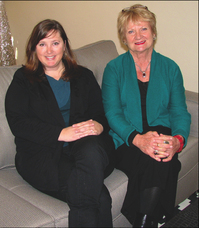 While Michelle Maloney had never planned to become a business-owner, she has either owned or been involved in the development of several over the past decade.
Now she has branched out further, with the establishment of Maloney Real Estate, located at 108 E. Main St. in Vermillion.
"We want to sell you not just the house, but the whole town," she said. "Real estate is our job, but ultimately, if the community does better, we all do better."
Although the official opening hasn't happened yet, the company has been legal to sell real estate since the last week of November.
As of now, Maloney and broker associate Pat Goebel are readying the office and website.
"We're enjoying being downtown," Maloney said.
"There's a whole group of people down here who have stopped by and welcomed us. They're excited that we're here."
Goebel agreed, adding, "When you look to see what downtown is doing, the amount of businesses that are opening are going to give our families something to do, it just seemed to be the place to go.
"It took a while for me to wrap my head around that, but I think it's a great move to get downtown," she said.
Maloney has been involved in the downtown business world since 1998, when she purchased Carey's Bar, which she sold in 2010.
"That was an amazing experience, but it's a young person's business," she said.
"The late hours are not fun."
She and her husband played a role in the development of the RED Steakhouse, as well.
Maloney also opened Scoops after the Doo-Wop Shake Shop closed.
"When I owned Carey's everyone seemed to be lamenting the loss of the ice cream shop, and at the same time there was that public restroom building that had been shuttered for at least a year. So, I worked to find out who owned the building … and was able to get the building fairly affordably and remodeled for a minimum cost. …
"It was a great business (but) when I decided I wanted to get out of the bar and restaurant business, I decided ice cream needed to go, too," she said.
Maloney did not actually have a background in business when she bought Carey's. At that time, she was working as a technical writer at Gateway.
"I think I just got the business bug," she said. "Just learning how to tweak your business one way or the other and seeing how it changes your profits, and bottom line, getting into doing advertising. That whole creative side of it was really interesting to me."
Goebel also has had her share of wearing multiple hats in the business world.
A graduate of the University of South Dakota, Goebel returned to the community in 1989 after several years in California, at which point she opened the Goebel House Bed & Breakfast.
She said that eventually she "found that my love for real estate and meeting people and finding properties that people would like to call their home was very high in my interest level."
Goebel has been in real estate since 2002.
By comparison, Maloney has been in the business since 2009, although her roots in it go back even further.
"My mother worked in real estate when I was younger, and my parents have bought and sold 15 houses, and so my entire childhood I spent getting the house ready for the Realtor to come over, or leaving the house and driving around while there were showings," Maloney said. "I just always enjoyed being in a new house. It was really fun.
"I got to see all different styles of homes and different neighborhoods in Sioux Falls. I think that's what started the bug," she said.
Both women said that in addition to selling homes, they want to help people get to know the community.
"I think because it is a small town and so many of us are into our own routines, and we kind of forget about the new people that move here," Maloney said. "We just assume that they've got a network of people either at the university or the businesses that are helping them get involved in the community. We want to do that follow-up. We don't want to just sell you a house and say, 'OK, congratulations, and I'll see you.' We really want to follow up with people and say, 'How's it going, have you met anybody in the community?'"
Goebel said she is looking forward to providing that service.
"We feel it's important to them to adapt into the community and feel welcome," she said.