When Taylor Hoxeng of Volin returned to first grade at Gayville-Volin schools earlier this month, the vivacious seven-year-old had to have one of the best "What did you do this summer?" stories ever - the best part, she was living her dream. Hoxeng became a Little Britches rodeo star.
"I got to go to the National Little Britches Rodeo Finals," she said with a beaming smile.
Hoxeng and her family, father Tyler, mother Sarah and little brother Cody, spent the summer traveling to Little Britches rodeo events in Flandreau, where Taylor earned the right to travel to the national rodeo in Pueblo, Colorado in late July.
Little Britches is one of the oldest, continuing youth rodeo associations in the world, with its membership ranging from kids ages 5 - 18 in 26 states across the U.S.
"It was just amazing," said Tyler.
"There were about 1,100 contestants across the different age groups. In each of Taylor's events there were 120-140 contestants."
Set up as a week-long rodeo, the National Little Britches Rodeo Finals held events twice a day, the first in the morning and second in the late-afternoon, but the grueling schedule of events didn't faze Taylor.
"She was up ready to go every morning, leading the horses out, getting them ready for the day," said Sarah. "She just loves everything about the rodeo and shows."
Taylor, who was born with a birth-defect where she is missing several fingers on one hand, has developed a modified grip when holding the reins of her horse. However, you can tell that she doesn't even think about it - she just does what she needs to do to succeed.
To hear her speak about being involved with Little Britches, you can tell that there isn't anything Taylor doesn't enjoy about participating in the rodeo.
"I do barrel racing, goat tail untying, flag racing and pole bending," Taylor said with a big grin. "I like barrel racing best.
"Doc and I race down and go around the barrels. Where I look, he looks and goes."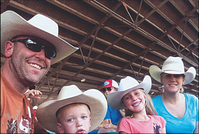 Doc is Taylor's 22-year-old, 14-hands (about 56 inches) tall horse. To hear her describe him, you can tell that he is more than a horse to her - he is her best friend. But what is most impressive, Taylor trained Doc to be a rodeo horse herself, starting when she was just 4-years-old.
"He used to be one of our stallions," her dad said. "We gelded him when he was 14 and Taylor began working with him when he was 19."
Taylor described the process as just leading him around the barrels and working with him, but you could tell by mom and dad's grins as she was talking that there was more to it than that.
"She is out there every day with him," Sarah said. "She truly enjoys every aspect of his care and doesn't hesitate to get out there and do it. When we were getting ready to leave for Pueblo — it is a 12-hour drive — she was the first one up at 3 a.m. getting her horses loaded in the trailer."
While Taylor didn't win any of her events, she did have personal-best times in each. Add to that, she got to be one of the flag-carriers in the opening events.
"It was just amazing," Sarah said. "We were in this huge arena and I see my little girl carrying this huge six-foot flag and she just did it. It was something I will never forget."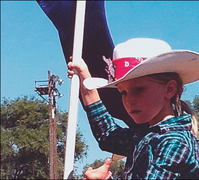 When asked to describe her favorite events Taylor said pole bending is fun.
"It is where you race down the row of poles trying to go as fast as you can," she said.
Dad added, "They weave in and out of the poles. The closer they get to them, they actually bend them. They race down and back and go for the best time."
Yet her biggest grins and excitement came when describing barrel racing and goat tail untying.
"Goat tail untying is you fly down to where the goat is, jump off, and untie a ribbon on the goat's tail," she said. "Then you race back to the judge."
Mom said she sometimes wonders how she is going to make it watching her child participating.
"I get so nervous and excited watching her in the big arena where she can look so small," Sarah said. "Taylor doesn't get nervous though. She just goes out there and does it."
For her family, being able to be a part of Taylor's dreams is something you can tell they treasure.
"How many families can spend their summer together traveling and getting to be together like this?" asked Tyler. "We just honestly love being able to do this."
When asked what is next for Taylor, she said she is going to keep doing rodeo. The family is going to area jackpot competitions and there will be other rodeos this fall and winter.
"I am training another horse, Belle," Taylor said. "It is good to have a second horse. Doc is getting old and if he would have a bad leg or something I need a second one."
Taylor said that she wants to keep doing rodeos all the way through high-school and beyond.
"I just love it."
Writer's Note...
I have done many interviews in my time working at the Press and Dakotan and I can honestly say interviewing Taylor ranks up there as one of my favorite interviews ever. Taylor is a smiling, confident, bubbly seven-year-old who handled being interviewed better than most adults. Her love of life, rodeo and her family came across with every word she spoke. It was a true pleasure getting to meet her and her family, and I wish Taylor nothing but success in her future.
~ Shauna Marlette