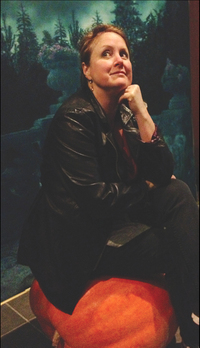 Last summer, while a group of us were listening to one of our local home-grown bands the discussion came up "why does Yankton not have a fall festival" ? "Yeah, why doesn't it?", everyone expressed, "with all the agriculture around us Yankton as a location is perfect, the pioneer river history, the hard working people!" Let's do it! Our community deserves a celebration to socialize with family and friends. A fall festival would bring people together sharing common interests and networking opportunities for businesses, not to forget the much needed income. Oh my gosh, it is endless! Then the brainstorming began.
What we needed first was the music, "well, these guys are perfect, so we simply asked if "The Lugnuts" would be willing to come and play at Yankton's first annual Harvest Festival 2014. Then as the evening flowed so did the crazy ideas for activities at the festival. Out of that came the "Spooky Forest" and the Ghost train that would take kids across the Meridian Bridge, and the Pig Races… yes, pigs racing on 3rd Street! What a hoot! It was a fun evening full of wild ideas, enthusiasm and excitement for something NEW! Now we had the Harvest obsession ~ Yes we can do this!
There are so many reasons to NOT do something ~ that's easy! Coming up with a solid plan, strategically purposeful path that would benefit everyone was a lot harder and even more difficult was the road of logistics and financing.
In the beginning we thought BIG (maybe too big :)), and then narrowed it down. We asked "how would the public want to see their very own community festival: our local personalities, showcased talents, what represents best our strong work ethics and what would be FUN! When would be a good time to have a seasonal fall festival? It was agreed: Halloween has its dramatic folklore and traditional imagery and the strength surrounding the Harvest season giving us family comfort reminding us to Thankful. It was settled ~ combine both Harvest & Halloween together?
Halloween falls on a Friday this year, so for the next three years we can "trick or treat" and celebrate Harvest joy on the weekend.
One key element, in the beginning was simply talking to people about the idea and getting their feedback. There was a lot of good information collected in the early days of conception which spun like a web (no pun intended) with one connection leading to another. Personally, I utilized my family, friends, business connections and any willing victim that would listen to the Harvest Halloween plan! We gathered visual material for inspiration while researching other festival themes until we were drowning in post-it notes and over one hundred pictures later, eventually narrowing all those ideas down as different people, businesses and non-profits committed ~ Yankton's first premier fall festival was born. Next we presented the concept for feasibility to the City, obtained insurance requirements, put together a budget, wrote several grant applications for funding (since we started with zero). We are so grateful for all the area business sponsorships and private support. This event truly is a community collaboration!
It took an entire year to get to this point. Yankton Harvest Halloween is now a real deal ~ the downtown is gearing up for the Parade & Zombie Walk, the costume party planners have set the stage to "howl at the moon" along with The Lugnuts, the waffles will be hot and ready to eat Saturday morning, the children's Ghost Train is fired up ready to take trips across the historic Meridian Bridge to the Spooky Forest, the Corn Pit will be full of 567 bushels with buried treasure to dig-up, the hay bale maze is waiting for animal trackers and the pigs are kicking up their heels training for the big race ~ hungry for their "oreo cookie treat"! The farmers & crafters, will have the market stocked ready to shop, the chili will be ready to feast on, and the streets will be full of music ~ all to put you in the festive mood and reflect upon the coming holiday season.
Reading an article about starting a festival… "The top ten things you need to know for planning a festival" … at Advice #5 - If you are reading this now …its too late…there is no turning back now!" How true, I didn't know whether to laugh or cry. For now I am concentrating on each day at a time and trying to accomplish at least 3 constructive things, besides running a full service art, gift and frame shop, I forge ahead!
As the festival dates approach quickly so do my nerves, like a first ballet performance you hope you won't forget a step or trip over something. Being nervous about a "first ever" or "forever" is a good thing, the hard work (a good thing I never actually counted how many hours but Richard might have `~ha!) All I've learned along the way, the new friendships made through this process makes it a priceless experience.
Maybe now when I go grocery shopping the aisle will be full again; in the past few months people saw me coming and fled quickly, in case I might convince them they needed to get involved, provide a service, talent or product for the festival! I'm just kidding, people have been so supportive and WANT to get involved! We are sure to sleep well come November 2nd and just maybe for a few days, and then …. It starts all-over again… here we come Harvest Halloween 2015!!!
For all those crazy idea people out there, don't be shy, talk about it, get others involved, and when the question comes up: "You are going to do what?", Simply say "well, Why Not?" and Remember Advice #5 … there is no turning back!
See you downtown! Yankton ~ Friday October 31 & November 1st
Facebook/harvesthalloweenfestival
www.harvesthalloween.com