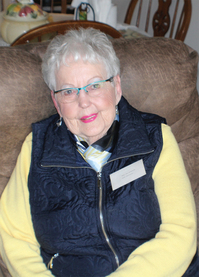 Mary Ann Blachnik will never forget the day that United Airlines 232 crash-landed in Sioux City, Iowa twenty-nine years ago, nor the events that transpired afterward. "It was a sad, sad day," she recalls.
On Wednesday, July 19, 1989 she had just finished her shift as a Medical Secretary at Marion Health Center (now known as Mercy Medical Center) and the next shift was coming in to work. She recalls what she saw that afternoon while driving south toward their home, located south and west of the airport.
"I could hear all these sirens. I could see on the Interstate all these fire trucks, ambulances and cop cars, and it was very, very windy and very, very hot that day. I thought, 'Oh my goodness, something terrible has happened.' In the back of my mind, I couldn't help but think, 'Maybe a plane crashed someplace.'"
Stepping inside their home to the phone already ringing, she could see the answering machine message light blinking with new messages. She turned on the news as she took a phone call and saw a news story about a plane crash. A DC-10 had lost all flight controls due to failure in the tail engine. The odds of this failure were only one in a billion (USA Today). Witnesses state that the plane cartwheeled, flipping end over end, sliding past the Sioux City airport runway into a corn field. Of the 289 people on board, 111 died. Though a few walked away from the crash, more than 150 victims still had to be admitted to the hospital for treatment.
Her employer desperately needed her to come back to work. Without hesitation, she let her dog out, took a deep breath, turned around and went right back to the hospital. She recalls the chaos on the route back to work as she weaved through the maze of vehicles all heading to the airport to help. She pulled into a full parking lot at Marion Health and people were running inside to help where they could.
The trauma of the situation reflects in her voice as she becomes emotional commending the doctors, nurses, and personnel who came rushing to help. She explains that various departments from several communities around the area arrived to help where needed.
Her normal role at the hospital was to disburse doctors' orders from the patient's chart to the proper area such as x-ray or lab and assist in answering the phones, often floating to other floors of the hospital. She was often called to work in the Intensive Care Unit and remembers that she was filling in on the neurological floor that day. When she arrived back to work for the second time, she started assisting in prioritizing the existing patient's medical assistance needs. The ones who were not as severe, such as the flu, were dismissed as they needed to make room in the hospital for the incoming crash victims.
Crash victims began to be admitted, though at the time there weren't names available for the victims. Because they didn't have any information yet on the patients, they labeled the patient's charts with red, white and blue tape. Aside from this task, she assisted in answering patient's call lights when nurses were busy, bringing glasses of water to patients requesting it and helping wherever she could.
She recalls a little eight-year old boy admitted who was flying with his mom. He remained unconscious for two weeks as he stayed in the hospital. She recalls his devastation when he woke up to learn that is mom didn't survive the crash. "I'll never forget, that little boy raised up his head and said, 'Where's my mom?'" She explains how that was one of the saddest days she encountered and thinks of the little boy often. "I'll never forget that, ever."
Through the tragedy and incredible sadness, she does recall a humorous incident. A nun was admitted to the hospital after being hung upside down by her feet during the crash, but she was not severely hurt. As Blachnik was at the nurses' desk one day, the nun came walking up to her, laughing. When she asked Sister what she was laughing at, the response was, "Well, Mary Ann, I'm so glad I had my underwear on!" She'll never forget that either.
After working through that night, she went home, took a shower and went right back to work that Thursday morning, still running off adrenaline and no sleep. That day, she worked in the ICU with several personnel, taking phone calls of people calling in to inquire about possible plane crash victims. It was a difficult task as the confidentiality procedure of the hospital restricts them from giving out any personal information. She recalls the pain of telling inquiring hospital visitors that their loved ones were hurt.
Captain Haynes, the pilot, was located on her floor and she recalls what a wonderfully kind, compassionate and brokenhearted man he was. Policemen guarded the door to his room every minute of the day. She remembers the media, NBC, CBS, National Inquirer, all standing outside his door wanting to get in and talk to him.
Many events transpired in the days after the crash. She recalls EMT's and medical staff going out to the airport to search through cornstalks,
leaves and debris for people from the crash, remembering a story of a young boy found in the cornfield still strapped in his seat, safe and not severely harmed. She recalls in vivid detail the refrigerator trucks that came to keep the deceased bodies cold until they could be identified and transported to the funeral homes. It was two days before the victim's names were identified for the hospital staff to put the patient's names on their charts.
"We all did what we had to do," she explains. She feels grateful that she was able to help during the tragedy. It's rewarding for her to look back and see everyone pulling together to help those in need.
"You talk about teamwork in a place. I have never seen teamwork since and I probably never will, as long as I live, see teamwork like I saw that day." The hospital team pulled closer together after the tragedy. She recalls co-workers and patients giving hugs for a long time after the incident.
"I can still see people in ICU. I can still see this little boy laying there, 'Where's my mom?' I'll never forget those things. Ever. You just can't imagine what a tragedy like that does to a person, it just tears you up," she explains, emotionally. She is not afraid to fly even after the incident, explaining that this accident can't deter someone from being afraid. Not an overly religious person, she explains that she feels that God is her pilot.
"Some things like that, you just carry in your heart, you don't forget it. You just ask God to take care of us all."
After a few more years in Sioux City, they moved to Scotland, SD and she later moved to Yankton after husband Duane passed away. The well-rounded Chancellor, SD native has worked in a variety of venues over the years, having driven a semi-truck with her husband for six years, working as an EMT and working in the medical field for over 40 years.
She beams as she talks about her sons and her grandchildren. Her oldest son, a rancher and semi driver near Lennox, previously took her on the SD wagon train with him for three days. She had a marvelous time. The middle son works in Marshalltown, IA in a meat packing plant and drives semi and the youngest son works in Des Moines, IA in the computer field and is getting married in May. She has two granddaughters, one living in Rapid City and one living near Wakonda.
Blachnik, now 80 years young, has worked at Menards as a cashier for the past four years and rarely misses a day of work. She loves her job, appreciates her employer and enjoys being around people. She often wonders how the survivors of the crash are doing now and will never forget the days surrounding that incident.
She feels grateful that she could help others during that time and the compassionate woman explains that she wouldn't hesitate to offer her help again. She sums up the experience for me, "In conclusion to my story, I have felt so very honored and blessed to have been asked to be interviewed about this fateful event that happened while I was an employee at Marion Health. God bless all of you."