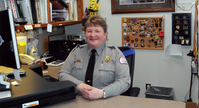 Karla Zeutenhorst has turned her love of the outdoors into a lifelong career.
Since 1989, she has been a park ranger for the U.S. Army Corps of Engineers working at the Gavins Point Project.
Her official title is the interpretive services and outreach coordinator.
"That's a fancy way of saying I talk to people," Zeutenhorst remarked.
Her office is located at the Gavins Point Project visitor's center, where at this time of year she can be found frequently giving tours to local school groups coming in for end-of-the-year field trips.
"I let people know what we do and who we are," she explained.
Finding Where She's Supposed To Be
After living in multiple Midwestern locations, Zeutenhorst attended Iowa State University with the goal of becoming a wildlife veterinarian. However, she soon discovered that that wasn't the idealistic path for her.
"During my first year of school, I roomed with a veterinary student," she said. "They work really hard. There's a lot to becoming a vet."
Realizing she would have to choose between working in veterinary practices or wildlife, she opted for the latter.
It was while at college that Zeutenhorst became acquainted with the U.S. Army Corps of Engineers. During the late spring/summer/early fall months, she worked for the Corps as a park ranger at Saylorville Lake outside of Des Moines.
After obtaining her degree in fisheries and wildlife biology, she continued to work in that area full-time for seven years before moving to Georgia in 1996 to work as a park ranger at Lake Sidney Lanier.
Though she loved her job, she felt disconnected from her family that still resided in northwestern Iowa.
"My first grandchild was born when I was (in Georgia), and I never wanted to miss out on that again," she said. To accomplish this, she moved to Yankton in 2003 to work for Gavins Point Project.
"Like any other job, it has its ups and downs," she said. "But being able to meet with people and tell them about the U.S. Army Corps of Engineers is so rewarding."
While most would think of a park ranger as somebody who spends their days traipsing through the wilderness, Zeutenhorst spends much of her time in her office or answering campers' questions during the warmer months.
When she does go out to the parks, she can be seen patrolling the recreation areas or helping with habitat restoration in the wildlife areas.
She said any real difficulties with her job come from working with the federal government or irate campers.
"There are challenging moments with budgets and what we do if we don't have enough money to do things we feel are important," she explained. "Also dealing with the general public can be challenging. It's my job to make sure someone gets the answers they want … and it may not be the answer the person wants to hear, but being open and honest with the public is very important."
Interacting with the public is also one of her favorite aspects of her job.
"I love it when school groups come in," she said. "The kids are little sponges that absorb the knowledge and are so enthusiastic."
She finds that when speaking with adults, she has to clarify that she doesn't work with the National Park Service.
"Because we are such a big agency that does so many different things, there is a disconnect between a park ranger and the fact that we actually work for the army," she said. "If I can see something click with a person — like now they understand — there's a lot of gratification in that for me."
Living On The Outside
When not in the office or out in the parks, Zeutenhorst prefers to tend to her grass acreage on her tractor, mowing her yard, taking photos of nature and caring for her dogs and cats.
She also enjoys spending time with her grandchildren and great-grandchild, which fulfills her purpose of moving back to the area all those years ago.
"You can move away from places, but home is wherever your heart is, and my heart has always been in the Great Plains and upper Midwest," she said.