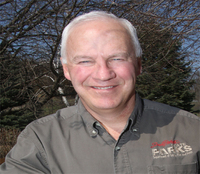 "I think when you have a desire to do something, you have to go after that because, if you don't, you're always going to regret it," said Jeff Van Meeteren, regional park supervisor for the southeast region of South Dakota.
That's exactly what Van Meeteren and Shane Bertsch did when they decided to work for South Dakota Game, Fish and Parks.
The two men share a similar background. Both grew up in South Dakota enjoying the outdoors. Both graduated from South Dakota State University in Brookings. Both served in the US Military. And both work to keep up one of biggest parks in South Dakota.
"This is by far the biggest district operation in the region," Van Meeteren said. "Not necessarily the most complex, but it's certainly got the biggest volume of campgrounds, campers, etc."
It was during their time in the military when they realized they wanted to explore the possibility of working in the parks. Van Meeteren sat in boot camp for the National Guard remembering a third grade project on careers: two of them were "park ranger" and "conservation officer."
Bertsch was in the same mold, serving in the United States Navy and working in radar but the job didn't suit him.
"Working in radar and navigation, I was inside a lot of the time and we had a little blue light in the room," Bertsch said. "I wanted to go outside and I remembered a lake near Miller, South Dakota — where I grew up. I then went to SDSU and graduated in 1993 with a degree in Park Management."
Bertsch worked in a factory to help pay for college, and the drone mentality to the work was something that didn't agree with him.
"I needed that variety in my life, and this job definitely allows it," Bertsch said. "If we get a storm or something like that pops up, you have to immediately shift your priorities to make sure all the campers are safe."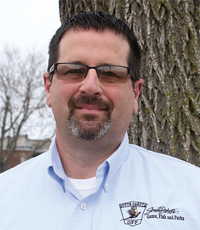 The two men have worked together for the last 17 years, after Van Meeteren stepped into his current role and hired Bertsch, who had just recently returned to South Dakota.
"After school, I applied to a few different states and was offered a job in Arizona and worked there for five years until I got a job offer at Lake Vermillion," Bertsch said. "Worked there for a year until Jeff hired me; that's around the time when we expanded here. I took over the campgrounds below the dam, like Chief White Crane and Pearson Ranch."
After Bertsch became district park supervisor, Van Meeteren took over as the regional supervisor for the southeast region of South Dakota. Despite their friendship and working relationship, Van Meeteren noted there were some bumps in the transition.
"I'll be the first to admit it was a real struggle. Some of my favorite times were serving as the district park supervisor, the role that Shane is in now," Van Meeteren said. "When I was asked to take the regional role, that was a big step for me because I had to give that up, and I have to set boundaries because it would be real easy for me to get into Shane's business. And I think we've figured that out over the years."
Those roles aren't necessarily defined, as both work in a job where there is no monotony and every day brings different challenges, something both men enjoy.
"The variety in this job is huge. It's crazy what we end up dealing with from day to day," Van Meeteren said. "Every day is a new learning experience."
The real perks of the job are the special projects that arise around the park system. Bertsch has worked in nine parks throughout his career and had his hand in numerous design projects for campgrounds. Van Meeteren's position focuses on these projects.
"The position has evolved over the last 17 years, but I'm probably more in an administrative long term role than I used to be," Van Meeteren said. "I've had the opportunity to really mold the parks and I really like to work with development — to be involved in those types of things that are going to be enjoyed by people forever is kind of — wow — it's really humbling."
As for people interested in the job, both men credit their experience talking with those already established in the profession as a final push to follow their desire.
"I did some talking to people in the field, which I think is always a wise thing for young people who are searching for a career choice," Van Meeteren said. "You know, go out and talk to people, and learn if it's truly something you want to do."
The park is close to becoming fully self-sufficient; Van Meeteren estimates that they are about 10 percent away from that. Both men are proud of the way the park is moving forward — a testament to the people who work among them.
Both men seem calm as the busy season moves closer, a credit to the employees of the park, as they have dealt with an elongated winter season. But that's all a part of the job.
"It's been a career that I'll look back someday with a great deal of satisfaction," Van Meeteren said. "I appreciate everyone that's allowed me to be a part of that and just be able to enjoy this beautiful resource we call South Dakota."