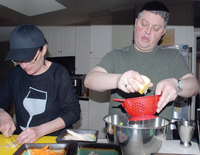 After a prolonged winter, Steve Huff is ready for spring — and the food that goes with it.
"People have been eating heavier meals during the winter," he said. "It's still cold and we're having blizzards (in mid-April), but people are thinking about warmer weather. They're ready for lighter food and something easy to make."
In past His Voice visits, Steve and his wife, Tracy, made Super Bowl food, such as pizza and chips, using flatiron steak and chicken. The next go-round, they made Easter fare using lamb, ham and pork.
This time, winter had taken its toll in more ways than one. Steve, a Yankton attorney, was working on a case coming up in court. In the midst of it, he was hit hard with an illness that took him out for several days. Then, the family hunkered down during the late blizzard that dropped 8 inches of snowfall on Yankton and 20 inches in other parts of the region.
Steve was getting caught up on work after the storm and his bout with illness. But he welcomed a chance to get into the kitchen and on the smoker in the backyard for an evening of food, fun, fellowship — and a heaping helping of frivolity.
While the temperature and snowbanks said winter, the longer days and sunny weather signaled the arrival of spring. And with it, the Huffs thought of things that were quick and crisp, light yet filling.
Steve greeted the Press & Dakotan reporter/guest with something already awaiting the palate. He showed off a bowl of tuna and a nearby plate of triangle chips that served as a great duo (double dipping was even allowed).
But this wasn't the type of mayo-soaked tuna that often finds itself stuffed between two big slices of bread or stacked on an oversized croissant. In this case, the partially-filled bowl of tuna looked very tender and chunky. The tuna spread was filled with ingredients that added flavor without overwhelming the tuna.
The key lies in putting together quality ingredients, Steve said.
"You need two large cans of albacore tuna with a half-cup of mayonnaise — good mayo," he said. "I used four hardboiled eggs, two with the yolk and two without it. I got the eggs to a boil and used a slotted spoon to handle them. I usually boil my eggs for 10 to 12 minutes and then let them set. You can use a lot of good things for the filling, like sweet pickle, signature spicy pickle chips, chopped up red peppers or sweet pimento."
All of the ingredients work well with other fillings, such as chicken salad, other meats, cheeses and vegetables, he said.
The suggestion brought Steve to one of his favorite subjects — adding high-flavor, low-calorie herbs, spices and condiments. He showed off capers and caper berries, both from the caper bush and pickled. Capers are the unopened buds, while the berries are the fruit and usually found with the stem.
When it comes to mixing flavors, Steve strongly believes in the use of vinegar to provide tartness. He also likes bitters in his cooking. Other favorites include green onions and olives. He also makes use of liberal amounts of olive oil, as he's a fan of the Mediterranean diet and style.
And kale isn't just something stuck next to the lettuce and cabbage in the produce aisle. "I'm very pro-kale," he said of the healthy vegetable. "I also like collard greens. You take pre-cooked ham hocks with the bone, add 10 or 12 collard greens and put it in a pot with water. You boil it, and you just can't beat it."
While Steve rolled out the tuna as an appetizer, Tracy continued with the prep work for the main event: spring rolls, which provided a different twist on sushi and other Asian favorites.
"You can treat it as either an appetizer or as an entrée. It can make a meal by itself," Tracy said. "For these rolls, I've cut up rotisserie chicken for the meat, and I'm slicing up a variety of fruits and vegetables. Over here, I have thin apple slices. Next to it, I have slivered vegetables like carrots, radishes, red onions and collard greens. I also like using cilantro."
In the past, Tracy confessed that the chopping process provides her with mindless enjoyment and a healthy dose of stress relief. Like Steve, she had spent the afternoon getting caught up on work and was ready for some break time in the kitchen.
Tracy showed workmanship and proficiency in quickly slicing up each fruit or vegetable and filling up the respective bowls. This visitor couldn't wait for the main course, sampling the veggies and finding a special liking for the thin apple slices.
As she wrapped up the prep work, Tracy turned to another type of wrap — a rice-based, see-through wrap commonly found in the grocery store. The wrap didn't look strong enough to serve as an outer layer, but Tracy soon proved me wrong. She gave each wrap a light coating and then set to work, stuffing a generous portion of chicken, veggies and apple into a tight package.
She placed about a half-dozen wraps on my platter, neatly arranged. She continued the process, creating more of the wraps for the rest of the family.
As if that weren't enough, she placed bowls of dipping sauce in front of me. I was offered a variety of oils, soy sauce and sambal oelek ground chili paste. To show you can never have enough spice in your life, Steve brought out the hui-hui soy sauce.
Once again, there were no rules or regulations regarding double dipping, or even three and four dives into a bowl with one spring roll. I even rotated, using different sauces on the same roll. The zippy sauces gave a zing to the hard, crunchy fruit and vegetable fillings.
Tracy viewed her work as artistic as well as tasty.
"I think that using slivers (rather than large chunks) gives it more of a profile and makes it easier to put together in the wrap," she said. "It's also easier to hold and eat the wrap."
But the lingering cold weather also brought a desire for comfort food. Flashing a sly smile, Steve brought out a large bowl of couscous. The North African granules, made from crushed durum wheat, looked like pellets at first. But the addition of water soon produced a flavorful explosion normally served with a stew, meat or vegetables.
In this case, we enjoyed the couscous on its own with no need for an accompaniment. Steve dished up heaping servings and handed out a special sloped spoon for capturing each morsel.
"Now, this is real comfort food," he said. "I really wanted something like this because it tastes great and feel so good in your stomach, especially if you haven't been feeling well. This (couscous) does wonders for you."
Steve disappeared briefly, heading out back to check on the smoker. But unlike his previous forays with flatiron steak, lamb, ham and pork chops, he was smoking a side of vegetables. In this case, it was a healthy serving of green beans.
He previously offered me a few raw beans with a special coating.
After some tender loving care in the smoker, the green beans were taken to the next level. Not only did Steve retain much of the crunch, but the sauce seeped even more into the veggie.
He brought his work back to the kitchen counter, offering a great side dish.
"This is great. Oh, yeah!" he said, sampling the beans and offering them to the guest.
But an evening with the Huffs isn't just about good food. It's also about the good libations that go with it. Once again, the drinks complemented and didn't overpower the food.
Tracy noted she could enjoy beer, wine or a cocktail, but this evening she went with the fruit of the vine.
"This is a Cabernet Sauvignon," she said, pointing to the label. But she didn't pour straight from the bottle. She slowly and carefully strained the wine. The procedure, which resembled using a coffee filter, separated out sediment that would have left a bitter flavor.
The deeper flavor provided an enjoyable contrast to the spring rolls, smoked green beans and tuna spread on crackers (the tuna also tasted great on its own).
Steve, on the other hand, chose a cocktail for his guilty pleasure. This evening, he goes for the Manhattan in a chilled glass.
"A Manhattan is usually made with whiskey, but you can also use rye or bourbon," he said. "I prefer mine with rye, especially Rittenhouse rye."
Steve took a pull on his Manhattan, opening his eyes wide with pleasure. "Hell fire, this is great for the soul!" he proclaimed with an emphatic "thumbs up."
Variety is the spice of life, and Steve said he also enjoys margaritas and the gin and tonic.
Steve is also a fan of a good Bloody Mary, complete with Worcestershire sauce and celery. However, he encourages experimentation by pairing the tomato juice with different alcohol besides the traditional vodka.
"The same thing with a Moscow mule," he said, pulling out the distinctive cup and handle. "The Moscow mule uses vodka and ginger beer. You can have a great Kentucky mule with bourbon instead of the vodka."
For that matter, Steve advises throwing out all the rules when it comes to pairing food and drink.
"They say you don't pair fish with red wine, but Tracy likes Cabernet Sauvignon. With tuna, you might like either a red or white wine. Drier fish might be better matched with white wine. Red wine would go well with halibut or cod," he advised.
"We should enjoy your own choice of drink with whatever food we're enjoying. It doesn't matter if it's red meat, chicken, fish, salad or vegetables. I don't think you should worry about red wine or white wine with a certain food. Listen to your taste buds and do whatever you like."
As if the evening couldn't get any better, Steve looked slyly as he unveiled the finale.
"Do you like coffee?" he asked me.
But there was no coffee pot to be found, or even cups for that matter. Instead, he appeared with a small sample of coffee liqueur — along with two bars of chocolate.
"Try the chocolate bars and guess the flavors with them," he said, challenging me.
The very question made me wonder what was hidden inside the dessert. A bite of the first block unleashed a burst of orange. A bite of the second block produced a totally different sensation — the almost bitter chocolate mixed with the kick of chili. And yet, I didn't feel the need to grab something to drink.
Steve emphasized that all of the ingredients could be obtained easily at most supermarkets. He generally gets his meat processed through Steiner's Market in Yankton, but he also praised other area butchers and lockers. He also prefers Dimock cheese.
"You can get all of these ingredients locally, but I'll go to Sioux Falls and stock up on some things, like the olive oil," he said. "Most of these dishes cost only a few cents to make, and you can make three or four times this much at one time."
The Huffs generally like to make their meals from scratch. They're not typically "weekend warriors" who mass produce meals for the entire week. However, they will cut up meat and vegetables or take care of other prep work at one time. The move reduces a great deal of the time-consuming work for a particular meal. The practice also ensures that ingredients are on hand and helps prevent unnecessary purchases and stress for evening meals.
"I really enjoy cooking. It's my 'release' from everyday stress. I started off specializing with breakfasts and moved on to baking," Tracy said. "Our kids can help with meals, and I let them make choices for meals. We've had a pizza bar, pasta dishes and 'build a burger' nights. I think it promotes better nutrition and meal choices for them."
The Huffs encourage a great deal of experimentation in the kitchen.
"I think I learned the most from my mistakes" Tracy said. "I'll try a new recipe, or try something different with a familiar recipe. It may not work out, that's OK. I've learned what does and doesn't work, and I move on to the next thing."
When it comes to food, Steve believes most people are afraid of the unknown. But that can often deprive them of some great culinary experiences, he added.
"People want to be comfortable, especially with what they eat," he said. "But don't be afraid of stepping out of your comfort zone. When it comes to a meal, we haven't lost anyone yet!"