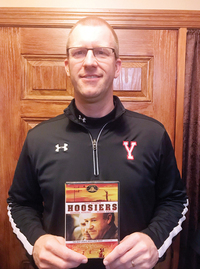 One of the most enduring forms of entertainment is cinema.
For more than a century, we've gone to the movies to be transported to another place, another world or even another time.
And while sci-fi, drama and comedy may get most of the glory, the subgenre of sports films continues to entertain audiences nationwide.
Sports movies, whether they're based on reality or fiction, have given us glimpses into many elements of our favorite games — the thrill of victory, the agony of defeat, perfect games, buzzer-beating shots, the depth of meaning a sport has for certain people and so much more.
But it's not just the general public that have enjoyed these movies.
Those who have participated in and covered those sports have found a deeper meaning and even inspiration in some of these movies.
We spoke with a few such local figures to get their take on their favorite sports movies, what they mean to them and the inspiration they draw from them.
It should go without saying, but caution ahead — this article is loaded with spoilers.
Best Shot
It's been a while since Yankton School District activities director Ryan Mors first saw the Hickory High School Huskers go for it all in "Hoosiers."
"I would've been in middle school," Mors said. "'Hoosiers,' I saw for the first time, when it first came out because I was just in love with basketball when I was a kid. And what a cool story it was and I fell in love with that movie from the get-go."
Released in 1986, "Hoosiers" stars Gene Hackman, Barbara Hershey, and Dennis Hopper. Loosely based on Milan High School's 1954 Indiana state basketball championship, the movie follows the efforts of a new coach and the efforts to lead a small-town Indiana school's basketball team to a state title.
Mors said he hasn't lost any love for the film as the years have gone along.
"Thirty-two years later, I still enjoy watching that movie," he said.
"We have a copy of it on DVD. I just love the story about how the small-town basketball team went and won a state title. The whole story is just really exciting to me, especially to a person who grew up just loving basketball. It was a fun story to me and a fun movie to watch, and I still enjoy it to this day."
He added that his favorite part of the movie comes down to its climactic finale.
"The very end of the movie where Jimmy Chitwood hits the game-winning jump shot in the state championship game," he said. "The whole movie culminates on that one exciting piece — the Hickory team is the state champions. It's kind of a cool way to bring the whole movie together."
Mors said there's a great message to the movie as well.
"Anyone, with hard work and effort, can become a champion," he said.
Prior to his tenure in Yankton, Mors also coached basketball, including eight years as an assistant girls basketball coach at Huron High School and five years as the Freeman High School girls basketball coach.
He said during this time, he had a chance to introduce a new generation of fans to the movie.
"In 2009 when the Freeman girls had qualified to the state basketball tournament for the first time, I showed that movie to them," he said. "A lot of girls, at that time, had never seen it. They enjoyed it, too, so it's kind of a fun, inspirational story for them to watch, too."
While Ryan Mors has taken to "Hoosiers," his son Matthew has a different favorite.
"My favorite sports movie is "Glory Road" because of all of the stuff that they went through and how hard it was for them," Matthew said.
The 2006 movie is based around the 1965-1966 Texas Western (now the University of Texas-El Paso) Miners and their road to the 1966 NCAA Tournament. The team was especially notable because it boasted an all-black starting five — the first team to do so in a title game. Though a smaller tournament at the time, the Miners defeated opponents such as Kansas and Adolph Rupp's Kentucky Wildcats to earn the school's lone basketball title.
The movie itself stars Josh Lucas, Derek Luke, and Jon Voight.
"I saw it when I was pretty little," Matthew said. "It's about this basketball team — the Texas Western Miners —who is facing a lot of prejudice and adversity. No one expected them to make it to the Final Four or the championship game, and they just kept winning and proving everybody wrong."
Matthew has a little championship experience of his own.
As a freshman with the Yankton Bucks — though he's played for the team since seventh grade —Mors was an integral part of this year's Class AA championship team.
And he says that this year's championship can be partially traced back to "Glory Road."
"We watched this movie at our house a couple times when we were really young," he said. "It did (inspire me)."
"You're Killin' Me, Smalls"
Baseball may not enjoy the broad popularity it once had, but that didn't stop a generation of kids from foraging a connection to the game — and learning the plethora of nicknames the legendary Babe Ruth accumulated during his illustrious career — through 1993's "The Sandlot."
One of those kids was Press & Dakotan assistant sports editor Jeremy Hoeck.
The movie, starring Tom Guiry, Mike Vitar, Karen Allen, Denis Leary and James Earl Jones, is set in Southern California in 1962 and follows the story of Scotty Smalls — a baseball novice — who joins a group of neighborhood kids and their sandlot team.
Hoeck said that, growing up, he could relate to the sandlot experience.
"I, like many young boys growing up, gathered with my childhood friends every day during the summer to play baseball at a sandlot next to a school across the street from my house," Hoeck said. "The small group of us — all of us lived within 3-4 blocks of the school — would call each other the night before and set a plan in motion to meet at the sandlot the next day. And we would play baseball all day; mostly by ourselves, but occasionally with other neighborhood kids who would join in. Our greatest times came when we had enough for two full teams, so we could play an actual game — much like the scenes in 'The Sandlot' when they were able to play that game against the organized team."
As the movie progresses, Smalls is made aware of a vicious dog referred to as "The Beast" who lives over the sandlot fence. When balls go over the fence, they go there to die.
Hoeck said they had their own set of natural elements to worry about.
"Although we didn't have a giant dog in the neighboring yard to worry about, weather was something we continually battled," he said. "I can remember days during those summers when it would rain all day, and we would call each other (the days of landline phones!) to figure out what to do next — did we want to try to play through the rain? Or should we meet and do something else? It didn't matter the temperature — either, we would be out there playing. We could be in jeans and jackets on those chillier summer days, or in shorts and T-shirts on those scorching hot days, it didn't matter; we wanted to play baseball. We would do anything to play the game we loved."
But the boys in the movie would then be confronted with a much bigger problem. At one point when the boys are faced with the prospect of no longer having a ball to use, Smalls comes through with a ball his stepfather was displaying — signed by none other than Babe Ruth. The ball makes it over the fence and it's up to the boys to get it back before Smalls' stepfather returns.
Hoeck said he could similarly relate to having to scrounge for a new ball.
"There's a particular scene in that movie that still makes me laugh to this day," he said. "When they lost their one ball and had to track down enough soda bottles to buy a new baseball. That's a scene my friends and I could relate to; there were many days when our small collection of baseballs would be dwindled down to one, and the loss of that final ball meant we had to find a way to track down a new one. We would scatter to our respective homes and scour our rooms for a baseball, just as in the movie — the desperation and panic on those character's faces was something my friends and I shared, as well. The feeling that you would do just about anything to keep playing was one we were very familiar with."