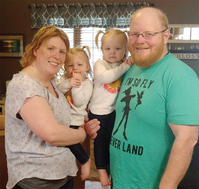 Life's lessons are what make us unique individuals. Some people have lessons that can be profound and life changing, while others face teachings that are simple and uncomplicated. It is what we learn in life that give us the experience and courage we need to make our journey successful from start to finish.
Chris Schloss has been given many lessons during his lifetime. What he has learned from some of those, is that life is fragile, and at times, extremely difficult. But he has also understood that life is beautiful and that there are people in this world, and in his life that have incredible amounts of compassion and generosity. His life lessons have made him a man that is courageous and strong. He has learned there is always value in life and that even though some days are harder than others, never give up and never lose sight of the wondrous things life has to offer.
Chris experienced a childhood that would make many of us envious. His father, a man of vision, moved his family from Cedar Rapids, Iowa to Sioux Falls, South Dakota after he purchased two radio stations in the early nineties. 103.7 KRRO and KWSN.
After being in the radio business for a time Chris's father, Barry Schloss, wanted to try a new venture and set his sights on The Boy Scout Camp west of Yankton, South Dakota.
"Dad decided he wanted out of the radio business and came down to The Boy Scout Camp and was going to be a Ranger there for a couple of years. That couple of years has now turned into twenty-five years and he has said he is a really big kid with a really big sandbox!"
Chris made the camp a major part of his life growing up. He has worked in nearly every capacity available there. He has been a Training Host Director, Camp Medic, and everything in between.
"The camp is a little gem that a lot of people don't know about. We have 300 to 500 people there every week for about 10 weeks throughout the summer. It is not uncommon to have campers from Texas, California, Maryland and other places there with their Boy Scout groups. We actually had a group come from Ireland and spend a week at the camp."
The Boy Scout Camp is not strictly for members of Boy Scouts, although during summer-camp it is specifically geared for the Boy Scouts program. Chris says the camp hosts off-season camps for groups like Mount Marty's orientation team, the National Guard, Yankton Fire Department, USD fraternities and sororities, various church camps, and sport teams rent the camp to do training and team building.
Chris tells me he is always busy doing something. He has a DJ business that he does on the side called Music Services, and he does events such as weddings and proms, having just rocked Avon's Prom. Avon is where Chris resides with his wife Brooke, and their two children, twin girls, 21-month olds Lucille and Josephine.
An IT specialist for the Yankton Elementary Schools is Chris's full-time job. This job, Chris tells me, is challenging and is constantly moving forward with the latest technologies.
"We stay technology forward with the advanced thinking in the district. In the school district there are technologies such as Windows, Chromebook, I-Pads, and a lot of different technology."
For those of you wondering what a Chromebook is, the quickest definition would be a laptop that utilizes Google's OS operating system and stores data within a "cloud" which is the term used to describe a server such as G-Mail or Hotmail.
Chris wanted to be a teacher initially while attending USD, but that changed in 2010 when Chris's life changed. He says that as an IT specialist, he gets to be in the educational system and at times, in the classroom, instructing students and teachers on how to use the latest devices and technology.
In 2010, Chris was diagnosed with Testicular Cancer. Since that time he has been in constant battle with the disease and continues to wage a valiant fight against it.
"Testicular Cancer is pretty simple, a little chemo and maybe a little surgery. I was the 2% who have to do a little more treatment and of that 2% I became the 1% that had to go even further."
As Chris received treatment for Testicular Cancer, more cancer was found, this time, in his lungs. It was then that he went to the Mayo Clinic in Rochester, Minnesota, a world-renowned hospital known for its advancements and cutting-edge technologies in the field of medicine.
"Up at the Mayo Clinic, they had found that the cancer had actually spread through my abdomen and up into my neck."
Chris had to undergo 10 surgeries to take care of the cancer in his lungs, abdomen, and neck. One of the procedures, a retroperitoneal lymph node dissection, was an extremely difficult surgery to endure.
"I had some big complications from the retroperitoneal lymph node dissection, the 'R-P-L-N-D' surgery. It was only to be a four-hour
surgery but ended up being a large surgery because the cancer had spread everywhere. I spent a week in ICU (Intensive Care Unit), due to Rhabdomyolysis, which causes muscle tissue breakdown. I then had acute kidney failure and I was on continuous dialyses for three days. I also had a fever between 104 to106 degrees and the doctors were unsure that when I woke I would still be me."
Luckily Chris did wake up the person he has always been. He is still the valiant fighter living each day the best he can, which, in his case, has not been easy these last few years.
"Just recently I was diagnosed with Esophageal cancer or GI Junction cancer between my esophagus and stomach. This last year I spent a month at the Mayo doing chemotherapy and radiation and the doctors were very surprised that after radiation and chemo there was no residual cancer. Because of that there was no need for surgery which would have been removing a piece of my esophagus, move my stomach up, reattach it, and leave me with a very small stomach and virtually no esophagus."
Chris is now on a medical trial using Keytruda, which is an immunotherapy drug used for lung cancer but has been shown in research to be effective with GI cancer.
"Now I take a trip up to Mayo every three weeks, they give me the drug and I come home. The doctor's hope is that the drug will 'supercharge' my immune system and make it attack the cancer."
Chris's wife Brooke, an attorney with Swier Law Firm of Avon, adds, "It has definitely been a journey and now we do testing. It will be fine, and thankfully we ended up not having to do the surgery for the esophageal cancer. It is hard to watch your husband go through this, and once we added the girls to the mix, it is very hard."
Support from family and friends has been a vital resource that has helped Chris and his family get through this difficult time. Both Chris and Brooke are quick to say the support they have received from family, friends, and the community has been incredible.
The Pink Ladies of Avon and Dante was one of the first organizations to offer support when Chris was first diagnosed with cancer. And more recently a benefit was held at the Avon Fire Hall for Chris with over 300 people attending.
"We have come to realize" Brooke says, "that there are people who really do want to help and we need to let them do that. I hope that we can pass that on to other people to be very appreciative of the support of friends and family."
"It is very humbling to see such support." Chris says.
"And the meals!" Brooke adds.
The teachers of the Yankton school district made meals for the Schloss family and Chris says those folks are like a family.
"They have been amazing," Chris says, referring to the teachers. "We rented an apartment at Mayo and they made sure we had crock-pot meals or frozen meals we could put in the oven the whole time Brooke, the twins, and I were there."
"And people in Avon would bring food when we were home on the weekends or if I was home with the girls while Chris was away. They would bring meals and we didn't have to cook. We still have things in our freezer people had brought and it has just been amazing." Brooke replies.
Chris says he was hesitant at first to move to a small community such as Avon but now realizes there is something very special about the place he calls home.
"This neighborhood is the best. We wouldn't be anywhere else. We all support each other. We know each other and it's like an old-fashioned neighborhood where everyone is outside playing and we yell out the front door to come in for supper."
Chris is the father of twins, conceived from in vitro fertilization, a miracle in and of itself.
"We only had to go one round and it wasn't a huge ordeal but it was still a large process.
According to Chris, science has evolved at an incredible pace in the realm of in vitro fertilization and today many things can be foreseen that weren't possible not so long ago.
"We did a genetic panel to see if there was concern for genetic issues that may be passed to the girls. It was an 80-point genetic check panel and I gave them literally two vials of blood."
Chris tells me of the 80 different genetic checks that search for possible genetic issues, not one of the 80 presented any concern. A "definite NO" was the answer to all 80 possible concerns. All is well and twin healthy girls are part of Chris and Brooke's lives.
Chris, his wife Brooke, and his beautiful twin daughters Lucille and Josephine have experienced a considerable amount. They have experienced hardships as well as miracles. They have witnessed the frailty of life and the indomitability of the human spirit.
Chris is a miracle and a lesson given to us to emulate. We can know that even though life has its ups-and-downs, we must continue to keep our spirits high and never give up. When asked what he has learned from the trials he has faced in his life he gives a great piece of advice he says he repeats quite often now.
"If you can't laugh you can't do anything. You have to find the humor in it to get you through it."
According to Chris humor is one of the very best medicines and it has made him and some of his struggles the source of many humorous yarns from time-to-time. The koozies made for the recent benefit are a perfect example of the humor Chris Schloss has within him. The words drafted upon the koozies read:
"It takes BALLS unless you're SCHLOSS!"
Indeed it does!