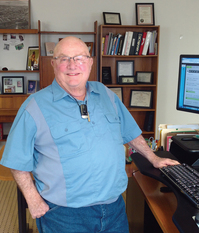 The first word to enter my thoughts when I met this man of modest stature and age-defined features was "ordinary". He impressed me as a kind man, very welcoming, a confidence about him that I could sense the moment he shook my hand. Yet, ordinary seemed like the only word my inner thoughts could find to describe this gentleman, who introduced himself as Roger Willcut. What I was to learn during the course of our interview was that ordinary was not the right word to describe him, "extraordinary" was.
Roger Willcut, proprietor of Willcut Appraisals, is a man who carries a vast amount of experiences. From high-school dropout to retired Army Major, to business owner with a Master's Degree from the University of South Dakota, Roger embodies a strong work ethic and a fierce "can do" attitude that has taken him high within the clouds to the lower depths of an ocean, and many places in-between.
The son of a career military service man, Roger was in Germany attending high school when he decided joining the armed forces was what he wanted to do.
"I went to basic training in Fort Dix, New Jersey, and then went to Korea and at the end of Korea I actually got out of the service for a short time but ended up going back in. I went to Okinawa and then into Special Forces (Green Beret) for 11 years."
I begin to think that my initial thoughts regarding Roger were not even close to describing the man that sits before me. I have never met a Special Forces soldier and I must admit I am intrigued with knowing this fact. Images of Paratroopers and Frogmen flash within my mind, influenced by movies I have seen growing up.
"Back in those days it was bad for your career to be in Special Forces all the time. Everybody wasn't as thrilled about Special Forces as Kennedy was, and especially senior officers and others who weren't Special Forces didn't necessarily care because back then there was no hoopla when it came to Special Forces. We came and went, pretty quietly in those days."
When Roger says, "We came and went quietly," a story comes about describing a training exercise done in the cover of darkness.
"When I was in Special Forces we did a lot of training. I did submarine training. I had earned Jump Wings and me and eleven other guys jumped out of a plane in the middle of the ocean in the dark of the night and got picked up by a sub off the coast of the Philippines near Baguio."
"We latched our gear to the outside of the sub, and put twelve extra guys in the sub and steamed toward the coast."
" The sub went to periscope height, we climbed out, blew up our rubber raft, loaded our gear into the raft, hooked a rope to the Conning Tower of the sub and was pulled in as close as the sub could go. After we were dropped off we went on in."
By now I am completely enthralled by this Special Forces cloak and dagger story and listen with full attention as Roger tells me about this experience. I imagine the cold ocean waves crashing against the rubber raft as twelve men make their way covertly to land.
"We went in, stashed our raft and everything, and spent a week doing things inland. Then, in the dark of the night, a week or ten days later, we went back to the shore, grabbed our stuff, did a little flashlight thing, saw a little flashlight thing out there (in the ocean) because this was a long time ago and we didn't have night-vision stuff or things like that, and rowed back out."
"We found the antennae on the Conning Tower," Roger continues, "were pulled back out and we climbed back in (the submarine) and stayed under water until we got back to white beach Okinawa (Japan)."
In those ten days that Roger and his comrades where inland, no locals knew they were there.
Roger reflects on his service in the military with admiration and of time well spent. During his career he was awarded numerous awards including the Combat Infantryman Badge, awarded to those who are Infantry or Special Forces involved in active ground combat. He also received the Vietnam Cross of Gallantry, which is a South Vietnam military decoration awarded for deeds of valor or heroic conduct during battle with the enemy.
Roger also earned the very prestigious Purple Heart, awarded to Servicemen wounded while serving in the U.S. Military. As he tells me about his Purple Heart he shows me the scar on his arm, a reminder, of the devotion he had and continues to have, for his beloved country.
"The military was a very good experience for me. Going into the service as a high school dropout to where I am now, and be a guy with a Master's Degree in Public Administration is because of the military. Because of the things the military allowed me to do, taught me to do, and made it possible for me to do."
Close to retiring from the military as a 0-4 Major, Roger continued to move forward by attending the University of South Dakota. Following the advice of an economics professor, he chose to pursue a degree in Public Administration.
In 1975 he began working on his appraisal license, and in 1977 became an Independent-Fee Appraiser.
"It was at that time, in 1977," Roger acknowledges, "that I retired from the military after 21 years of service and started my business right here in Yankton as one of the very first Independent-Fee appraisers in the area."
As Roger tells me of this milestone in his life, Kathy Quinlivan, an apprentice working towards a license in appraising under the tutelage of Roger, smiles, happy I am sure, that Roger chose the path of becoming a licensed Appraiser. However, according to Roger, he was not always just a licensed Appraiser.
In the late 80's interest rates skyrocketed, and it was during this time that Roger contracted with the State of South Dakota to develop certification standards for drug and alcohol counselors.
"I had my appraisal business and I also was the Executive Director of the South Dakota Chemical Dependency Counselors Certification Board."
"Drug and alcohol counselor certification back then was not a common thing and we developed the certification standards which is now in effect here. It has been changed over the years somewhat, but South Dakota was the fourth state to have a national reciprocity."
Being the Executive Director for the state's certification board opened a new avenue for Roger and it was at that point he decided to sell his business to his co-worker, Beverly Gehm, and move to Missouri to occupy the role of Deputy Director for the Division of Drug and Alcohol Abuse.
It was in Missouri that Roger became the Chief Commercial Appraiser for the State of Missouri and then went to Oklahoma eighteen months later to develop certification standards for counselors in Oklahoma.
Listening to Roger talk about his employment positions and experiences early in his working career amazes me. He seemed to have had an incredible forward momentum and I can clearly see how being in Special Forces was something he was able to accomplish and succeed in. Ordinary he is not!
Roger eventually returned home to South Dakota and took a position as a Senior Loan Officer for Farm Credit Services in Yankton.
It was in 2003 that Roger began appraising again, keeping his license up-to-date during his time away from the business.
"I started my appraising business again in 2003 here in Yankton and have been doing it ever since. Back in the 'old days' I did farms and commercial properties but since I have come back I do mostly residential properties."
Roger is an appraiser, but he also carries the credentials to be a Supervisor. He can supervise apprentices in the business of Appraising, and guide them toward becoming licensed appraisers. This is a task that is both rewarding and immensely gratifying.
"I have the patience to do it if they have the patience to work with me," Roger says, looking at Kathy, his current apprentice, for approval of that statement.
I ask Kathy if she does indeed have the patience to work with Roger and her reply is very simple and to the point, "I'm still here and it's been a year!" she says with unmistakable enthusiasm.
Roger and Kathy seem to have a good working relationship and Roger tells me that being a Supervisor is not a bad way to spend his time.
"I don't do this for the money anymore, this is my "Adult Day Care". How many guys eighty years old, (that's right readers, Roger is 80
YEARS YOUNG) can have as much fun as I do? I'm still pretty good at this. Kathy got her first reports back…" and before Roger can finish his sentence Kathy chimes in, "And they were fine!"
Roger smiles and I sense pride within him as he beams at his young apprentice. But as gratifying as supervising an apprentice can be, it is not easy, for there is a lot of accountability that comes with this particular business.
"A lot of responsibility lies in what we do. People are buying houses, probably the most important thing they will buy and many times it's their first house. If they can't get a good appraisal, a competent appraisal, or a timely appraisal then a deal may fall through, so there is a lot of responsibility."
Listening to Roger talk about the appraisal business causes me to reflect on my first home buying experience. It is very true that it is one of the most important purchases a person can make in his or her lifetime. I shudder as images of signing stacks upon stacks of papers, signing what feels like my life away, begin to appear in my mind. It is then that I change the course of our interview from serious to lighthearted.
"What do you do for fun?" I ask.
"I like motorcycles and have some motorcycles. I belong to a couple motorcycle groups. It's not quite as easy as it used to be, so I do have a couple of motorcycles with three wheels to make it easier."
One motorcycle group Roger belongs to is called the Parker Gang out of Parker Colorado. Roger describes this group as a "wild and wooly bunch". An interesting fact about the Parker Gang is that Roger, at 80 years of age, is not the oldest member of the gang. The Marlon Brando movie "The Wild One" comes to mind when I think of Roger and his motorcycle gang and I smile.
The other group of biker enthusiasts that Roger is a part of goes by the name of Buell Brothers Racing and members of that group have gone across the Salt Flats at over 200 miles an hour. Roger assures me he was not one of the members to do that though I have my doubts about that!
"The reason Buell Brothers Racing invites me on their annual rides is because as long as I can still show up and ride they know there is hope for them" Roger says with a laugh.
Roger Willcut has been there and back. He has jumped out of airplanes far above the clouds, and dove deep into the ocean's depths aboard submarines. He has seen the rigors of battle and aided people in times of war. He has given training and advice to folks who have gone on to become successful licensed Appraisers. And he belongs to not just one, but TWO motorcycle gangs and gives the members inspiration to keep their motors running. He is a man of many talents and it was an honor and pleasure to do this article. Thank you Roger, for all you have done.