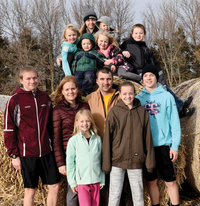 Not that long ago, farming was a common way of life for many people living in the Midwest. With industrialization and globalization, many small farmers with lineages that went back for generations, have been sadly forced out of existence. These days meeting a farming family, especially with many children, is a source of fascination for people unfamiliar with the farming culture. Jason and Jayne Arens and their eleven children, live in Crofton, Nebraska, on the land where Jason's grandmother grew up.
Her parents built the house and set up the property. Jason comes from a longstanding tradition of farming. His father, grandfather, and great grandfather were all farmers, and they all raised pigs.
Jason has successfully kept the family farm and business intact. He's made innovative improvements that has allowed the farm to meet economic demands and thrive, in a highly competitive industry.
There are so many facets of the Arens family that are intriguing. In addition to farming, the couple have been very involved in the past with coaching cross country, St. Rose's church, and supporting their children's activities. In addition, the couple participates in the Mount Marty Oblate study group. The primary focus for this article, is about parenting and the process of raising a large family. How do they do it?! How do they keep up with the cooking, laundry, housework, homework, and activities of eleven children with the age span of one year to twenty-one? The simplest answers are: teamwork, patience, and an incredible amount of love.
Jayne and Jason met while they both attended Doane College in Crete, Nebraska, when they both ran for their cross country teams.
Jason graduated with a bachelor's degree in science, and Jayne's was in elementary and special education with a minor in psychology. She later went on and received her master's in curriculum and instruction from Doane as well. While Jason is always busy working for the family business, and Jayne works at Mount Marty University as the Director for Student Success in the Learning Center.
The couple married in Jayne's hometown of Fremont, Nebraska at St. Patrick's Church in 1998. Jayne has three other siblings, and Jason has four. The couple knew they wanted to have kids, but didn't set out to have a large family right away. The couple was blessed by good pregnancies that went well, which made it easy to be able to have a large family. Jayne states, "The first three were actually the hardest because they were all born so close to each other. It was hard to get anything done with three little ones wanting my attention all the time, and me running around in circles. Then as we progressed in our family size, the children would help occupy each other and look after one another.
They are always interested in the baby, and I can do laundry and make dinner. It turns into a team effort, and is a really neat dynamic watching the interactions between them."
Owning your business isn't a nine to five job, and the kids learned early on that certain things are required to get the job done right, and why it's important to take those extra steps to make sure that everything is taken care of properly. The Arens hope to pass on a strong work ethic, feeling of self-confidence and ability to follow through to their children. Jason shares that, "There are a lot of unique, handson opportunities that happen on the farmland. This was the main reason I wanted to get back to farming. I didn't go into this to be a good farmer, what I really wanted to do, was to be a great dad. Being on the farm gives me the tools to instill these values in my kids."
Everyone in the family has responsibilities on the farm and participates in the business, as well as helping with chores at home. Jayne states, "We've been very blessed to be able to work alongside our kids, and for them to have had the opportunity to do all kinds of different jobs.
The nice thing about raising pigs is that the little kids really enjoy it and love catching and playing with the baby pigs." The couple shares that even though some jobs are more fun than others and the kids may sometimes initially grumble, once they get going, they enjoy it and come back happy, excited and sharing their new experiences with the family.
Jayne differentiates the children's chores from jobs. Chores are the daily work that needs to be done to help the household run smoothly, and are an expected part of daily life. This includes laundry, doing dishes, helping clean up, and seasonal things like mowing and shoveling snow. The kids work together with a partner, to make it more efficient.
Chores are matched by the children's age and ability to competently do them. Even the youngest learn by watching the others and can help clean up. Jayne laughs when she says, "My kids can make a huge mess really quickly, but they can pick it up fast, if I make it fun for them." The younger kids will sometimes have fun competing to see who can pick up their toys the fastest. We turn it into a game, such as: pick up everything red, pick up everything squishy, and pick up everything square." Jobs are actual tasks related to the family pig business and the children get paid for this type of work. The children also help with the huge family garden.
Jayne says, "Our main crop is potatoes. We probably have about 500 pounds of potatoes we use throughout the year. We also process corn, green beans, tomatoes, strawberries, blueberries, peaches, pears, and a variety of jams. In the fall the kids love to help out with processing all the different produce we get from the garden."
Some laundry gets done every day to keep it from accumulating. Jayne reveals her laundry strategy saying: "Each child has their own laundry basket and the family doesn't mix clothes. This way we are not spending hours sorting socks. I also have one kind of sock for each size range.
Each child is in charge of folding their clothes.
The little ones have large cube shelves where they sort their clothes into labeled boxes and don't fold them. This saves hours of laundry time."
"Cooking is the easy part. I just make a little bit more. Whenever I make a casserole, I use an extra-large pan, or I use three boxes of spaghetti and the extra-large size jar of sauce. The prep time can take a little more work though. Peeling 5 pounds of potatoes can take a little time. It's great that I have a lot of helpers. I also have an XL large pressure cooker, so the cooking time is all about the same. Whenever I am struggling with trying to figure out what to make, I give each kid a chance to pick out a menu and then they get to help make it. We are very fortunate to have access to pork and beef. We usually get one beef and about 3 hogs throughout the year. We have two large deep freezers so we always have access to meat."
The family table seats fourteen people and is five feet wide. The Arens all eat together, and begin the meal with the Hail Mary Prayer and end the meal with a closing prayer. Meals are passed around the table family-style, and everyone is encouraged to share something about their day during meal conversation.
The discussions are always lively and provides a great way for everyone to check in with each other. With the current world-wide health crisis it's much more common for all the seats to be filled, since school and social life has been so severely altered.
An upside to the Covid pandemic for the Arens family, is that it forced the kids to slow down the pace of their usual extracurricular sports and school activities. Jayne and Jason have really enjoyed having the family home. "Getting that family time back has really given us more time to enjoy each other. We were constantly going. We had to do this, and we had to do that, but we found out that we didn't really miss all the extra busy things we'd gotten so used to doing.
Actually the kids can still function, and will blossom and grow, without having to do everything. Now that we've taken that family part back, we still allow the kids to do things but we've gotten more realistic about what's really necessary." Jason chimes in that "sometimes it felt like we were all going in different directions and were always in a rush to fit it all in, without being able to be there for everyone and feeling pulled apart in the process. The Covid situation has been difficult for everyone, but it's forced us to find the silver lining and make the best of it. We've been able to really enjoy the quality time. "
When asked specifically about parenting advice, Jason is modest when he says that he continually strives to be a better parent. "No one gets a Blue book for parenting. We're doing the very best we can. We pray, we discern, it's a journey. We don't know it all, we make mistakes. Do we get it right all the time? No, but we keep trying to do a little bit better every day." Whenever things go wrong and discipline is needed, "I tell the kids how much I love them and try to explain to the kids that, 'God blessed us you children and trusted us to help guide you and show you the right path. If we didn't do our job, God would be upset with us. It's not about us correcting you so much, it's about you doing the right thing and being right with God and becoming a better person.
A common question always asked, is if the Arens will continue to add to their family? To this Jayne answers simply: "We're happy with what we have. Our family is full and we love everyone in it. Jayne says that, "I truly don't think most people can understand it, unless you have a large family or are a member of one. I'm sure some of our kids won't want to have a big family, while other ones will. It's just one of those things where a big family isn't for everyone. You have to have the right mind set. If you have a certain temperament where you need things just so, or things have to be perfect all the time, than this isn't for you. You need to be able to adjust and adapt, and be okay with things, accepting that life isn't always perfect." Jayne laughs when she shares, "It's like our son Tanner says: We can have nice things, just not very long." With toddlers and preschoolers underfoot, everyone knows to keep anything breakable out of their reach.
Jason chimes in that, "Today it often seems to be all about instant gratification and having a lot of things, and the expectation to have everything right now. When you have a large family, there is no such thing as right now ever. This teaches the kids a lot of patience and how to work together and the need for learning cooperation skills. This is great to see in my family." In the Arens family the kids share their toys, and belongings. The focus of birthdays and celebrations is about being together and enjoying a special meal. For the Arens, the true gift is enjoying all the special moments and being surrounded by family and love.