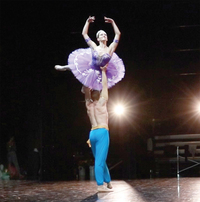 A local resident aims to broaden the world of ballet for South Dakota's dancers.
In 2019, Madeleine Scott, a professional dancer originally from Beresford, founded the first professional ballet company in South Dakota.
Professional companies are typically non-profit entities that foster the art in a given area through performances and student outreach.
"We take ballet into underserved communities, and take opportunities to study a world-class art form, and build dancers up through it," she said.
"We get grant funding for these kids, so it's free.
Sometimes, it's a donation-based class or a donationbased project, but we want everyone to have access to it."
Scott, who is also the new owner of Premiere Dance Complex in Yankton (formerly the Green Room), added that, through personal life experience, she came to believe that ballet has become an art form for the elite. She found this discouraging and is trying to counter that through her teaching and through South Dakota Ballet, she said.
"As you get to a higher level with dance, as a professional, you're performing and training, just like an athlete, and there are a lot of factors that put someone in the position of having achieved that," Scott said. "One of which I saw time and time again was the individual's financial situation. I came from a single mother who busted her butt to help me and I had to get scholarships, end of story."
Many of the young dancers she met had families with the means to pay the $5,000-per-month rent for an apartment in New York City, whereas Scott was in a tiny space located inside a convent that she shared with five roommates, she said.
"I wanted people to have the learning experience I had, to love ballet for what it is," Scott said.
"Whether we produce professional dancers with our outreach program or not, it is just something that every person should have the opportunity to do, despite their financial situation."
As a young dancer, Scott competed in the Youth America Grand Prix, the world's largest scholarship ballet competition, in which she won a full scholarship to Philadelphia's Rock School for Dance Education.
Her coach and mentor, Elena Kunikova, a classically trained Russian ballet dancer, was based out of New York, so Scott had to fly there once every two months to study with her, she said.
"I trained professionally for six days a week, for two years in Philadelphia, and then moved to New York City when I was 15," Scott said. There, she took a job with the Gelsey Kirkland Academy of Classical Ballet and transitioned to Salt Lake City two years later to work for Ballet West Academy.
"I started going to the University of Utah," Scott said. "I did my general education at the University of South Dakota my first year, so I was doing college at the same time as I was dancing and performing some of my dream roles."
Since then, Scott's dance career has taken her across the U.S. and to Europe, where she has performed different styles of dance from ballet to contemporary, she said.
In 2018, an illness in the family drew her back to South Dakota.
"My grandfather was diagnosed with stage-four cancer, and it was a reality check for me," Scott said. "My priority is my family."
It was at that time, while freelancing and coaching ballet local students, that Scott saw the need for South Dakota Ballet, she said. "It was crazy. We are the last state in the U.S. to establish a professional ballet company," Scott said. "That just blows my mind, that with all the resources we have here, the flexibility and the talent, we are the last state."
In May 2019, Scott founded South Dakota Ballet, with two supporting board members: her mother Ruth Scott, president of FYZICAL Therapy & Balance Centers of Southeast South Dakota, and Johna Kern, manager of Clinical Services for Sanford World Clinics.
The group set to work and has continued operations as much and as safely as is possible during the COVID pandemic, she said.
"The South Dakota Ballet had its shows totally cancelled due to COVID," Scott said. "I still managed to put together quite a few performances this season, but not at the scale we had originally planned."
The last show, "En Avant," performed in Sioux Falls in October, included dancers visiting from the American Ballet Theater and the Aspen Santa Fe Ballet.
"It has been so beautiful to see the artists interacting with our community," Scott said. "After the show, all the artists came out on stage with a microphone, and we just sat and talked for a while with the audience, which is so cool."
"I want it to be personal," she said, "I want our communities to get to meet these artists and I also want the artists to feel that sense of community that we have here in South Dakota."