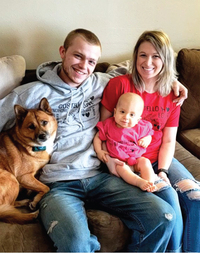 Kahlia Kozak has been through more in her first three years than many will encounter in their lifetime. The loveable little girl continues to overcome challenges with the most contagious little smile and upbeat personality. Her mother, Tawnie Slate, visited with me on the blustery Halloween day to share her daughter's story.
Tawnie Slate and Keaton Kozak were blessed with a baby girl, Kahlia, on September 13th, 2017. When she was born, she had a hard time breathing and was not eating so she stayed in the Newborn Intensive Care Unit (NICU) at Avera Sacred Heart Hospital in Yankton days and was placed on oxygen and an IV.
At 2:30 AM on day two, the nurse roused sleeping Tawnie and Keaton from their hospital bed and told them that Kalia would be flown to Sioux Falls due to complications. Though the nurse couldn't give further details, she explained that Kahlia was having seizure-like activity – a tongue thrust and a twitch in her left arm. While waiting for the helicopter, delayed due to an impending storm, Tawnie held her daughter and witnessed some of the seizures.
Tawnie recalled arriving at Avera Sacred Heart NICU in Sioux Falls to see her baby, where the nurse prepared her for what the little girl would look like.
"It was pretty traumatic. It was not something I ever want to see again." Though Kahlia was surrounded by tubes, cords, and wires, she was doing rather well at the time. She was hooked up to an EEG machine to see what kind of seizures she was having and was put on an anti-seizure medication to help control them. The medications sedated her, which was probably best to help eliminate the trauma she would have felt. After tests and medication adjustments, the seizures stopped on day five.
Still in the hospital, Kahlia wouldn't eat and received most of her nutrition through a Nasogastric intubation tube. In mid-October, she drank her very first full bottle of milk by mouth and drank three bottles that day. Mom and Dad were ecstatic.
"She had those bottles, and we were on top of the world, thinking 'she's finally got it, she's figuring it out, we get to go home.'" The victory was short lived. The next day Kahlia was vomiting profusely, nothing like they've ever seen.
The medical professionals thought that the feeding issues were part of Kahlia's brain injury and predicted that she would never be able to eat on her own. As Tawnie and Keaton took a break from the hospital room one day, they finally decided that Kahlia's best route was a permanent feeding tube. The doctors had discussed this option with the couple several times but were just waiting for their approval to proceed. The surgery to put in a gastronomy feeding tube was done on October 23rd.
Test results from her brain MRI determined that she had brain damage from lack of oxygen at some point, though it wasn't determined when that happened. Keaton researched material about the brain and brain trauma and discovered a theory that the brain can be remapped with music therapy. All day, every day, Kahlia would listen to classical music like Mozart in effort to help her brain heal.
Upon finally returning home after 49 days in the hospital, things looked well. Kahlia started daycare in December and it seemed as things were proceeding as normal. During a regular checkup that month, Kahlia's unusual heartbeat concerned the doctor and he conducted an echocardiogram on the little girl. Tawnie and Keaton received a phone call after the test results were reviewed; it was determined that Kahlia had a heart condition – obstructive hypertrophic cardiomyopathy, or obstructive HCM. The condition caused a thickening of the lower left chamber of her heart, causing a reduction in blood flow. She was put on a heart medication and began seeing a cardiologist in Sioux Falls.
Three months later, Tawnie and Keaton met with a geneticist and decided to have another, more specific genetic testing done on Kahlia, hoping to discover some answers. Her previous genetic test did not determine anything. During the weeks while they awaited the results, a home health nurse and friend of Tawnie's questioned the girl's eating difficulty and suggested it might be from a possible lip tie. They saw a pediatric dentist in March, and found it was a severe upper lip tie and posterior tongue tie. The procedure to release it was done during that same visit.
They received the genetic tests results in April. Out of the diagnoses that were suspected, Kahlia matched with one, the worst one of the predictions, Costello syndrome. Even more so, the geneticist explained that Kahlia's specific gene mutation, G12A, is even more rare within the syndrome spectrum. They learned later that Costello syndrome is a world-wide condition, with approximately 600 people diagnosed.
About 10% in this group share Kahlia's rare gene mutation.
Over the next two months, Kahlia's obstructive HCM heart condition continued to be monitored. During a regular appointment, they found the medications weren't helping. The cardiologist gave options for Kahlia to either take a trial medication or to have open heart surgery. Kahlia's parents opted for the medication trial first, hoping that it would give more time for Kahlia to get older before needing heart surgery. The nine-month-old was admitted for a five-day hospital stay to be monitored after starting the risky medication.
"This medicine was like a miracle drug for her. It did absolutely everything it was supposed to do for her. Just watching her go from this very sick, weak child to full of energy, full of color and wanted to play and laugh all day long. Keaton and I weren't used to it," she reflected.
As Kahlia grew, she continued to do well, though she always seemed nasally, like she had a constant cold and had breathing issues while sleeping. On Halloween of 2018, when she was just over a year old, she had a sleep study done due to a question of sleep apnea. What seemed a minor test compared to what she had been through was the hardest test that Tawie and Keaton had been through with their baby girl.
She took me back to the testing. Kahlia had more than 20 wires attached to her little body and she was wrapped in gauze. Due to her syndrome, she is always hot, and the conditions of the testing only aggravated it. She was hot, sweaty, and screaming and just wanted to be held.
Emotion from her recollection was apparent in Tawnie's voice. "It was awful. Very, very traumatic."
Tawnie held her, though it was difficult due to the electronics connected to the tiny body. For complete testing, she was to have a minimum of six hours of deep sleep, either uninterrupted or intervals.
After just barely making the requirement, Kahlia was released; the test concluded that she did have severe sleep apnea. It was later determined that she also had enlarged tonsils and adenoids which were then removed. After this, the sleep apnea was gone.
Nearly a year without having any procedures done, Kahlia's heart medication became ineffective. In November 2019, she stayed in the hospital during a sedated echocardiogram and was placed on a different heart medication that was effective but resulted in horrible side effects.
Her new heart medication only worked for a few months. In April 2020, the best option for the little 2½ year old was open-heart surgery.
Tawnie explained that, out of the surgeries so far, this was the calmest that she and Keaton had been. She thought part of it was because of the medical team, knowing that the surgeon was confident and that Kahlia would be better after the surgery. The anxiety of constantly monitoring her and the unknown of when she would have the surgery was gone.
They were excited to get her home again and soon it was apparent that the surgery was a success. "She has been totally different ever since," Tawnie explained. The color of her skin improved, her energy increased, and she progressed in physical therapy. Her appetite increased as well. Though Kahlia relied solely on her feeding tube for her food, she wanted to drink more and wanted to taste foods, even eating some baby puree.
"It was weird. I've never had to sit there and share my food before. All of a sudden, I can't even eat my hot meal," She laughed.
The outgoing toddler continues to progress remarkably in physical speech and occupational therapy and recently got foot braces to help strengthen and straighten her ankles. She is also now beginning to use a "gait trainer," which is similar to a walker.
"We're really excited for her to learn how to walk in there. She's never been mobile before. She can't crawl or scoot around. With her being in this walker, she will learn how to walk around the room and at school." We talked about how Tawnie will need to childproof her home, something she's not had to do before.
Kahlia has started growing some hair and has even been modeling for a children's boutique that Tawnie owns. Though she looks extremely photogenic in every picture, Tawnie explained that it's not something Kahlia enjoys. "You guys would be surprised at the things I have to do behind the camera to get those really cute smiles," she laughed.
She mentions the upcoming Costello Syndrome Awareness Day on January 27th and the Costello Syndrome Facebook page that she's learned so much from. With members spanning several generations it helps show how the condition progresses. Every two years the group has an adult/family interaction to gather and learn from educational sessions. In 2019, the family couldn't go due to Kahlia's state of health at the time. Since the Covid pandemic has pushed the 2021 convention to 2022 in Denver, the family is determined to go.
"These kids that I pretty much know everything about them and all their cases, I'm going to get to actually meet them in person," she explained.
Kahlia is doing well at school and is part of an early intervention program at Stewart School, a program for children over the age of three that need a little extra assistance. During her three-hour program three days per week, she works on basic preschool tasks and gets her therapy at school. "She has advanced and has done tremendously well after starting school," Tawnie commented.
Though a little girl of few words, she knows what she wants to say but has a hard time saying it. Many kids with this syndrome don't talk so Tawnie has started learning sign language to teach Kahlia. Kahlia has some signs of her own, creating some for what she wants to say.
Tawnie laughed, "I've caught on to the ones she makes up." Tawnie explained that one doctor told them Kahlia will never walk, talk, be mobile or be normal. The determined little girl has proven that wrong.
"She is so smart, even though she can't walk, talk, she's not eating, things like that, mentally she is very advanced. I think it's just because she can't do those things that other kids do; we have to have that connection between us."
Their syndrome is known for their contagious smiles and bubbly personality and Kahlia could be the poster child. Though she has been through so much in her little life, she still wears a beaming smile that could melt anyone's heart. Her personality inspires not only her mom and dad, but others around her as well, often receiving comments on how beautiful and happy she is.
"We walk into daycare, for instance, or school and everybody, you can just watch their faces light up when they see her because she just has this beautiful personality about her," Tawnie explained.
Tawnie is thankful for the flexibility in her job to take care of Kahlia's needs. Over the course of Kahlia's treatment, she missed many days of work and her employer was good working with her. She's since gone to part time status to allow her more time with her daughter.
The couple welcomes questions about their daughter's journey with Costello Syndrome. "We're open about it, if anyone asks us any questions, we'll talk about it, vKAHLIA continued from page 13 we don't mind. But they don't know all the hard parts that we've gone through with Kahlia."
It's been inspiring to watch the young couple show their beautiful little girl's progress through her Facebook page, Kahliacarol. Tawnie welcomes new members to the page that would like to follow her journey.