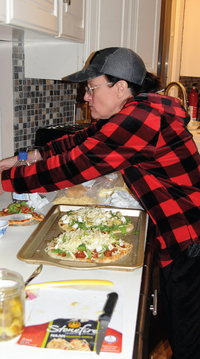 Whenever you visit, Steve and Tracy Huff treat you like family. But the newest addition for many of their mealtimes is family — Steve's mother, Jean Huff, who recently moved to Yankton.
Jean lives in an apartment on her own. However, she's just a short drive from her son and daughter-inlaw, which was a major draw for her to choose River City when she decided to make a life change.
"I just love Yankton," Jean said. "It's such a welcoming community, and it has everything I need."
On this particular weekend, the Huffs went for a simple yet creative meal on back-to-back nights. On Saturday, the family gathered for a pasta bar with homemade meatballs.
On Sunday, when I joined them, they created their own pizzas and toppings. For dessert, we enjoyed homemade chocolate chip cookies. For a potent potable, Steve mixed up a special blend of his "Blood & Sand" libation.
While I wasn't part of Saturday's meal, I wasn't deprived of an important part of it. Tracy took out a container filled with leftover meatballs.
"Last night, we did a pasta night. We took two pounds of ground beef and mixed it with a package of Kleinschmit (Locker's) garlic and onion brats (bratwurst). I removed the skin on the brats and mixed (the meat) with the ground beef," she said. "I used Panko crumbs, which is essentially a Japanese brand of narrow bread crumb, and put fresh parsley in it. For a cheat, I used parmesan cheese that was already grated."
Why make your own meatballs? And what's special about these ones? "We've been having quick, easy meals," she said. "I was just experimenting with what we had in the house, and everybody loved the blend with the brats and ground beef."
Tracy added bread crumbs along with two eggs to bind the meat and make it moister. She formed the meat into balls and then cooked them in the oven for 30-45 minutes at 350 degrees. The time and temperature may vary based on the oven, she noted.
For this particular meal, the Huffs went with a different pasta, choosing the spinach and ricotta ravioli instead of the usual tortellini. The pasta bar included the meatballs and three different cheeses: packaged mozzarella balls, grated Dimock farmer's cheese and grated Dimock jalapeno pepper cheese.
I sampled the meatballs, which were a zippy treat even as leftovers without the pasta.
Tracy has become known for her signature desserts. Once again, she didn't disappoint as she created the classic tollhouse cookie using a variation of the original recipe.
"The cool part about it is, you don't have to use the tollhouse chocolate chips. I used the Hy-Vee chocolate chips," she said. "I also used some Dove chocolate bars that we had on hand, cut them into little squares and threw them in as well. It helped fill in (the batch) with more chocolate. I also added an additional egg, which made it less crumbly."
Steve gave his "thumbs up" of the recipe changes,
particularly the extra egg. "It really made a difference.
The cookies were very moist," he said.
The pasta bar ranks as one of the Huffs' favorite meals, Tracy said.
"It's easy and a comfort meal with a lot of cheats," she said. "The beautiful part of this dish, it's so versatile. With pasta, you can throw anything on it. You can throw on vegetables, a simple marinara or, in this case, cheese. For this meal, I made the homemade meatballs, which are about 1 ½ inches in diameter."
The Huffs like marinara sauce on their pasta. They also use vodka sauce or Mediterranean and spicy sauces, which have become favorites.
For a different side, they make fried rice.
They place three cups of rice and three cups of water in the pressure cooker and set the timer for five to seven minutes.
For the leftover meatballs, Steve likes them warmed up and covered with Frontera roasted tomatoes and garlic. "I like to take the day-old meatballs and, instead of going Italian again, you go Mexican and make street tacos. Why not? You just tailor it to whatever you want," he said.
For that matter, Steve suggested putting meatballs on our pizzas to go with the other ingredients. They started with naan bread as the foundation, covered with pesto, meat and cheese that provided a warm and delicious melt on top of the soft, chewy crust.
The Huffs are up for any culinary experience. They recently ate pheasant provided by a friend who had bagged the bird from his hunt.
Another time, they made a meal with lamb.
At first, Jean carried a hatred for lamb and pheasant because of their often gamey taste. However, Steve insisted she try it again, and she enjoyed it this time.
"My father loved lamb, and he used to think of things to put on it to mask the taste," Jean said. "But Steve and Tracy created lamb and pheasant that are to die for. It all depends on how it's prepared."
Steve and Tracy offer an open door policy, inviting Jean to join their family whenever she wants.
"We invite Jean virtually every evening. We tell her, 'This is what we're doing tonight (for dinner). What do you think?'" Tracy said.
"It's awesome to share meals with her, and we usually send a 'goodie bag' home with her that contains leftovers. Jean and I have even taken cooking classes together with Chef Staci at Hy-Vee."
Jean described herself as someone who loves socializing, particularly dancing, along with enjoying good music, food and drink.
When it comes to movies, she's a huge Kevin Costner fan, especially his film "Dances With Wolves" shot in South Dakota.
She makes her own meals. However, she admitted it hasn't been too necessary since she moved to Yankton, since Steve and Tracy continually share their culinary creations with her.
For Jean, the pandemic had been particularly hard for her prior to moving to Yankton. She remained mostly alone at home since March, when most activities were cancelled in her former hometown. However, she has found enjoyment with the family — including the cooking sessions, meals, conversation and laughter — since she moved to Yankton.
She also praised other aspects of Yankton life, from the food, shopping, arts and entertainment to the medical facilities and other services. She looks forward to exploring more of Yankton life with the pandemic's end and the return of warm weather.
The Huff's son, Nathan, had returned home from college when we gathered for the Her Voice interview. He requested seafood chowder one night while at home, and the family gladly agreed. Their daughter, Abby, also has her favorite foods, and the two teenagers have even engaged in culinary competition with their parents as the judges.
(The contest ended in a tie.)
"For the seafood chowder, we used cod from Kleinschmits. We did a cheat with the frozen corn, and we could use any type of frozen vegetables from Hy-Vee," Tracy said. "We also use frozen shrimp, not only for the seafood chowder but also for the rice dish. We use the bags of vegetable medley and corn to blend with the fried rice. I recommend keeping frozen veggies in your freezer year-round. Fried rice can also be very versatile, and I put scrambled eggs into (these dishes)."
While Tracy was putting the finishing touches on the food, Steve was working the juicer and blender for some adult refreshments. He concocted his "Blood & Sand" creation, which he hadn't made for two years. The drink consists of "2-2-2-2" — two ounces of "good" Scotch, with his preference as Johnny Walker Black; two ounces of fresh orange juice; two ounces of sweet Vermouth and two ounces of cherry liquor. No orange concentrate or bottle/carton of juice here — only fresh squeezed will do for this drink.
"I used a Cuban fresh juice presser, so I could have filled it with two full oranges. I prefer the regular oranges over the blood oranges," he said. "Then you put (the mixture) in a big blender with a ton of ice, and you've got yourself a great drink."
For Steve, Scotch and bourbon are his go-to drinks in the fall and winter. "If you're really chilled, a cold drink will actually raise your temperature a degree or a degree-and-a-half," he said.
The pandemic hasn't diminished people's desire for a good drink, Steve said. Customers uncomfortable in a bar or restaurant because of COVID-19 are turning to take-out and curbside service for beer, wine and liquor, he added.
During our gathering, Steve kept an eye on the Sunday Night Football game featuring his beloved Pittsburgh Steelers. He later retreated to another room to watch the game's finish.
"I've been a big Steeler fan and of players like Rocky Bleier and Franco Harris. Back in the late '70s, you had (powerhouse) teams like the Oakland Raiders, Kansas City Chiefs and Pittsburgh Steelers. I have a complete set of the 1978 Steeler football cards. It was the only thing we saved when a flood hit my house in 1993."
Like most families, the Huffs have been deciding how to celebrate the holidays and other events during a pandemic, Tracy said. "We've kept things pretty low key. This (family) is our pod, and you don't want to break your pod (and potentially become infected with the coronavirus). Hopefully, we'll have a vaccine soon. I would like to have things back to normal in 2021," she said.
Even during challenging times, Steve and Tracy work well together in the kitchen. "They can stay in their pod here at home and make all this wonderful food," Jean said, chatting with them in the kitchen.
Tracy agreed, pointing to their enjoyment of spending time together, particularly when working on favorite foods. However, she noted the family has changed its shopping habits during the pandemic.
"We probably shop a little more often, but it's virtually online anymore. We do the Hy-Vee aisles online," she said. "I see it becoming more and more of a demand (from customers). I think, after the pandemic, people will continue doing it. I like the convenience of it."
Steve agreed that the demand for online grocery shopping is here to stay and will continue to grow, even after the pandemic. "People will go in (the store) for the occasional three items, not for 30," he said.
The Huffs are well-known for their generosity and hospitality, particularly for donating large meal packages for area fundraisers.
They also host gatherings and often share their meals with neighbors and friends.
However, Steve plans a different approach in the future, given the economic devastation for many businesses during the pandemic. He wants to start resuming enjoyable activities, particularly contributing to the local arts, entertainment, businesses and hospitality industries that have taken huge hits. He also wants to resume road trips with his family to places like Omaha and Des Moines.
"I really want to travel and get my kids to where they should have been the past year — seeing plays and concerts," he said. "And I want to support the (local) bars and restaurants. It's been a rough year for all of them, and I want to spend some money to help these people earn some money."