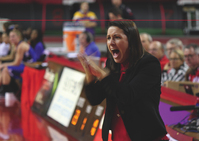 When Amy Williams steps onto the hardwood floor in the DakotaDome on game night, she does it in slightly different fashion than the head coach before her – literally. In a pair of black high heels, Williams paces, crouches, and sometimes even jumps along the sidelines of every Coyote women's basketball game, in her first season as the University of South Dakota's first female head basketball coach since the 90s.
"I definitely believe the two male coaches that preceded me here have done an excellent job," she said. "I think they can be great role models; they truly built great programs. I just think sometimes my players are going to be able to relate to me because of the fact I am a female."
But that isn't the only aspect that Williams feels she can relate to her team. As a standout player at the University of Nebraska- Lincoln from 1994 to 1998, she understands the struggles being a college student-athlete.
"I played college basketball and I was in these young women's shoes," she said. "It was a long time ago, but it wasn't so long ago that I don't remember the struggles, the emotions, just being able to relate with what they're going through on a daily basis. I think that provides a huge advantage when you're orchestrating and leading a team."
Growing up in a basketball family in Spearfish, South Dakota, Williams played for her father in high school and wanted the opportunity to play for a Division I program upon graduation, something she could not do in her home state at the time.
After enrolling at Nebraska, Williams did something rather uncommon in Division I athletics. She walked on to the basketball team, earned herself a scholarship, and became a four-year letter winner for the Huskers.
"Honestly, people wouldn't have looked at this 5-5 girl from small town South Dakota and thought I could play in the Big 8 or the Big 12," she said. "I think my parents just kind of instilled in me that confidence to be able to do what I put my mind to doing."
At Nebraska, Williams majored in biology and mathematics and planned to attend medical school, already securing a hospital internship and taking the MCATs. But as her basketball career came to a close, she realized she was not quite ready to walk away from the sport she had grown up with.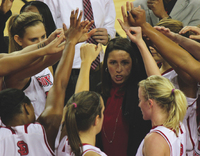 "I knew that some of the most influential people in my life had been my coaches and my parents, and to have that opportunity to impact young women and give back, it just took me a little while to figure out what I wanted to do with my life," she said. "And since then, I haven't really looked back at all. I love what I do."
Since that decision, Williams gained valuable coaching experience in several different programs around the country, including her first assistant position at the University of Texas-San Antonio. That position not only opened up doors for her career, but also in her personal life. At UTSA, Williams met her husband Lloyd, who was a member of the Roadrunners' men's basketball staff. Lloyd now works under head coach Dave Boots on the Coyote men's staff.
Although Williams and her husband are only in their first seasons as Coyote coaches, she and her family are excited about the community and opportunities at USD.
"This community of Vermillion has really embraced us – our family as a whole," she said. "We're both getting to do what we love to do so we're both really happy."
However, because of mirror scheduling in the Summit League, Williams and her husband knew their hectic schedules would conflict with one another. So when the Williams came to USD with their two daughters, seven-year-old Kennadi and two year-old Bentli, they made a commitment to their family.
"It is a challenge, but one thing when I took this job, my husband and I made a commitment that no matter where we are, our family is always going to come first," she said. "And that's a commitment that we stand by."
Although she keeps her family-first mentality, Williams does not attempt to keep her family and work separate. As a role model for her student athletes, she believes it is important for her players to see her as both a successful coach and a great mom.
"I think that it's good for our players – young women – to see that family model and atmosphere," she said. "I also think it's good for my children to be around these amazing young women who are driven and motivated. I couldn't pick better role models for my two little girls. So it's a good fit for both sides."
Raising a family while balancing a career is not the only struggle Williams faces in her new position at USD. Leading a Division I women's basketball team involves much more than choosing the right in-bounds play or defensive strategy. She believes it is much more about motivating players, finding the best chemistry, and just facing the daily battles of a team of young women.
"Those daily battles of life are one of the things I love about the job and it's also one of the things that is a challenge about it – being able to handle those things that come up without it distracting from what you're trying to accomplish as a team."
As the season goes on, Williams will have many chances to address these on- and off-court challenges, but her love of the job and her experiences as both a coach and a mom will help her overcome them.