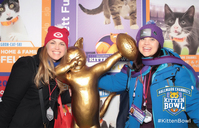 Last February, the upper Midwest was treated to the second Super Bowl to be hosted in Minneapolis.
Making sure the fans in the Twin Cities for Super Bowl LII were entertained was a gargantuan task, but Katie Blaalid of Yankton and nearly 13,000 other volunteers helped to make it so.
A Yearly Event
Before taking to the Super Bowl, Blaalid admits she'd never had a huge interest in football, with one exception.
"The only interest I ever really had in football was watching my brother as a Yankton Buck," Blaalid said. "He was No. 73. At a young age, I always enjoyed watching my brother play football and, at the end seeing his friends on the field. I'd get great big hugs because I was only in first grade when he played."
However, she said that she does enjoy the spectacle.
"I'm just like a big cheerleader for pretty much anything that's social and fun that brings people together," she said.
And she's even found the yearly spectacle of the Super Bowl impossible to ignore.
"That's a yearly event watching the Super Bowl, watching the ads, watching the live performances," she said. "That's always been a part of my life. When I was in college as a Contemporary Media & Journalism major, that was also an assignment that we always had to have — watching the ads."
Crew 52
The journey to Super Bowl LII in Minneapolis began simply enough — with a friend's recommendation.
"My friend Jennifer was like, 'We should apply to be a volunteer for the Super Bowl,'" she said. "I went on right away and filled out an application. A few months later, they asked if I wanted to interview."
However, Blaalid would not be joined by her friend in Minnesota.
"I asked Jennifer, 'When's your interview?' She's like, 'What're you talking about?" Blaalid said. "She's like, 'No, I never applied.'"
From there, Blaalid started the process of becoming a Crew 52 volunteer to help with the Super Bowl LIVE experience.
"I went to my interview that I had to drive to Minneapolis for," she said. "It was very short and sweet, but there was a lot of people there, so it was kind of nerve-wracking. "
Blaalid said she was asked questions such as "Do you want to be the face of Minnesota? Do you smile? Do you have the personality?"
Soon after, Blaalid found out she'd been accepted.
"I was at work and I noticed I had a missed phone call and there was a voicemail," she said. "They had this nice little voicemail saying that I'd been accepted to be a volunteer for Crew 52. I was really excited."
She then had to venture up to Minneapolis three times for mandatory training sessions.
With more than 13,000 volunteers set to help with one of the biggest annual sporting events in the world, volunteer training took place at the Xcel Energy Center in St. Paul. She would also get her uniform there. Despite all of the time and financial ramifications of preparing to volunteer, Blaalid remained unfazed.
"I was also thinking how this is definitely worth it with the experience, the time and the people I'm going to meet," she said. "I was blessed to have a friend that actually lives in Minnetonka, so I got to stay with her, so that definitely helped with the cost."
'It Was So Cold'
Then came the big weekend itself — Super Bowl weekend in Minnesota.
Blaalid said it was her goal to be as close to the action as possible.
"We had an app and as soon as the app opened, you could sign up for your shifts," she said. "For Super Bowl LII, they'd have live events for 10 days, so you had to sign up for at least three shifts, and they're five-hour shifts. Right away, I wanted to be there the weekend of the Super Bowl because I wanted to be in the heart of the action."
Blaalid signed up for shifts Friday, Saturday and Sunday where she would be reminded of one of the hard facts about Minnesota — it's chilly in February.
"Being there was magical," she said. "It was so cold. I thought being from South Dakota, I could totally handle the cold. Being of Norwegian descent, I could totally handle it, but it was so cold. You get a soup ticket when you're volunteering, so you get a little break to have soup and
hot chocolate, and I was like, 'I don't know if I can go back out there. It is so cold, and my feet are frozen.'"
But she said the spirit of the weekend outweighed the cold.
"It was a lot of fun," she said. "All of the fans were super nice and fun."
Super Bowl LIVE consisted of a number of events and activities for fans ranging from concerts to zip lines and photos.
For her first shift, Blaalid was tasked with helping with the zip line. "A group of us were telling people which Polaris vehicle to get into to go zip lining," she said.
On Saturday, Blaalid took on a job that she had a little previous experience with.
"Having a background working at Harold's Photography for several years, I got to take photos of people," she said. "That was really easy for me and fun to do because there was an ice sculpture and I would take photos of people with the ice sculptures."
On Super Bowl Sunday, she got to help out with pre-game concerts going on in downtown Minneapolis.
When not on duty, Blaalid took some time to enjoy some of the festivities around the game.
"The second day, Dave Matthews was playing the Xcel Center in St. Paul, and I had bought tickets — which is kind of a big deal and fun," she said. "There was a bunch of people from Yankton that were going to that concert, so I saw them before I went to the concert. Then Sunday, I went around and did all of the activities because my sister flew from Colorado to stay with my friend that lives in Minneapolis."
While volunteers such as Blaalid didn't get to go to the game itself, she said it was still an exciting spectacle to watch.
"It was awesome watching it on TV in Minneapolis," she said. "I stayed up to watch the Jimmy Fallon special and he held up the Bold North mittens that the volunteers all wore, so that was fun and special. It was a really great experience."
Looking Back
Blaalid said that even after it was over, volunteers had a chance to have a little more fun.
"They had a little party in Sioux Falls for people around the area that were volunteering," she said. "I actually met someone from Yankton that was volunteering, but I had no idea."
She added that she's even run across volunteers well outside of the area.
"Over Thanksgiving, I was in Steamboat Springs, Colorado," she said. "As I was eating lunch, I looked out the window and someone was wearing the volunteer Crew 52 jacket."
Blaalid said it was a fantastic experience overall.
"It was an incredible experience," she said. "I don't know if I'd ever have this opportunity again. Being with all of the other people that were experiencing the same thing was really cool to share with them."
But should the opportunity come again, Blaalid said she'd happily take part again if the opportunity arises.
"I'd definitely volunteer again," she said.