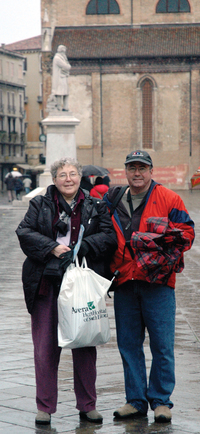 A passport full of multi-colored stamps from many faraway countries is the dream of many, but a reality for Dr. Rich Lofthus. He's led college sponsored trips to just about all the major countries on the European continent. A seasoned traveler, with the experience gleaned from sixteen years of travel, Lofthus has an immense knowledge of history that he's shared with the students at Mount Marty University for the past thirty one years. This March, Lofthus, accompanied by Mount Marty English Professor; Dr. Jamie Sullivan, students and other local travelers visited, Prague, Munich and Berlin.
The initial excursions to Europe started as summer trips in the sixties, led by Sister Cynthia Binder and a fellow teacher; Clara Chavez. The Mount Marty professors took their French and Spanish students to France and Spain to live in dorms or live with families in homestay programs for four to six weeks at a time. The two teachers would eventually meet up with their reunited groups for a few days in places such as Paris, before heading home.
This was a wonderful opportunity for their students to become immersed in the language and culture of the country, while applying their new skills of a foreign tongue and making lifelong friendships.
Lofthus emphasizes that the trips have always had an educational focus. "It isn't just sight-seeing, or shopping or going to a beach. It's focused on the history, the architecture, the art and the culture of the places that we are visiting. " Trip participants are required to meet for monthly sessions, starting in the fall, to help them prepare and learn more about the upcoming itinerary. This is especially helpful for people that have never previously travelled outside the country.
For those that are interested in academics, three college credits can be earned towards the humanities, for going on the trip and meeting the course requirements. The title of the class is, Art 260: Art and Architecture in Europe. Once enrolled, the course requires attending monthly sessions beforehand, and once enrolled in the class, there are assignments. Lofthus states, "We watch a movie that relates to the planned location and then write a review on it. The students also write a short paper about one aspect of the itinerary and then help present this at a college noon forum." Students also put together a power point or have their trip photos made into a book that they share at an end of the year dinner, where everyone discusses their thoughts about the trip.
When describing the trip participants, Lofthus states, "We always have a mixed group of usually, half students and half adults. Often family members of students will go. Sometimes, several members from an extended family member will make the trip together, and we have people from our community that will travel with us also." Organizing these trips provides Lofthus an opportunity to meet with at least two of Mount Marty's four core values, the first being hospitality: "We are offering people a chance to go to Europe from our community." The second is life-long learning, with a chance for people to make what might be the trip of a lifetime and opportunity to experience many new things they might not have otherwise.
The trips are intentionally scheduled on a 4-5 year rotation, through a major travel company called EF/Education First. This company puts the travel packages and itineraries together. The college is able to choose which one they will accept. Lofthus says, "We always try to go to at least two different countries, with two or more major European cities and some smaller ones as well. We have had students that have been at Mount Marty for four years, and have been on four different trips. We make sure that every year a different trip is offered."
Lofthus credits the excellent tour guides for enhancing their European experience saying, "The tour guides know the languages of the countries we are visiting. They also know how to get the most out of an itinerary--special additions that they can add to the trip, such as touring an Italian winery and having lunch there, rather than just stopping at a roadside restaurant. While we travel on buses, tour guides have knowledge about the history, customs, art, etc. of the areas we are visiting that they utilize that to educate us as we drive along. They are also checking ahead to make sure that all the arrangements are finalized." The tour guides stay at all the same hotels as their travelers. Lofthus feels fortunate to have built relationships with particular tour guides and been able to request them for multiple trips over the years.
Over the years, the timing of the Mount Marty trips changed from summer, to Christmas break and eventually evolved into the spring break. Other faculty members led separate expeditions as well. Lofthus was invited in 2004 by Sister Cynthia, to help her when they she needed another faculty member to escort a group that wound up having to take a flight separate from hers. The two worked very well together and Lofthus continued to go ever since, observing and learning all the ins and outs from her. After more than fifty years of teaching and guiding hundreds of students, Sister Cynthia retired in 2015 and handed over the reins to Lofthus, who has been joined by Dr. Jamie Sullivan for the past seven years.
Some travel locations are more sought after than others. Key examples are Italy and Ireland. Group sizes can vary from anywhere between 18 to 40 people. Lofthus confides that, "Most college students want to go to three major cities: Paris, London or Rome. Whenever we do a trip to Italy, we'll have a group of at least forty people attending, because at a Catholic college, a lot of people want to go to Rome. Sometimes if we are going somewhere not as popular, we'll have a smaller group. " Lofthus prefers a group of 20 to 25 people, because it makes seeing everything a little faster and easier. Lofthus knows all too well, that forty people can't cross the street at the same time and getting around takes a little longer with more people. When asked to choose a favorite country, Lofthus finds it difficult. Among the top are the Normandy region in France, Ireland and Italy. "Ireland is fun because, "You can talk to almost everyone you meet and there's no language barrier. It's such a beautiful place. I always enjoying going to Italy because it's one giant art museum, and the weather is usually pretty good even in March. Things are green, with great food and so many things to see."
Travelers are given packing guidelines in advance. Lofthus often advises travelers to travel light since they will always be on the move and having to lug their gear constantly, saying: "It's more important to be comfortable and safe, than fashionable, but unfortunately not everyone agrees." He jokes that he tells his fellow travelers that he hopes "they don't win the Samsonite award, which goes to the person with the largest suitcase." One of the essential travelling items that is often forgotten, is an umbrella. People are also warned to keep their passport in a separate place safe in the hotel or physically on their body, and to keep close track of their personal belongings at all times.
Lofthus is quick to highlight the importance of travel, "We need to travel in order to understand that we are connected to a wider world than we normally experience. Throughout most of human history, most people never traveled far from where they actually lived--they had to be able to walk back to their dwellings or perhaps ride an animal. Consequently, they rarely met anyone that was different from the people they encountered on a daily basis. The modern age has at least somewhat democratized the ability to travel around the globe, enabling us to see art, architecture, cultural differences and landscapes that are very different from what we experience in the U. S. In the 19th century." Travel changes an individual's worldview permanently.
During the summer college hiatus, Lofthus prefers to travel all over the Unites States. He enjoys visiting friends, national parks, and historical sites, always collecting new materials to enhance his teaching curriculum. Lofthus has done seven solo driving trips travelling along the west coast to date. Besides teaching, Lofthus is an accomplished photographer and incorporates all his new experiences into visuals that augment his lecture material in a way that better tells the story about the places he's visited. "I always tell my students to think about their future lesson plans whenever they travel. I encourage them to travel with at least their camera phone, and to take tons of pictures, so they can later use them to document all the specific locale information for their teaching."
Travel plans were sketchy worldwide, at the end of March this year. Fortunately, the Mount Marty spring break trip went without a hitch and everyone had a wonderful time, arriving home safely and healthy afterwards. Nothing was affected until the final flights home. Lofthus recalls that, "We were able to do everything as usual. Where we were in Munich that first weekend in March, no one would've ever suspected that anything was going on. There were a few people wearing masks, but that wasn't uncommon for people in the winter." Unexpected delays came on the return home though, which was postponed for seven hours. Lofthus believes this may have been due to so few people travelling on that particular flight, that it may have been cancelled. It took four flights to get back, when it was only three heading out. If the trip had been scheduled even a week later, it may have been cancelled altogether.
Lofthus is anticipating the 2021 spring trip to Ireland which is scheduled March 5-13 saying that, "My heart goes out to tour guides and companies that are based on European travel. This has got to be an incredibly difficult time for them. We can only hope that the world will get back to a more normal place and that we are able to resume travelling again." He welcomes anyone interested in obtaining more information about upcoming trips, to contact him through Mount Marty University at rlofthus@mountmarty.edu.