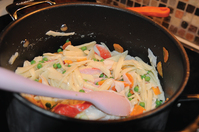 On this particular Saturday in August, Steve and Tracy Huff had marked one major life change.
"We spent today taking our son, Nathan, to college. We didn't stay too long before heading back home," Tracy said. "It'll be different without him in the house, and this is the first time he and his sister, Abby, won't be together each day. When we said good-bye to him, I think it was pretty emotional for all of us."
But the Huffs made one quick adjustment — a sign on their Yankton front yard proclaiming them proud college parents.
While the college move-in day had been hectic, this particular late summer evening became the perfect time for a Her Voice gathering. As usual, it brought together great food and great friends for a great time.
As it turned out, neighbors were also enjoying activities in their back yards.
But first things first, as we got down to business in the Huffs' kitchen. Tonight's menu featured grilled cod, pasta infused with peas and carrots and topped with imitation crab, followed by homemade chocolate chip cookies made in the smoker.
The kitchen counter contained rows of raw veggies, ready for the pasta boiling on the stove top. Next to the veggies, Abby tackled a large bowl of chocolate chip cookie dough. Using precision and a bit of artistry, she rolled out row after row of large dough balls.
The Huffs are known for their creativity in the kitchen. The pandemic has challenged them even more, as they seek to make better use of their time, ingredients and resources. Tracy likened it to a treasure hunt.
"I think, for us, we were rummaging through cookbooks," she said.
"We had talked about various things we wanted to try this month.
We're always thinking of recipes that are easy to do."
The Huffs find their produce, meat and fish in local supermarkets, meat lockers, farmer's markets and Hutterite colonies. For olive oil and other specialties, they make an occasional foray to Sioux Falls or Sioux City.
Whether it's raised at home or bought elsewhere, enjoy the best that nature has to offer, Tracy advised. "We love to freeze and can food for later use. We work with leftovers and different combinations of food.
We enjoy eating at home and are doing more of it," she said.
The pandemic has changed people's shopping habits, Tracy added.
"People are buying more on each shopping trip and going less often, or they're making more use of online shopping, curbside pick-up or delivery," she said.
The Main Course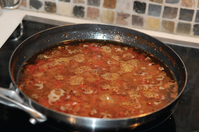 Tracy noted the seasonal varieties when it comes to making the pasta infused with vegetables.
"This time, we used (Hutterite) colony carrots, although it could be frozen carrots. We've also used frozen peas. And we're using frozen imitation crab," she said. "For this dish, we like our pasta harder than angel hair. This isn't rigatoni, but it's the same class of pasta."
Steve described the butter pasta as almost like a cylinder. "If you cook pasta or a vegetable until it's al dente, you cook it just long enough so it's neither hard nor soft but is firm and slightly chewy," he said.
So when it comes to pasta, how much time is enough for boiling?
"This pasta is placed in a rolling boil of just salt water. I threw in the pasta 7-8 minutes before I turned it off and let it sit for 30-40 minutes before I drained it. Then we added the carrots and peas," Steve said. "Noodles are faster (cooking) than shapes. It's usually 4-6 minutes for thin pasta, 6-9 minutes for thick pasta and 11-13 minutes for a thicker, circular shape."
Steve added one word of advice. "Keep the pasta in boiling water, but don't cover it. Leave it uncovered so it won't boil over," he said.
What about throwing the pasta against the wall to see if it sticks? "No! No!" Steve said emphatically, sporting a horrified look and shaking his head in disgust.
A little bit of pasta goes a long way, Steve added.
"I made a one-pound — 16-ounce — pack of dry pasta. We could have served 8-10 people easily with this dish," he said. "We just took a cup of peas, a cup of chopped carrots and threw it in with the pasta and a stick of butter."
What about the crab topping? "It came out to be about 2-2 ½ pounds of crab that we used tonight with the pasta," he said.
The crab wasn't the only seafood on the night's menu. A cod filet served as the perfect complement. While often served separately, the cod and crab-covered pasta could also be enjoyed together — which I tried and thoroughly enjoyed.
"The frozen cod was easy to do. I just put dry rub on the fish and put it in the basket that we took to the grill," Steve said. "If you don't have the little basket, you can just use a cookie sheet and spatula, then flip it to get both sides done. Tonight, we had four fillets that were one-quarter to one-third pound each. They were an inch thick at best and half to three-quarters inch thick at the tapered sides."
The cod required very little cooking time, Steve said. He went with 325-350 degrees for four to five minutes a side. "You don't need it cooking for that long, for that size of filet. You put a little bit of rub on each side, and we put the fish in the Traeger (grill)."
Once finished, the fish received another coating to enhance the rub.
"I used a miso glaze that was two tablespoons of miso, two tablespoons of mustard and two tablespoons of honey, all stuff I bought (at the local supermarket)," Steve said. "If you do whitefish right, it matches up really well with the crab, peas, carrots and pasta. It's light but filling, rich but not too rich."
What makes this such a filling and satisfying meal? Steve pointed to a variety of things.
"I think it's the pasta. You get down to it, and kids love butter noodles because it's filling. But if you take the same butter noodles and infuse them with the peas, carrots and some crab, you've got an adult dish," he said. "You've got the veggies and protein that are really healthy and easy to make. The imitation crab isn't very expensive. It's also amazingly healthy, and it's got a pretty good taste to it."
For extra zip, Steve created a sauce made of ketchup, lemon juice, lemon zest, horseradish and black pepper. For people less adventurous or wanting an easier route, cocktail sauce will work.
Enjoying Drinks, Dessert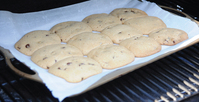 As we sat on the patio, background music made you feel like you were enjoying a private jazz concert. Just when you thought it couldn't get any better, we received our just desserts — actually, two of them. Tracy served the cookies made in the smoker, topped with a salted caramel gelato.
Tracy credited the idea for the cookies to blogger Gaby Dalkin, described as a cookbook author, chef, entrepreneur and writer. The Huffs learned more about Dalkin from watching her on cooking shows. For the Huffs' creation, the homemade cookie dough was put in the smoker at 325 degrees for 15 minutes. The gelato provided a light topping for what came out as a large chewy square resembling a brownie in many ways.
"I think gelato is a little bit underrated," Steve said. "Gelato is ice cream and ice. It's not a dairy-based or milk-based product. It's more ice based."
For those who care to imbibe, the evening featured two treats. We wenjoyed a French white wine with the seafood, while Steve mixed an Aperole spritz as a separate cocktail.
The Aperole spritz remains a popular drink in Italy, pairing a bright orange color with a bittersweet taste from a red herb, Steve said.
"You take a 10-12 ounce glass and fill it with ice, then add two shots of Aperole," he said. "The smell and taste by itself is very un-American and doesn't fit the American palate. But you pour the glass full with champagne, then throw in some lime and squeeze it into the drink."
For the Huffs, the evening spent at home provided a time for relaxing and enjoying life.
"This is our sanctuary," Steve said, motioning with his arms toward the home and yard.
For Tracy, the pandemic has brought a different way of looking at everyday life.
"I think what COVID has done is make sure we have a deeper appreciation of what we have. As for our family, we waste less food, and we work to stretch our food much farther and to become more creative with food," she said. "For us, food has been a staple in our lives. We've catered a lot of meals and donated a lot of meals to a lot of different organizations. Now, we haven't been able to do that since COVID came into play. It's been a little bit frustrating."
Whether it's enjoying the little things in life or celebrating something grand, people still want experiences — especially during a pandemic, Tracy said. "With everything going on, people are really craving it right now," she added.
Tracy spoke with thankfulness for her blessings, noting this year has challenged everyone to look at new ways that may turn out much better in the end.
"I think, with the pandemic, people need to be a little more creative in their thinking and doing," she said. "And that goes for all things."