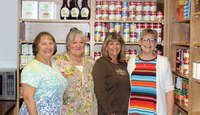 The Contact Center has been a great resource for numerous people in our community, serving various needs. I visited with Jennifer Adamson about her sixteen years with the program, the past 10 years serving as the Director. When I met with Adamson at the Contact Center, I was immediately greeted with a warm welcome from the staff. The greeting provided a calmness and comfort that would help anyone be at ease while they sought help.
Adamson explained that the program began more than forty years ago in a church, where a team of people gathered together to help those in need. When it became apparent that the needs were growing and more space was needed, the initial founders and the Yankton county commissioners teamed up to provide a program with more options and a larger space. The Contact Center then began in the lower level of the county Government Center, a very comfortable and convenient location for them. Most known for the Food Pantry, there are other services that they can provide.
The Contact Center is also a place where people can receive immediate emergency assistance. They can help quickly in situations where someone might need help in paying their utilities or water before it becomes disconnected or their rent before they are evicted. The short time frame to act in these situations often requires a quick turnaround.
Adamson explained that each person's needs are addressed on a caseby-case basis. They have good working relationships with other local businesses and agencies to help each person's situation: Department of Social Security, Rural Office of Community Services, United Way, landlords, utility companies, the water department and Lewis & Clark Behavioral Health are just a few. She smiled, "We have a great pool in Yankton to draw from."
They also team up with the Department of Labor, encouraging any clients who are without a job to contact the department. "The Department of Labor will do cartwheels all over the place to help you find a job. The things that they can do for you!" she stressed.
The Contact Center offers the Protective Payee program, which currently assists nearly 100 people by distributing their Social Security checks to pay bills and expenses. They initially work with each individual and often the case manager to set up a budget. The Center receives the individual's Security check, pays the necessary bills and gives the payee an "allowance" when they stop in the office each week.
It's rewarding for Adamson to see that some people are eventually able to pay their bills on their own and are released from the program.
She gave me a tour of their storage area and their well-organized food pantry. As we stepped into their storage area, children's backpacks line a table. She explained that they are working on the annual Backpack program, which provides backpacks and school supplies to children in grades K-8.
As we crossed the hall to the food pantry, she listed off various items available, noting that they not only provide food, but toiletries, personal hygiene products, diapers, formula and blankets. They truly can help the whole family in need. They have a wide variety of food available, including canned goods such as tuna, soups, canned fruits and vegetables; boxed goods including pasta meals, macaroni and cheese, cereals and pancake mix and meat sources of hot dogs, hamburger and bologna. Hy-Vee delivers milk, eggs and cheese to them twice per week.
I asked how they receive the items and she explained that their program purchases them and the community helps with donations. "This community is awesome. Just awesome," she grinned. When they have a specific need, they post a notice in the paper, on their website and on Facebook and the community quickly responds. She showed me a gathering of cereal boxes and explains how one church's vacation Bible school had a contest to see which class brought in the most boxes of cereal. "We had 4 ½ shopping carts filled with cereal boxes!" She wasn't talking about the carts being filled to the top edge, instead each cart was heaping full, as packed as it could be.
Items they need most often include cereals, peanut butter, jelly, canned fruits, tuna, soups, and Spaghetti O's. They will accept all donations, Adamson explained, "we will find a home for it."
The program has made a big difference to many people in the community. In the month of July, they helped 198 households with food, which breaks down to 538 individuals. Eighteen households were helped with diapers or formula, sixteen households helped with rent and five with a prescription. It's impressive when you think of how many people in the community that are helped each year.
Adamson smiled as she talks about the wonderful "family" that she works with and the years of combined experience they have. Kelli Stanage, Liz Lynch, Christina Blume and Donna Madson all work as a team with Adamson to best help each person who visits. As I took pictures of the staff present, their close working relationship was evident as they all talked and laughed with one each other. They've not only developed a close relationship with one another, but also a bond with those they have served over the years.
When I asked what a typical day or week was like, she explained that it depends on the week. Each day often starts off with the same routine of distributing funds for the Payee Program. The rest of the day and the week varies, some days the food pantry is the busiest project while some days other tasks are needed most.
Her passion for helping people doesn't stop with the Contact Center. Adamson also volunteers with the Salvation Army, scheduling the Salvation Army Bell Ringing in November and December. She also helps with county welfare. Here she takes applications, helps to find the laws that pertain to each situation and talks with the county about how that individual could be best assisted.
Adamson's goal is to continue the Contact Center's programs as effectively as possible. She wants the department to continue being an encouraging word for those who need it and to keep people from being hungry or losing their home. "It's always, hopefully, to keep it from happening to them a 2nd or 3rd time," she explained.
Volunteers are always welcome to help with the program. They've had an array of volunteers over the years: individuals, college students, organizations, community service individuals, scouts and food drives. They currently have a gentleman that volunteers a few times per week to stock their shelves and rotate the items by expiration date. Volunteering is just one simple step. "Just call us," she smiled. "We'd be happy to visit with you."
As she reflected on many rewarding moments, she mentioned a phone call she received one rainy afternoon from a gentleman who had just been given a ride home from the hospital. He normally purchased groceries to be delivered by Hy-Vee, but he missed the cut off. Because he had been gone for several days, he didn't have much to eat and his condition left him unable to leave his house.
Though they don't make deliveries, because of this man's apparent need, Adamson and co-worker Stanage packed some items for the man and delivered them to him. She was speechless as she tried to explain this man's extremely grateful reaction. "(Stanage and I) were both on cloud 9 all weekend."
If you need assistance from the Contact Center, please stop in and talk with them; they will try to help you get back on your feet. They are located at 321 West 3rd Street in the lower level of the Yankton County Government Center or call them at 605-260-4400, extension 2. They are open Monday through Friday from 9:00 AM – 12:00 PM and 1:00 PM - 5:00 PM. You can also find information on their Facebook page, "Yankton Contact Center."
She leaves me with one final thought. "We are a one of a kind, kind of everything place," she smiled. "We'd be happy to talk to anybody. We are an emergency, today type of emergency, place. Don't lose your housing, don't get your utilities shut off, don't go without food, there's no reason for that. Come here, come talk to us, we'd be more than happy to do what we can for anybody that needs us.