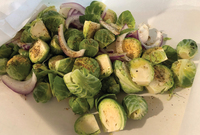 For Steve and Tracy Huff, the pandemic has changed nearly every aspect of life, including mealtime.
The Yankton couple has found plenty of food for thought since the March detection of COVID-19 cases in River City.
The Huffs shared their thoughts with Her Voice during a late June evening on their backyard patio. After a daytime temperature of nearly 100 degrees, the cooler evening provided a relaxing atmosphere.
But even our conversation was affected by COVID-19. We met in the Huffs' backyard and didn't enter the house. I wore a mask while shooting photos of their meal, and we sat socially distant for the interview.
Still, it was a welcome change from months of mostly self-isolation. While most things in everyday life are opening up, the Huffs don't necessarily see an end to the pandemic. They also don't see an end to some of our new habits when it comes to meals and socializing.
"I really do think COVID will be with us for quite a while yet," Steve said. "And when this is over, I think it will have changed the way people look at things."
Those changes include when and where people gather to eat, Tracy said.
"With COVID, many people have been afraid to go out," she said. "They stay inside, and they eat more of their meals at home."
The lifestyle has further changed with more people working at home. At the same time, many parents were helping teach their children with distance learning during the final two months of the school year.
As a result, people may have spent more time planning and preparing meals. They may also have prepared larger quantities to store, refrigerate or freeze for later.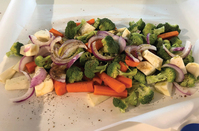 "I think families have spent a lot more time together, and they are eating more meals together," Tracy said.
By spending more time in the kitchen, people may have learned new ways of preparing food, tried new recipes or experimented with old favorites, the Huffs said.
While eating more meals at home, people weren't giving up their favorite restaurants and other establishments, the Huffs said.
"People see it's still important to support your local restaurants," Tracy said.
"We still do, using curbside and take-out," Steve said. "We ordered out just the other night, and it was one of the best meals I've had. I just love their food."
The pandemic has disrupted sectors of the food supply chain, particularly meat. While some items were not easily found at first, the situation has improved in area stores and meat lockers, the Huffs noted.
"We shop locally, and we really haven't had any problems lately getting what we need," Steve said. "The grocery store and meat locker that we use have been great for us."
After self-isolation for nearly three months, more people were venturing out. They were visiting businesses, restaurants and bars that had re-opened or had expanded their hours and offerings.
For those still not comfortable going outside their home, online shopping has become both a safety measure and convenience. Many people have indicated they will continue using the service after the pandemic.
Even during a pandemic, the Huffs have enjoyed some personal milestones. Their son, Nathan, was one of the Yankton High School seniors who received an online graduation ceremony — complete with a surprise video greeting from music and acting icon Olivia Newton-John.
One more pleasant surprise — the Yankton School District is planning a July 26 traditional graduation ceremony.
Speaking of surprises, the Huffs had a few of them waiting for me when I joined them at their home for the Her Voice interview.
Actually, it was a two-part surprise. I started with the appetizer of a sage and pistachio pesto with chips, followed by a smoked chicken and veggie pizza made with a cauliflower crust.
The herbs and spices for the pesto and other dishes came from the "garden" in a converted trough in their back yard. The trough included spearmint, lemon balm, Italian oregano and pineapple sage.
"If you don't have fresh basil, you replace it with any of these herbs," Steve said, showing pride in the collection. He carefully held and explained each member of the "family."
Our Sunday night gathering used food from meals prepared during the previous two nights. The meals made crafty use of many things already in the kitchen.
"When thinking of what to put together for this (Her Voice) edition, we felt it only suitable to do what we we do best — look at what you have on hand and throw stuff together," Tracy said.
The first night was a matter of going the easiest route.
"It is Friday night, we were tired and pasta seemed the right choice," she said. "As we are rummaging through our pantry, we saw pine nuts, olives and pumpkin seeds, and from the farmer's market we picked up swiss chard and scallions. What a bonus for flavor!"
It was time to add some flavor and texture to the mix.
"Steve and I like to toast our pine nuts with a little olive oil on the stove top until they get a nice, mild char, adding a little more crunch," she said. "Then, you cook the pasta according to directions and drain.
And now, it is time to build your beautiful pasta."
While culinary experts in their own right, the Huffs are always looking for a few tips along the way. They particularly enjoy cooking shows with new products, including a pasta topping they used for this meal.
The next day, the Huffs went a different direction on the food trail.
"Saturday, we shifted gears and decided to pull veggies we picked up at the farmer's market," Tracy said. "This time, we drizzled it with olive oil, black pepper and Mrs. Dash table blend."
Tracy likes Brussels sprouts and insists it become a Huff staple. The couple prepared the Brussels sprouts the same way as the other veggies, then folded it in parchment paper.
The Huffs also prepared baked potatoes, using the yellow variety.
"A good tip is to rinse the potatoes, put them in the microwave for 3-4 minutes, turn the potatoes and set the timer for another 3-4 minutes.
This will vary depending on the size (of the potatoes)," Tracy said.
"When the potatoes are finished, take them out of the microwave and wrap them in aluminum foil. We put the potatoes in the smoker at 350 degrees for approximately 20-25 minutes. The same (rule of thumb) will apply if finishing the potatoes in the oven."
The Huffs like to fix multiple meats so they can use any leftovers on naan bread pizzas during the next day or two.
"First, we lightly seasoned chicken thighs with olive black pepper and Mrs. Dash table blend. With the flat irons, we used soy sauce, herb- garlic blend and black pepper," Tracy said. "We prepared both (meats) until there was a little char. We then transferred (the meats) to the smoker to finish at 350 degrees."
Sunday night was naan bread pizza night. Tracy made a cauliflower crust that she learned from watching a television segment with actress Valerie Bertinelli. The recipe can be found on the Food Network, Tracy added.
"I put the cauliflower in the food processor. I have a 'tower' that absorbs much of the water so the cauliflower doesn't fall apart," Tracy said. "The cauliflower really cuts down on the carbs, and it's a crust with a really good flavor. And you get your veggies at the same time."
The chicken was placed in the smoker two nights earlier and was brought out as the protein-packed part of our Sunday night pizza. The chicken was lightly seasoned, and it was placed on parchment paper and covered with olive oil.
Tracy made another nutritional switch when it came to the toppings.
"I used farm goat cheese instead of mozzarella, and I used Mrs. Dash table blend because I have to watch my sodium intake," she added.
To boost the nutritional value, Tracy used quinoa, a whole grain with many health benefits.
The pesto dip and cauliflower crust pizza could be considered either a snack or meal, Tracy added.
After my great dining experience, Steve mixed up a libation for my enjoyment. He created a Mexican Greyhound, normally composed of the juice of one grapefruit and two shots primo Blanco Tequila. For me, he substituted vodka for the tequila. He then added ice and topped with club soda to taste.
The cool, refreshing drink provided a great ending to the outdoor meal.
As we finished the evening, Steve pointed out the pandemic needn't halt celebrations of life and its special moments. He spoke of a recent conversation with the high bidder for one of the Huffs' meals auctioned for charity or favorite projects and organizations.
"I got a call from the man who won the bidding on our meal," Steve said. "He explained his son was leaving for Europe, and he asked about scheduling the meal for the week before his son leaves. Would that be possible?"
For Steve, the response required no thinking. He immediately agreed to the request.
"This was important for their family, and they wanted to share a great meal with their son before he left on his trip," Steve said.
"Those are the special moments that you want to make possible for them. We need to continue celebrating our family, our friends and the great things in our everyday lives."