For Tracy and Steve Huff, comfort food — like our latest meal with brisket chili — brings back pleasant childhood memories.
"Steve's love of brisket is tied to his Jewish friends in Sioux City," Tracy said.
"Steve described a wonderful Jewish family he knew while growing up there.
Brisket was one of the things they enjoyed, and it seems to be one of Steve's favorite foods." Those warm memories returned while the Huffs prepared for our meal, Tracy said.
"When Steve was making the brisket today, he thought and spoke very fondly of that (Jewish) family," she said. "He spoke of some of the moments they shared and how he wished he could recapture time with them. We visited about it while we made the brisket."
The Huffs aren't Jewish, but their brisket meal fell on Rosh Hashanah, the Jewish New Year and one of the High Holy Days. The timing was a coincidence, but the Huffs do associate brisket with special occasions.
"It's sporadic for us, kind of like we're in the mood for it," Tracy said. "Brisket seemed like something we just wanted to do this weekend. We thought it would be ideal for the chili we made."
Brisket holds many uses besides sandwiches or as an entrée, Tracy said. "It's also really great if it's incorporated in souped-up ramen. We've also used it for non-bread pizza with a cauliflower crust," she said.
The Huffs bought this particular brisket at a Yankton meat locker. The owners inquired if Steve would be interested in their supply, and he jumped at the opportunity.
"You can buy the brisket ready-made or you can cut it up yourself and prepare it," Tracy said. "I know, for us, (the meat locker owners) would be very happy to cut it for us, but we prefer to buy it whole. I think it holds the moisture better if you keep it (whole) and then slice it."
The Huffs' instincts were right on target — and then some.
"When Steve brought the brisket off the smoker, we had to put up 'barrier walls' for the liquid because it was so juicy," Tracy said. "You don't want it dry — you want to maintain that moisture."
Steve left the brisket whole, wrapped it and placed it in the refrigerator overnight with no additional prep work. When he cut it into cubes the next morning, it had retained the same moisture.
The tender, moist meat played a key role in the chili, adding to the liquid part of the stew. Steve placed the cubed brisket in the crock pot at a lower setting to simmer all day.
The brisket wasn't the only star of the chili. Steve used large cherry tomatoes and Hatch chile peppers and dry peppers. The Hatch peppers were reconstituted (softened) in water, but the Huffs also used the dry, flat version in their cooking. The combination was placed in the blender, along with any desired seasoning.
When it came to packing a punch, the Huffs made the chili memorable but not overwhelming.
"We wanted zip, but we didn't want the soup too offensive. The chili can bring out the bite and a little more heat if it's not carefully diluted more with tomatoes," she said. "We added a little olive oil to get it at a decent consistency and tone it down. Otherwise, it brings tears to your eyes."
The chili also contained an assortment of black, white and cannellini beans. Besides flavor, the beans add fiber and bulk to the mix for a healthy ingredient.
"If you don't want to soak beans, simply move them out of the can to a strainer and put water over them," Tracy said. "The move helps get rid of additional sodium."
While the brisket chili was incredible, it was also really filling. More of it remained in the crock pot, but we didn't feel the need for seconds.
A nice addition was the small pitas that could be dipped into the chili or used to make a brisket chili taco.
The Huffs enjoyed finding fresh ingredients at the Yankton farmer's markets. Because of COVID concerns, they wore masks and went earlier in the morning when the crowds were smaller. With winter approaching, they're also looking at canning or buying more frozen vegetables.
To keep their dishes zesty, the Huffs use condiments and spices.
They also used cheeses such as smoked Gouda and cheddar along with peppers and parsley.
On one end of the kitchen counter, a jar contained a food with a kick. "It's a homemade salsa from a vendor at the farmer's market, and it's phenomenal," Tracy said.
The Tail Of A Different Soup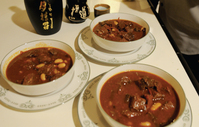 Besides making the brisket chili, the Huffs tackled oxtail soup during the weekend. They purchased the oxtail from the same Yankton meat locker.
"I honestly never tried oxtail before I met Steve. The first time we made oxtail soup, I asked if it was real oxtail," Tracy said. "Steve said it was very popular, and he thought I would like it. I have to say it's another one of my favorites."
Unlike opting for the whole brisket, the Huffs bought pre-cut oxtail. The butcher packaged it for them so it was ready for use when they returned home. The Huffs have also purchased oxtail at farmer's markets.
"Steve just threw the oxtail in the smoker for a little while before we put together the oxtail soup," Tracy said. "We had all the makings from the farmer's market. We had onions, cabbage and baby potatoes. We used cabbage this time and didn't the last time, and I think the cabbage really added a lot to it. We cut up the vegetables and incorporated it into the stew. We purchased the potatoes for this particular soup, but we also used farm fresh produce."
Oxtail can be tough and a little tricky getting the meat off the bone, Tracy said.
"Once you do, there's a fair amount of flavor there," she said. "If you slow cook it, you want all those flavors to marry and get included in the meat as well as the soup itself."
A little bit of oxtail soup can go a long way, Tracy said.
"We could feed 10 to 12 people because it's pretty filling," she said. "I find that, with soup or stew, if you heat it the next day, it's almost better than the first night."
However, the Huffs find they need to convince others to try the stew.
"When we talk about oxtail, people pull their faces at first. We tell them to try it and they'll like it," Tracy said. "You have to be willing to try anything. I really do and am sometimes pleasantly surprised how well you might like something if you try it. There were a lot of foods I had never tried before meeting Steve. Oxtail is one of those things."
One of their neighbors doesn't need convincing, Tracy said. "She loves oxtail. When we make it, we love to take it over to her. We love to share our food with others."
The Huffs consider themselves "foodies," but they arrived at their culinary passion in different ways. Steve grew up among ethnic neighborhoods in Sioux City, while Tracy grew up in rural Iowa and experienced more diverse food while serving in the military.
'Steve really had the opportunity to become a better cook because of early exposure to different cultures. His friends were Greek, Jewish, black, Hispanic and other ethnic backgrounds," Tracy said. "Growing up, my family ate mostly meat and potatoes. My dad was a hunter, so we had deer, wild game, rabbit, squirrel and turtle. I tried a lot more diverse food while I was in the Navy."
When they met, Steve showed Tracy how to use the same basic ingredients, such as chicken, in different ways. She also researches online and enjoys watching the Food Network for new ideas of using old favorites.
On the weekends, the Huffs usually cook up a crockpot of chili or some other type of soup or stew and then add side items. They stretch leftovers into another meal.
A Sweet Ending
Our weekend meal was special as it marked the end of Steve's milestone birthday week. Tracy planned special surprises throughout the week, which she ended with his favorite dessert of lemon cookies.
Tracy uses tahini, a paste made of sesame seeds, in recipes. She makes 20-24 cookies at a time and likes them because they are light, airy and don't require many ingredients. Besides the cookies, Tracy also creates lemon basil waffles as another of Steve's favorites.
The Huffs say they enjoy their time together in the kitchen, particularly during the pandemic. They brainstorm ideas, split up the work and enjoy the finished product. Their teenage daughter, Abby, fills the role of sous chef by prepping the produce and other food.
"It's a fun thing, and cooking is so therapeutic. It gives us some structure and something normal, and we enjoy making comfort food," Tracy said. "Steve and I talked about it over the weekend, but the pandemic has brought us a little closer together. It's nice just to sit back and appreciate all the little things that collectively are great and positive for me."
Those pleasures include food, which she considers not just for the stomach but also for the soul. In particular, they enjoy sharing their food with others.
"One of the frustrating things about COVID is that people aren't holding large gatherings. We miss making food for parties or donating meals for fundraisers," she said. "But we can at least share our food with neighbors and friends, even if we do have the 'COVID' delivery.
We'll bring to food to someone's home, set it on the door step, make sure they get it and then wave goodbye."
Tracy encourages everyone to remain grateful for what they have and to support each other. She pointed to her approach toward her own milestone birthday a couple of years ago.
"For me, age is just a number and state of mind. I don't' feel my age, and I don't act it," she said with a laugh. "I think, 'I've got another year under my belt, and now I have more great things to look forward to. How are things going to be even better during the next year?'"