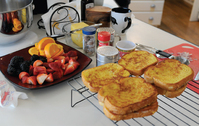 For Steve and Tracy Huff, breakfast means more than great food — although that was the huge draw in our Saturday morning brunch.
We greeted the weekend with fresh fruit, French toast, veggie egg bake, bacon, puff pastry and two kinds of rich-tasting coffee. Brunch provided the opportunity to mellow out, spend time with family and friends, and get a big nutritious boost to the day. The stress-free mood was all about enjoying the weekend's possibilities.
"We talked about coming out in our pajamas and slippers," Tracy said with a laugh, noting they opted for regular garb. When it comes to the meal's mojo, the time of day makes a huge difference, Steve said.
"With brunch, the conversation is different. It's mellower, and you're waking up and getting your arms around the day and its agenda," he said. "It's different versus coming down from a stress-filled day. At brunch, you're expressing optimism, while at night you may be venting or decompressing from pessimism."
However, breakfast isn't limited to mornings, the Huffs noted. "Breakfast sets up really fast and easy, and it's really inexpensive," Tracy said. "We've done breakfast for dinner quite a bit, and we've never had a bad meal."
Steve pointed to the popularity of breakfast any hour of the day or night. "A lot of Midwesterners, in particular, find a strong appeal with breakfast," he said. "That's especially true in our tri-state area of South Dakota, Nebraska and Iowa. I think we're kind of fanatics about breakfast. It's just a beautiful meal."
The Huffs don't believe in saving brunch for the weekends, Steve said. "During the summer, we've had weekday night breakfasts," he said. "We like doing that, just to spice it up a bit."
Tracy developed an early knack for making breakfast in a hurry. She worked as a short-order cook in her aunt's restaurant while attending college.
"I learned a lot. I've always had a fondness for breakfast," she said, noting omelets and other egg dishes are her specialty.
Getting Started
At our brunch, I enjoyed firsthand Tracy's knack for making breakfast. The coffee and fresh fruit provided an eye-opening start to the meal. We munched on succulent oranges, sumptuous strawberries and tart blackberries. Tracy loves fruit for the natural sugar as well as the flavor.
"When I have fruit, it revives me a little bit, especially when I've been eating some of the heavier stuff," she said. "It's not taken as quickly into the bloodstream as drinking the juice." Besides the choices at our brunch, the Huffs enjoy apples and bananas. In addition, Steve pointed out the many ways of enjoying pears, from eating them raw to baking them to making pear butter.
In the meantime, something special was brewing. "For us, good coffee is a key. It's all about the taste, but I also love the smell of coffee," Tracy said.
The Huffs took out their special coffee beans and ground up a batch. Steve also likes the French press method. During a trip to Montana, the Huffs discovered a specialty coffee store. With so many choices, the Huffs not only made a purchase on the spot but also have bought five-pound bags of coffee on the store's website. On this day, the Huffs brought out two brands of coffee: Brazil and Elvin. The difference comes in the bean itself and the type of roast.
"The Brazilian roast isn't heavy or super dark," Steve said. "The Elvin has a different, fruitier smell. It's more tropical, giving you a feeling of happiness, and it's not a flavored coffee."
For Tracy, there's no question which coffee she enjoys the most. "The first cup (of the day) is the best. It's just the wake-up factor for me," she said.
Steve jokes about their different coffee preferences. Tracy uses less ground and more water, while he likes his coffee darker and stronger. If she makes the coffee, he grabs the first draw before the coffee becomes diluted. "It's our idea of marital compromise," he said with a laugh.
Digging In
At our brunch, the French toast was stacked on a huge plate. Each thick slice could be enjoyed on its own or covered with butter, jam, or a sprinkling of cinnamon or powdered sugar.
The thick slices soaked up the sweet syrup, but we could still taste the original flavor. If you preferred, you could add fruit as a topping. Another sweet treat awaited us, as Tracy served puff pastry. Steve and I crowned the puff pastry with strawberries.
"A tube of puff pastry costs something like $2," Tracy said. "I just roll it out and cover it with Dimock butter or sugar and cinnamon. I may add a little bit of nutmeg."
With her flair for making good eggs, Tracy chose to make an egg bake. One thing was missing — meat.
"Today, I went with a veggie bake," he said. "A lot of times, I use what we have in the fridge. Today, we used a lot of vegetables."
Tracy used a full carton of eggs for the veggie bake and loaded it with red onions, mushrooms, kale and micro greens. She used a glass pie pan of standard size and baked her creation at 350 degrees for 45 minutes.
"Usually, the test is if you put your finger in the middle and (the bake) is firm — then it's done. You shouldn't be seeing liquid in the center, and it's usually a light golden brown color," she said. "We seasoned it with cracked black peppers. It is a blend of the Szechuan type of ground pepper and packed full of variations of peppercorns." For the carnivores in the crowd, Steve served up a side of Black Label bacon placed on a cookie sheet and grilled for 30-35 minutes or until done.
"You have to watch, though, because the bacon may have enough fat that it bakes itself (at a faster rate)," he said. "I also made an Andouille sausage, and both the bacon and sausage went into the Traeger (grill). I did both meats at 400 degrees, but the sausage was pre-cooked, so I did it about 15 minutes to get the nice color and casing."
A variety of other meats can be used in the egg bake or on the side, Steve said. "You can add minute steak, country fried steak or some other quick type of meat," he said.
For those desiring a libation with their meal, Steve recommended a mimosa, Bloody Mary or screwdriver. Other popular choices include coffee with Kahlua or a tequila-based coffee drink called Patron XO Cafe.
The brunch items would pack well and travel easily for an event such as a football tailgate party on a fall morning or early afternoon, Steve said.
Tracy listed some fan-friendly foods. "You could have the breakfast burritos, pitas and breakfast pizzas," she said.
Some of the Huff's favorite foods on the road have been breakfasts. The enjoyed a memorable Mexican breakfast in Bassett, Nebraska, while Steve tried sweet and sour soup for breakfast in San Francisco.
Another time, a blizzard forced the Huffs to turn back on a trip to Omaha. They turned a travel disaster into an adventure, stopping at a Vermillion restaurant for brunch. Tracy ordered an omelet, while Steve tried the egg dish with ham and Hollandaise sauce.
The meal was delicious, but the real surprise for Steve came when he passed on coffee and ordered "foggy bottom" tea.
"I had never had tea with milk and honey before, but it was an Earl Gray with a little foam," he said. "It was the absolute best."
On The Run
The Huffs realize most people, including themselves, can't sit down to a luxurious breakfast most days. For those "on the run" mornings, Tracy will make a batch of "energy balls" ahead of time.
"I start with peanut butter and use flax seed and oat bran. Then, I mix it all up. I also like to chop nuts, like pecans, almonds and walnuts. I'll take all three, and I chop them up pretty well so it's almost fine," she said.
"The recipe calls for guava honey, but I've also used dried cranberries. I'll sprinkle cinnamon over it and mix it all together. I recommend keeping it in the fridge and then form the balls. I usually place two or three of them together in a plastic bag."
The Huffs have donated their home-created meals for fundraisers, but they haven't received many requests for breakfast buffets.
"Most prefer the dinners because they want the big meal with the drinks and dessert," Steve said. "But a brunch can be a big meal if you do it right. In the egg bake, you can have lobster or crab, even salmon."
With people's busy schedules, breakfast fell out of favor and was skipped altogether, Steve said.
"I think it's coming back. People realize they've got to have a healthy base early in the day, even if it's a piece of toast, some fruit and a cup of coffee," he said. "You don't bottom out by mid-morning. You can also have yogurt, cottage cheese and pre-made salads. These kinds of things can appeal to people coming off the overnight shift (at work)."
Family and friends enjoy coming together for breakfast, Steve said. The meal offers something for everyone, even those with very different tastes, he added.
"There's not a lot you can't enjoy about food, especially a good brunch," he said.