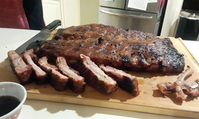 When it comes to selecting meat for a meal, Steve and Tracy Huff don't believe in just one offering.
For our Her Voice gathering, the Huffs paired Cornish game hens with spare ribs. Other times, they have enjoyed stuffed pork chops, cooked with a little onion and some mushrooms.
Do the Huffs often prepare two kinds of meat for one sitting?
At times, it can serve the family — which includes teenagers Nathan and Abby — well for the next week, especially a hectic one, Tracy said.
"Abby and I are more the chicken, seafood and fish types of people. Steve and Nathan will eat anything, and they like meat and ribs," Tracy said. "It's really not uncommon for us to make a variety of things in one evening."
Not only does the one meal offer a choice of meat, but the leftovers can be used in creative ways for a number of other dishes, Tracy said.
"We make enough for multiple meals," she said. "We had chicken over the weekend, and then Steve prepared a different meat. I made homemade pizza crust, and we had pizzas with a lot of the leftover chicken and the other meat. One night, I made a pasta dish with the leftover meat."
FOUR GAME HENS
Why did they include Cornish game hens as one of the two meats, with stuffing as part of the offering? Tracy said the timing was good on two counts.
"The weather was right, for one thing. Also, Cornish game hens are pretty seasonal. You can't get them all the time," she said. "Game hens are very flavorful, and we try to get them whenever they're available. The game hens were in the store, so it seemed like a no-brainer to do it."
Steve sees the game hens filling the bill in many ways. The birds' smaller size lends itself to any number of uses and occasions, he said.
"I would recommend it for everyone, whether it's for someone eating alone or for any number of people," he said. "If the bird is stuffed, it could be treated as a miniature one- or two-person turkey."
In addition, Steve likes the game hen's taste and texture.
"It's flat and thin, and it's more flavorful. I don't understand why more people don't try Cornish game hens," he said. "As far as turkey, I think people eat it at Thanksgiving more because it's a tradition. I think game hens are easier to cook than turkeys."
For this meal, Steve cooked four pre-seasoned game hens at one time. The birds were covered with a small amount of olive oil.
"For the hen, I go with 400 degrees for 45 minutes or 350 degrees for an hour," he advised.
Steve used a smoker, which he said gave the same outcome as an oven. He sought to "crisp up" the birds but advises against placing the birds directly on the rack.
"You can put (the game hens) in some kind of dish, but don't leave them on the racks, as they will stick," he said.
While he generally follows a set time, Steve relies on touch as the true determination of when a particular meat has reached perfection.
"You reach a point when you know it's done, depending on your meat. With flat irons, you know; with other steak, you know; with chicken, you know," he said. "If you really get resistance, then you know you cooked it wrong."
WHAT'S THE DIFFERENCE?
A Cornish game hen may look like a chicken, but the two types of poultry hold different characteristics, Steve said.
"The Cornish game hen is darker and smaller than a chicken," he said. "The dark meat is more concentrated. The white meat is lesser but very flavorful. If you like duck, you'll like game hen."
The game hens can be produced either of two ways, Steve said. "Cornish game hens are both wild and raised. More typically, they're raised," he said.
While game hens are generally tender, it's a good idea to include other liquids or juices to keep things moist during the cooking process, Steve said. Basting may not be necessary for game hens, but it does help guarantee the bird remains moist, he added.
"I throw butter in the pan and a little bit of liquor. In this case, I was able to find a mango brandy for $10 a bottle," he said. "I put a little of that in with chicken stock to keep it moist. You can also use basting sauces. Once that sauce develops in the bottom of the pan, you can keep basting."
The Huffs have found success with game hens and the couple's method of preparation, Tracy said. The basting adds a juicy touch, she added.
"We've been doing this (basting) for a number of years," she said. "The first time we tried it, the game hens had so much more flavor than the turkey or even chicken. It's very moist, and that's the beauty of basting."
When it comes to the grill, what type to use? It does make a difference, especially for the amount of pellets used in the process, the Huffs said.
"We used the Louisiana for this one (meal). It puts off more heat and uses (a lot more) more pellets," Steve said. "For the Traeger, they sell the pellets in 20-pound bags. For the Louisiana, they sell 40-pound bags. It drinks that much more, that fast."
While some people may consider game hens a luxury, the Huffs point out it can be quite economical compared to some alternatives.
"We got these four birds in that pan for $19," Steve said.
Tracy looked at it two different ways.
"If you go out to eat, you could spend that much for one meal," she said. "And with the game hen, you can do something spectacular while getting a lot of protein."
FIRING UP THE RIBS
With the game hens in place, Steve turned his attention to the ribs.
"We've done St. Louis-style ribs, but these are spare ribs we have here tonight. We're making four racks to go with the four game hens," he said. "We have the little rack of ribs, and they're long and thick. We need to go lower (heat) with them and give more time to them. Otherwise, the ends get tough."
The Huffs differ on their preferences for protein sources, Steve said. He's big into ribs — Tracy, not so much.
"Tracy isn't a big ribs eater. She's more into fish and seafood," he said. "She doesn't like pork, and I really like ribs. I like chicken a great deal, but I enjoy the ribs and they're very good."
Ribs can be considered greasy, but Steve didn't find it a problem with these four racks. "I trimmed the meat, and there weren't a lot of fat pockets," he said.
The outcome can prove appealing even for those who don't consider themselves rib lovers, Steve said.
Tracy gave the product two thumbs up. "These are really flavorful. They're moist and juicy but not greasy," she said.
Steve used different temperature settings and grilling times to reach the right amount of taste, flavor and doneness for the ribs.
He started out with a higher temperature on the grill to get the meat sizzling. He then flipped the ribs and cranked down the temperatures for the remainder of time in order to get one side a bit crisp.
"For the ribs, I start at 325 degrees for the first hour, flipping once at 30 minutes," he said, "Then, off to foil you go with some butter per rack, for two hours at 225 degrees. Then to 180 degrees with the glaze for 15 minutes at least, after you gently boil equal parts pickle juice and brown sugar. 'One cup, one cup' is a pretty good batch but (you need) larger for more than two racks of ribs."
Yankton has developed a rib culture, especially with the annual Ribfest, Steve said. But even before then, a number of area grillers developed their own style and flavors. Among some ribbers, it became a matter of pride and friendly competition.
In the end, the local rib scene has benefited from the different recipes and techniques, Steve said. The public finds more choices, and it stimulates more interest in ribs in general, he said.
"It comes down to technique," he said. "There are people (in Yankton) who do things better than me when it comes to barbecue. But I like to think I can make some pretty tasty ribs, and my steaks are good, too."
EAT YOUR VEGGIES
Even carnivores can use something crispy and green to go with the meat-fest. For that need, the Huffs mixed up two bags of broccoli slaw.
"It's so fast and easy, and it tastes so good with cilantro," Tracy said. "I get a lot of compliments on it."
The broccoli slaw offers another advantage, Steve said.
"It keeps forever," he said. "If something has sour cream or mayo in it, we don't keep it around. We don't want our company to throw up."
The broccoli slaw wasn't the only vegetable on the menu, as Tracy laid out two sheets of veggies for the oven. Unlike some teenagers,
Nathan and Abby like their vegetables and consider it one of their favorite parts of the meal.
"We had a fight with the kids about the vegetables because I took too many carrots (for myself)," Tracy said with a laugh.
So what if it's cold weather makes fresh produce limited or costly? Never fear, because frozen vegetables offer a nutritious and less expensive alternative, Tracy said.
At this time of year, Tracy also turns to what she considers her "cheat package" from a local supermarket.
"They have yellow squash and zucchini, and I love Brussels sprouts," she said. "I did the cheat on the Brussels sprouts because they were already pre-cut. I just used olive oil, and I love Mrs. Dash as a table blend.
I threw (the seasoning) on top and popped it in the oven. It didn't take any time to do it."
For a splash of color as well as nutrition, Tracy makes an arrangement of tri-colored carrots. She washes and cuts up the carrots, then puts them on a cookie sheet for roasting.
Tracy will use olive oil and a small amount of pepper or a table-blend seasoning for the vegetables.
"You pop it in the oven at 350 degrees," she said. "I check on them when they're close to half done. I like golden brown veggies that are grilled. I prefer them versus raw."
Don't limit yourself in your produce choices, Tracy advised.
"There's such a wide range of veggies," she said. "Any vegetable is good to branch out and try. You just may find you like it."
In particular, vegetables are important for good health during the stresses of cold weather and shorter days with less sunlight, Tracy said.
"Don't skimp on vegetables during the winter," she said.
"You really need them now more than ever, and you also need more Vitamin C."
Don't be afraid to head for the freezer section of the supermarket when it comes to finding your vegetables, Tracy said.
"I think, during this time of year, it's OK to use a little bit of cheats. The frozen veggies are highly underrated, and they're really good for you," she said. "I use a lot of frozen vegetables in stir fry. Frozen vegetables aren't bad for you at all."
Vegetables don't need to be side dishes during a larger meal, Tracy said. They provide a great stand-alone meal or snack unto themselves.
"I did some things with frozen veggies. I steamed them and then I popped them in the oven at 350 degrees so they became a nice, golden brown," she said. "I made a large batch so I could take them to work the next day, and Steve could enjoy them for a healthy meal. I plan ahead, and it works pretty well. If you just warm them up, you can have leftover (grilled) veggies."
If served without cheese or other coverings, the true taste of vegetables comes through, Steve said.
"We want people to be healthy and not feel they are overcrowded with heavy sauces," he said. "Everyone may already feel heavy with a full meal, desserts and drinks."
SHARING GOOD TIMES
Speaking of drinks, what libation goes with this menu?
Tracy likes wine, and she noted selections from Sean Minor Wines, particularly the chardonnay and pinot noir. Steve recommended a port or cognac.
Good food is meant to be shared, and the Huffs set aside a rack of ribs for delivery to friends. In a bit of good timing, a group of friends stopped by the house and joined us after they had attended a game.
The Huffs went into hospitality mode, offering up the evening's fare for their visitors.
"The ribs are stupid, and they are outrageous," Steve said, preparing his guests for an over-the-top culinary experience.
The guests agreed the ribs were spot-on in several ways. The offerings were juicy without being greasy, while also providing a zip for the palate without being overpowering. The newcomers found the ribs filling as a meal without the broccoli slaw and grilled vegetables.
The evening continued with great food, drink and laughter.
"It's all about sharing good times with others," Steve said.
"That's what makes it all so special."
Follow @RDockendorf on Twitter.