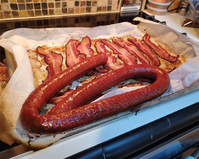 When they attended a recent wedding, Steve and Tracy Huff brought the ultimate gift — the meal.
And we're not talking about paying for the catering.
The Huffs wanted to provide a special touch for a friend's August wedding in Sioux Falls. Because of their culinary experience, the Huffs offered to make and bring the meal — and it wasn't appetizers or finger sandwiches.
The Huffs put their multiple smokers to good use outside their Yankton home. They prepared a carnivore's fantasy, initially planning 50 pounds of pork, 35 pounds of brisket and around 30 pounds of chicken.
But for a guest list of 125 people, the Huffs opted for a large amount of meat.
It turned out to be the right decision. The guests consumed everything, right down to the very ends.
"All 130 pounds of smoked meat are gone," Steve said after the wedding meal. "I accidentally palmed (off) the burnt ends, and it's now Tracy's favorite."
The Huffs are no strangers to cooking for large parties and gatherings. But this wedding meal took things to the next level.
As they prepared the meal in their Yankton home, they talked about what made this meal so special.
"We've done the Super Bowl party. We've done the charity meal and the family gatherings," Steve said. "But this is different. This is an honor thing. And that's what makes it so much more personal for me."
The Huffs' offer to make the meal went beyond friendship. Steve, an attorney, had gotten to know the groom through their work with East River Legal Services. The organization provides legal assistance for those who cannot otherwise afford the help they need.
The groom had taken the organization to new heights in terms of funding and other aspects, Steve said. As a result, East River Legal Services has expanded its outreach in terms of participating attorneys and the clients who can now receive the proper legal representation.
In turn, those clients benefit in the courts and often receive outcomes that better their lives, Steve said.
Using legal terms, the wedding meal was a done deal and non-negotiable, Steve said.
The groom was more than a little overwhelmed when told of the "gift."
"We said, 'We're excited that you're getting married, and we're cooking for your wedding,'" Steve said. "At first, he said, 'No, you're not!' When we insisted, he said he would pay us. We said, 'You're not paying us anything. We've got your wedding. We're bringing the booze and food. All you have to do is eat, drink and be merry, and that's the end of it. That's my negotiating, and we're through here now (with any further discussion).'"
Here Comes The Bride
The Huffs had to win over the bride. She was appreciative but also very skeptical about entrusting her wedding meal to two volunteers.
"(The bride) didn't even want me to cook at first, and it wasn't because she was mean. She just couldn't believe someone would opt into this situation," Steve said. "I've done these large meals several times, but I don't think she was really sold on it at first. They thought, 'This is a nice idea, but who is this kid, and does he really know what he's doing?'"
Steve realized acceptance of the offer would require a face-to-face meeting.
"I knew a phone call wasn't going to cut it," he said. "We met at a Sioux Falls bar and restaurant, and we had drinks and appetizers.
I figured, if she's uncomfortable with our idea, fine."
Steve soon realized he and the bride shared a passion for great food. For the bride, the wedding meal meant more than just feeding hungry guests. The food, like the wedding ceremony and the rest of the reception, needed to be special.
Steve respected the sentiment and didn't want it any other way. He described one "ah-ha" moment during the conversation.
"She was adamant about Israeli couscous, because she wanted the big pearls," he said, referring to the grains made from semolina or wheat flour. "The Israeli couscous is 10 times the size of regular couscous. I like it, and I admit it's better, richer and more filling."
Steve offered suggestions for the menu, and he listened to the couple's ideas. Together, they drew up collective ideas for the perfect menu.
"I realized she was very serious about her food. She knew what she wanted, and she knew how to do it right," Steve said. "And when we were done (with the conversation), she realized I knew what I was doing and would do it right."
Steve and the couple made follow-up phone calls on the menu. Steve reassured them that he could get the ingredients at a Yankton supermarket and butcher shops.
Tracy felt confident about pulling off the mega-meal, but she also knew it brought a number of challenges.
"I think the only other one comparable to this event was my hairdresser's wedding. We love her and her husband. We said, 'When you get remarried, we'll cook for your wedding,'" Tracy said.
"I think it was the craziest thing I've ever done in my life. We split the bill with her father, who is a very good chef as well. We had 150 pounds of brisket, and her father made 200 pounds of pork."
Steve held another memory of the joint effort. "We hand cut all of the meat at the church. I used an electric knife and had 'hand hooks' for two days," he said, demonstrating with claw hands.
Road Trip!
The planning for the recent Sioux Falls wedding meal went beyond the menu. The Huffs also needed to figure the logistics of how to prepare the food at their home and then transport it nearly 100 miles to the backyard wedding.
Tracy likened it to another of their culinary experiences.
"We've done the Super Bowl party and have taken it to somebody else's house," she said. "We're doing much of the same thing here, except the Super Bowl party was in Yankton and this wedding is in Sioux Falls."
Talk about making the ultimate road trip.
Why tackle the effort in two different cities?
"The wedding is being held at (the groom's) house, so we don't want to mess up his kitchen," Tracy said. "And we have the four smokers here at our house, which works great. We can also use our kitchen to prepare the meal."
When it comes to making the meal, there's no place like home, Tracy said.
"We'll try to do a lot of the prep work here (in Yankton) and make the food here," she said. "We'll use roasting pans to get it there (to Sioux Falls). Once we're at the wedding, we'll spend more time reheating and those types of things."
A summer meal can satisfy all tastes, Tracy said.
"It's really funny, but over the summer months, some people like hearty meals and others want it light," she said. "It's kind of a mixed bag, so you get a 'tich' of both kinds of food to satisfy people. In the summer, you can have both the hearty and light foods."
In the Midwest, barbecue and smoked meats go well in any setting, Steve said. "For this wedding, we have a good troika of beer can chicken, the smoked traditional brisket with a really good rub and pork. I'm really proud of this pork. The pig gave well," he said.
While brisket may intimidate some outdoor chefs, the Huffs believe they have mastered the process with their four smokers.
"Brisket isn't as tough as I thought it would be. I watch Steve work with more of the meat, and I do more of the seafood in the smoker," Tracy said.
"Once you get it down, it's kind of a science. Some of it is weather related. When it's warmer weather, you know the temperature doesn't have to be at the same level as when it's colder."
Steve was figuring the best rubs, as he firmly believes the rubs can really make the meat. He described a Korean rub for pork, while he characterized another as a Tokyo rub.
Some of his favorite rubs use chopped up smoked seedless Szechuan peppercorns, black sesame seeds, basil and rosemary. He described rubs for skirt steak and other meat. For the chicken, he was considering a Greek rub.
He showed one jar with leftover rub. "You don't need a ton of it. Here's what was left after we did 50 pounds. Its taste is like Athena came down from the Greek heaven," he said with a laugh.
While meat provides the centerpiece, the meal offered a variety of other tastes. The Huffs made a cucumber salad as a side, taking advantage of the seasonal fresh produce. They were also using 10 bags of broccoli slaw that they were turning into 20 pounds of Asian slaw with cilantro and fruit.
On the night they were preparing the meat, the Huffs were also making a dish featuring four kinds of beans, 1 ½ pounds of pepper bacon and two pounds of pepper sausage.
When it comes to beans for their cooking, the Huffs prefer black beans, navy beans and pinto beans rather than kidney beans.
The Huffs devoted two days to preparing the food. On the first day, they worked with the pork and brisket. On the second day, they focused their efforts to the chicken. On the side, they made the other dishes in the kitchen.
"The wedding will be under a tent. We're taking the food ready to serve it," Steve said. "It could be awesome or fraught with problems."
In the end, all went well.
Just Desserts
For the wedding, guests brought homemade desserts.
While she didn't need to provide sweets for the wedding meal, Tracy enjoys making desserts in the smoker. She has taken treats to work, including carrot cake, sugar cookies, chocolate chip cookies and brownies.
People seem to enjoy the carrot cake most, particularly with a smoky flavor for the nuts, cake and frosting, she added.
"If you can do anything in a smoker, why not do dessert? If you can get the right recipe and get it in a smoker, it's awesome," she said. "We've also done healthier dishes, like fruit. I've done peaches for dessert. We usually grill them or smoke them. We put a light honey glaze on them with a light dusting of powdered sugar, cinnamon and other things."
Steve may be used to high-pressure situations in the courtroom, but he admitted the wedding meal brought out a case of nerves.
"I want it to go right. I want everybody happy. I want to see the look on (the groom's) greased face after three pounds of brisket and three pounds of pork. I want to drop that meat bomb on him," Steve said, laughing at the thought.
"Then, when the evening is over, Tracy and I will go back to the hotel. I'll have a cigar and go to sleep for 12 hours straight because it will be the most sleep that I'll have had in a long time."
However, Steve believed it would all be worth it for his friend.
"(The groom) deserves this to go well. He has done so much for so many other people, the least I can do is give him a great evening with authentic food," Steve said.
"This is also the first meal they will share as husband and wife. We've done other cookouts, but this means more than most, to be fair. I take it a lot more seriously."
In the end, everything turned out well, Steve said. "The wedding was a success, and the setup and weather challenges were conquered," he said.
Tracy acknowledged she didn't know the bridal couple as well, but she shared in the desire to provide them with the perfect meal.
"(The groom) has provided a very special service to a lot of people, and this is a very special evening for him," she said. "I think that's where I find it a little bit rewarding (in making these meals). You get to provide something to someone who provides so much to other people."
As she finished a night of work in the kitchen, Tracy said she looked forward to the wedding.
"I think we enjoy what we do, but this (meal) is something special," she said. "That's where I think this is going to be fun."