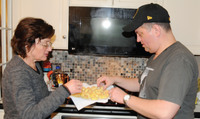 For their latest Her Voice meal, Steve and Tracy Huff got into some hot water — on purpose.
While still using their smoker and oven, the Yankton culinary couple unveiled a new addition to their culinary war chest. Upon my arrival, they were cooking — or whatever the proper term — flank steak in an appliance known as a "sous vide."
I had to ask for a spelling and an explanation. I learned the appliance uses a steam process for bringing food to the proper temperature, texture and doneness.
By the way, "sous vide" (pronounced "soo veed") is French for "under vacuum." The low-temperature, long-time cooking method uses food placed, in this case, in a plastic pouch. The food is cooked in a water bath longer than usual at a regulated temperature.
Our night's menu consisted of pasta, marinated flank steak, baking sheet roasted veggies finished off in the smoker, and a brownie sandwich stuffed with ice cream.
Unlike many of our sessions held on weekends, this foodie gathering took place on a weekday evening. No worries about a time crunch or waiting for a late meal. The Huffs didn't need a lot of pre-planning and prep time to make this meal a reality.
"There's really no preparation with any of this, and there's very little cooking time," Tracy said.
"It's all about ease and getting things done for the kids before they leave the house," Steve added. "It's simple, good and reasonably quick."
The lazy days of summer are long gone, and the Huffs were making something quick for their teenagers, Nathan and Abby.
"They're both in the (Yankton High School) play, and they had an hour before they had to get back to practice," Tracy said. "Things don't slow down around here. We put out the food, and Nathan and Abby will 'free range' if we set things out."
The pasta was thrown into boiling water and took five minutes of prep time. The plates were filled with varieties of ravioli and tortellini with marinara and pesto sauces on the side.
"We usually treat pasta as a main course, but not tonight," Steve said.
Instead, the huge plates of pasta were served at the outset. "We're treating it as an appetizer before we get to the main meal," Tracy noted.
Steve makes his own pesto. "When you can make it from scratch, that's good, clean country living," he said.
The pasta went quickly, and we needed to remind ourselves to leave room for what was yet to come. "Wow, we really crushed it," Steve said.
The Main Course
After coming up for a breath of air, we were ready for the main courses. The change of seasons doesn't mean an end to using the smokers. The veggies were put in a smoker for good measure.
"We love to smoke our food, and there are a lot of things we do in the summer that we can do in the winter months as well," Tracy said.
She described her passion for bringing out the best in this wide variety of vegetables.
"I love veggies and doing it on a cookie sheet," she said. "I put some olive oil on it. I watch my salt (intake), so I used Mrs. Dash on some of the veggies and Southwestern chipotle on the other part. Both are very good. Then, I put it in the smoker to get it a nice golden brown."
For his part, Steve had put the flank steak in the sous vide immediately upon arriving home from work that evening. The meat fit neatly, albeit a bit tightly, into the pouches.
The marinade combined garlic, beef stock, homemade meat rub and red wine. "The sauce gives it a little zip," he said.
The main courses were long on flavor but light on any nutritional no-nos.
"This meal is very light on fat. I didn't use any cheeses, and this is lean meat," Steve said. "The veggies received some pure olive oil and seasoning, and they stand on their own."
In the past, Steve has purchased his meat in Yankton. This time, he chose cuts from Look's Market in Sioux Falls.
"You take certain cuts of steak that are really lean," he said. "I usually use flatiron steaks, but this time I went for the flank steak. It's grass-fed meat,
and it's easier to marinate. I also wanted to show you something different. The flatiron steak is fattier, and the flank steak has no fat and no gristle."
Steve described the meat preparation that took place before he left for his law office during the day.
"We bought the meat frozen in Sioux Falls, which you needed to do for the trip home," he said.
"For this meal, I defrosted the steak. This morning, I cut it out of the package, washed it and patted it dry, then put the marinade on it. Everything turned out pretty good."
The marinade used some of Tracy's wine along with blueberry balsamic vinegar, but not too much.
"This was a four-pound steak. I put it into two of these (sous vide) bags. It barely fit, and I let it sit in the fridge all day, soaking up the blueberry balsamic oil and red wine," he said. "These are fully-sealed, reusable and environmentally-friendly sous vide bags."
Returning home from work, Steve was greeted by four pounds of steak ready for the final step.
"I got home at 5:36, and the steak went into the sous vide at 150 degrees for an hour-and-a-half and then at 100 degrees for another hour," he said. "The marinade contained beef stock, garlic and black peppers. We just let it slowly steam bath until we were ready to eat."
The steam cooks through the permeated bag, but the water doesn't get into the bag and food itself, Steve said. "The steam cooks the contents completely. It works for anything from the thickest piece of meat to the most delicate veggies. At the end, I put it on the smoker just to sear it."
He took the flank steak out of the bags, cut off strips and let us enjoy every juicy morsel.
"How can you cook in water for three hours and get steak at a perfect medium rare?" he asked in amazement.
Making The Investment
Tracy found the sous vide to be a good investment. "Some people may be put off by the cost in the beginning, but in the long run, it really pays off," she said.
The sous vide's cost compares favorably to other appliances, Steve said. "This cost $100. That's the same as a coffee maker and less than a microwave," he said.
While flank steak was the star of this meal, Steve pointed out various other uses for the sous vide, such as veggies or chicken breasts.
The sous vide fits well with the Huffs' cooking style. "We cook on the weekends so we have food during the week. We make chicken, and we're banging away (eating) on it for two or three days," he said.
The sous vide offers the advantage of cooking while not at home, Tracy said. "You have the app controlling the temperature while you're away from the house," she said.
Steve went global in his comparison. "With the app, you can control the cooking from anywhere in the world — even on a plane during a flight!" he said.
He recommends a different temperature setting in the sous vide for each type of meat.
"If you look at the meat thermometer, it tells you that you want to do pork at 180 degrees to prevent trichinosis," he said. "With chicken, you don't want to go much lower than 170 or 165 degrees. With beef, you can go lower. I would go 150 degrees for about an hour-and-a-half, and then I would let it finish at 100 degrees for another hour. Then I sear it just enough so that it looks nice."
The secret with sous vide lies with the technique, Steve said. "It's osmosis, not boiling. The process infuses the bag full of liquid and flavor," he said.
We enjoyed a glass of wine, which gave an extra body of flavor to an already incredible meal.
A Sweet Ending
Now, we were ready for our just desserts. Once again, Tracy brought out her expertise with sweets for the sweet. She offered an old-fashioned favorite with a new twist.
"Our dessert is cookie-sheet oriented. We have the baked brownies that's I'm splitting in two and then filling the middle with ice cream," she said. "We like Ben and Jerry's for our ice cream, and we have three different small containers of it."
Tracy offered to open up all three containers, but we decided to focus on one flavor and indulge ourselves. What was the choice? We went with a coffee-flavored favorite that went well with the brownie.
You could eat the brownie halves and ice cream filling with your hands as a large sandwich. I wanted to savor every bite, so I opted for a fork and plate to work my way through the huge, thick offering.
With the coffee already found in the ice cream, Steve served up a different side offering with dessert — a satisfying sampler of cognac.
With the presidential election season under way, Steve pointed to the example shown by a former commander-in-chief when it came to meal time.
The emphasis was on gathering as a family and taking time to enjoy the food and each other's company — period.
"No phones, no interruptions. Just a home-cooked meal, sitting and talking," Steve said. "He had it right. We need to put down our stupid electronic leashes and enjoy a great meal and conversation."
As I sat back in contentment, I couldn't have agreed more.