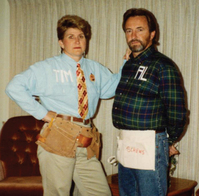 Halloween costumes have been a fun thing for me since 1956. My mother always made sure we had a fun time with it. We started out with a huge cardboard pumpkin for fun. It was like a two-legged race trying to walk around with in it. In the 1960's my sister, Sharon and I, became characters.
Our Mom sewed our costumes and my favorites were Little Bo Beep and her Sheep. I still have the little bell I wore as the lamb. The other best one was Raggedy Ann and Andy. I was Andy and liked bobbing my head back and forth with the string yard hair. Our mom made these costumes without any kind of sewing pattern. Later on we were Cinderella and the Prince, and a frog. After trick or treating, we always went to the city hall for the games and prizes, it was a very big deal back then. I remember we all walked in a big circle round and round while the judges chose winners.
We won several times and couldn't wait for the next years idea. As an adult I still like to dress up for Halloween. In the 1980's-1990's many of us had house dress up parties and for several years the country club always had a Halloween party. I had to always talk my husband Greg, into participating and he ended up having fun. We have dressed in Japanese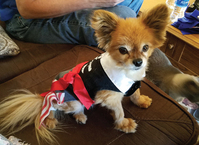 Kimono and Karate man, Kind of a goucho-Mexican theme, hippies, the Walking dead, and a fun one was Tim and Al from "Home Improvement" sitcom show on TV. It had just become a hit and no one understood who we were. Tim the Tool Man Taylor with his tool belt and Al his hilarious side kick always wearing flannel, had to stuff pillows for a big belly. As our kids grew up, I tried to be original for them as well, they never had a store bought pre made costume. I still like to get into it now days to hand out treats. I at least have a mask on, a theme vest, or an orange outfit and pumpkin socks, and recently I wore the Elsa wig that all the kids loved. Greg has put on camouflage and tree like gilley suit and spooked a few kids too. It's all about fun and being someone else for a few hours. Good memories.