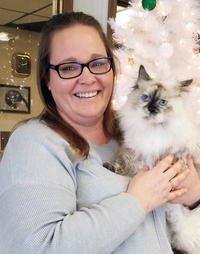 A community and service-minded person, Kerry Hacecky has always been passionate about helping others. The Yankton native spent some time outside the community working with another non-profit group, the Boy Scouts of America and returned to her hometown in 2011 to take on the Director position at Heartland Humane Society (HHS). Explaining that there are many differences between the non-profit and corporate worlds, she's discovered that she enjoys the non-profit specialty best.
Born a farm girl, Hacecky has always been acquainted with animals. She and her boyfriend Brian Feilmeier have recently moved back into the country where they oversee an adopted 10-year old Boxer and eight spoiled barn cats. They also raise miniature cattle and she is anxiously awaiting pet ducks next spring. Brian and his two boys, ages 11 and 13, are just as passionate about the animals as she is.
Hacecky loves her job at Heartland, stating, "When your job's your family, it's really nice, and I've been blessed to have that here too." Her primary focus at HHS is on Development and Leadership, helping to keep the staff organized and serving the community's needs best. She plays an important role in all areas of the facility and a primary role in marketing and fundraising for HHS. She credits the organization's success to everyone involved. "This is a team work thing," she smiles. "We've got about 100 volunteers that, without them, we couldn't run the ship."
Background and Achievements
HHS has seen several changes over the years. In 2001, then Yankton Area Humane Society, they were volunteer based. In 2006 the business re-organized to non-profit and in 2008 they hired their first paid employee. That same year, the group evaluated the increasing needs of the area, noting only two animal shelters in South Dakota at that time. The business has continued to grow steadily, as have the number of shelters available in the area.
Approximately 570 animals have used HHS's services this year, almost double the number of pets tracked two years ago. These numbers fall within the range of animals the facility can handle, between 550-650 animals per year, on average housing 45-60 animals per day.
Hacecky explains how the organization took on a crucial role recently in sparing the lives of many animals, signing a waiver to become one of 2,500 communities across the nation that are no-kill shelters. "This is pretty impressive. That's a big win for a little town," she states satisfactorily. Becoming a no-kill, or limited emissions shelter means that they will not get rid of an animal because of its age or if it's been at the shelter too long. If HHS agrees to take an animal in, they know they can serve the animal. If the animal is beyond their assistance, they will help find someone who can help care for or take the animal in.
Another big achievement for the organization was partnering with the "Best Friends Network" in 2014. The Best Friends Network runs the nation's largest no-kill sanctuary. This network based out of Kanab, Utah, takes in rejected shelter animals from all over the US. The network's task of reducing the number of kill shelters includes visiting shelters around the nation with the highest emission rates and taking in their extra animals to find them a home. To do this, they need a nationwide network of shelters to help house these additional animals. As a partner with the network, HHS works with a coalition of 14 shelters in the tri-state area to help house the animals. This group works together to take on a large shipment of animals and divide them out between the 14 shelters.
Also housed at HHS are stray animals that have lost their way and owner-surrendered animals. When most people think of an owner-surrendered animal, they often have the perception that the animal was surrendered because of its behavior or it has been mistreated or abused. Though there are a few of those cases, most of the owner-surrendered pets are due to a change in family dynamics. Often circumstances such as health or work changes happen in a family that are beyond their control, making them unable to care for the pet as desired. The surrendered animals often include well-mannered and trained dogs, including purebred breeds.
Hacecky took me on a tour of their facility east of Yankton and I was amazed at their size and organization. The facility has 18 dog kennels which on average houses
approximately 15-20 dogs. Another six dogs can be held in the back area of the building while being examined and treated for any health issues. They also house the city's animal pound, joining with them a little over a year ago. "It makes a good partnership," she explains, "as the animals coming out of the pound can move into the animal shelter to get assistance in finding homes."
Medical rooms in the back area of the building allow veterinarians to assist with health needs. Other rooms house miscellaneous small animals, like those you would find at a pet store, supplies and food. Circling around to the front of the building, we pass an enormous wipe-off board, where all their current animals are listed with their instructions and notes from the care takers. Located in the front area of the building are the offices where the adoption process takes place and the cat area, where cats lounge in the sun rays streaming in through large front windows.
It takes many people involved to keep the organization running smoothly. Many volunteers, hours varying, help to feed animals, clean kennels and socialize with the animals. "Their jobs really are just to love on them," Hacecky beams. Who wouldn't love that? The volunteers get the animals out of their kennels to play, walk the dogs and even help photograph the animals for their adoption spotlight.
"I do feel like the animals here are happy, and it's hard to be happy when you're living in such a small space," she explains.
Though the HHS board of directors contains 15 members of both men and women, the rest of the staff has unintentionally been primarily female. Considering that the organization has gone from serving 100 animals in 2010 to serving 600 in 2019 is proof of an empowering female force behind the business, dedicated to its growth.
Adopting, Volunteering And The Future
The focus of HHS is "Helping great pets find great people." Hacecky elaborates on the philosophy. "Heartland does really good about being proactive in adoptions. I'm a firm believer that if someone walks into a shelter, they've already chosen adoption and rescuing, so we need to work to coach them to be ready or to get the right pet in their arms." When families come in looking for a new pet, the shelter first offers education support to them that they wouldn't receive at a pet store or breeder. They help steer people to a pet that would fit well with them. They stress educating the family on what they can expect when they take the animal home and they follow up with them after the adoption, always being available for further questions or guidance through the process. She notes that they also offer pets suitable for outdoor living as well as the indoor environment.
After you apply for a pet and find a possible new furry friend, they will have you sit with the pet to get acquainted. If you decide to adopt, you could have a new furry family member in about an hour if you choose to. If you're uncertain about the pet, she encourages thinking about it overnight. Their goal is to put the right pet with the right family.
If you're not ready to adopt a pet, she explains their option of fostering an animal. They use the foster program for two reasons: some people just like to help the business by taking the animals home for a break while other animals are fostered out because they might not thrive being in the kenneled environment. It gives the animals that aren't thriving at the facility a second chance of finding a new home.
About a year ago, they've started "slumber party fosters." It's a way for the foster homes to pick up an animal for the weekend. She explains that becoming a foster family is great way to help in making the decision if you're ready for a new pet and helps to determine the best breed and size for a match.
"I think across the board, the animals are better when they leave here, because they're in a normal environment and being loved, which is different than they're used to." I agree whole-heartedly with her comment, as both dogs that I've adopted have been the most wonderful, loving and appreciative dogs.
Heartland always welcomes volunteers and they are extremely flexible in working with their staff. Whether your schedule allows for a few hours a day or a few times a month or year, they will be able to find a spot for you. As a community non-profit organization, they strive to work for the community. Whatever you decide to help volunteer for, they will take time to educate you to assure it's the best fit.
They hold various fundraisers through the year to raise money for their day-to-day operations. Cupcakes for Valentine's Day in February; an event in Vermillion event every spring or summer which includes entertainment and food or drink and a Gala in Yankton during the fall, which is their biggest event. Their recent Gala helped to raise $67,000 for the organization. Throughout the year, they team with Yankton and Vermillion to host various events, including a dog party with the pool during the summer. If you would like to help the organization in other ways, they gladly welcome monetary donations or supplies such as food, toys, used blankets, pet beds, toilet paper, paper towels, laundry detergent, bleach, cleaning supplies and office supplies.
They look to the future for programs that can help the community. One of their recent programs being developed is to help with spaying and neutering stray cats to help reduce the feral cat population. Their upcoming strategic planning meeting will focus on programs that they could start in the next three years to better focus on helping the community. If anyone sees a need or a void in the community, she welcomes you to email her with your suggestion.
If you're looking to make a difference in our community, visit Heartland Humane Society at 3400 E Hwy 50, Yankton or call them at (605) 664-4244. You can also visit their Facebook page at
"Heartland Humane Society" or their website at www.heartlandhumanesociety.net.