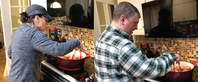 Most couples wouldn't choose to spend their anniversary in self-isolation during a pandemic.
Then again, Steve and Tracy Huff aren't just any couple.
They chose to spend their March 28 anniversary pursuing two of their favorite pastimes — cooking and baking. It proved to be a very special way to celebrate their very special day during very unusual circumstances.
Unfortunately, I couldn't join the Huffs for this culinary session because of the COVID-19 "stay at home" recommendation.
(I definitely hope this is a one-time thing.) But never fear, HerVoice readers — Tracy not only shared kitchen duties with Steve but also took us behind the scenes for their anniversary meal.
I'll let Tracy tell the story in her own words.
********
Steve and Randy have been Facebooking to see when and how we would like to handle our next HerVoice. After a little thought, I said, "I have it! Let's show, despite the challenges we are all facing, making a great meal for each other is fun, especially since it's our anniversary today. We're doing the very thing we always love doing."
I said I wanted to center my anniversary gift on doing things homemade. We were determined to do something fun — maybe funky and definitely tasty.
Steve and I went through our freezers to see what we had on hand and discovered oxtail. We decided to make oxtail stew. This is not a first for us, and it's truly amazing.
We started by putting the frozen bags of oxtail in lukewarm water. This is a great cheat for any meat you want to prepare that evening. Steve made fun of me recently, when I told him to do this with flat irons. I said, "It won't take as long as you think." Despite his skepticism, we did it, and I was right. I feel like I've learned a lot about cooking through Steve, but it's nice when I can contribute a new thought or technique as well.
Once the oxtail was thawed, we contemplated whether to go with an oven or smoker. Of course, it was a unanimous feeling in using the smoker. Everything just seems better in there.
We browned the oxtail, stove top in our Dutch oven, and then we prepared veggies for the stew. Once the oxtail was ready, we added veggies and broth, then put in the smoker and came out with our end product.
For Steve's anniversary baked goodies, it was all about lemon. I asked for requests, and he mentioned lemon meringue pie. This scared me a little bit as this was my second attempt, and the first time was a marginal pumpkin pie. I searched the Food Network and found a recipe by Trisha Yearwood.
As I began to build the pie, I discovered I didn't have condensed milk. So, I went on the interweb and googled, "What can I use in place of condensed milk?" I received the following for "Substitute for Condensed Milk." I thought, "I'm committed to doing this, and we'll see how this turns out." It reminded me of a homemade caramel recipe. Worst case scenario, we have a lemon and caramel pie. I couldn't go wrong, right?!
I made the homemade pie crust and filling. It looked just as I thought — not the traditional lemon looking pie, but I did a pinky test and you still had the lemon flavor, as well as a hint of caramel.
I think the toughest part for me was the meringue. On my third attempt, I finally had somewhat adequate peaks, but it sure didn't look like Trisha's. If she were to see this, she may well have said, "Honey, you need some more coaching on this." Rightfully so!
Again, I was determined to give this my best effort.
The finished product looked less than pleasing. However, my family tried it and said it was quite tasty. As they say, "You can't judge a book by its cover." Whew!
I was, however, a bit more pleased with my fallback on a second recipe I found on the Food Network for lemon cake, inspired by Ina Garten. We did a twist and added Blood Orange Glaze as opposed to a lemon glaze. We sliced off an end piece, sampled both, and came up with the finished product. Everyone seemed to like the blood orange pooled on the ends for more icing.
The last thing I wanted to attempt was making a cocktail. This isn't a strong suit of mine, and — as you already know from prior months — I enjoy red wine. There are occasional times Steve will make me an Old Fashioned with rye whiskey.
I once again searched the Food Network and entered "whiskey beverage with lemon." It pulled up what was called, "Gold Rush Cocktail", by Geoffrey Zakarian.
One of the ingredients called for simple syrup. I've never made this before, but I have watched Steve make different combinations for beverages. I didn't realize how easy it seemed to be. When I told Steve I actually added a beverage in the mix, he was intrigued.
When my final anniversary gift was complete, he liked it. I felt this was a beautiful end to a beautiful day!!