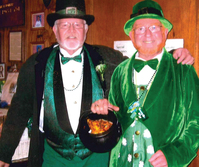 If you want to see something guaranteed to make you smile, you need to see Gene Ebneter in his full regalia the weekend before St. Patrick's Day. He is better than a rainbow and truly a vision! Gene and the Ladies of the Yankton VFW Post 791 Auxiliary have a long standing tradition of spreading joy, raising spirits of local residents, and giving thousands of dollars in donations to the Special Olympics every year since 1986.
This selfless gift of giving was started by Wanda Hermanson over thirty years ago. Gene was recruited by Wanda's daughter, Penny Backman in an unusual way eleven years ago. Gene was sitting in the Shipwreck Bar at the Cottonwood Corral (which Penny and Pat own) enjoying a Bud light beer. His wife had passed away the month before, and he was naturally still grieving. Penny struck up a conversation with Gene and said, "You know what? You look like a leprechaun! We need a leprechaun! Will you dress up and be our leprechaun for our St. Patrick's Day Party?" Unfortunately, one of Yankton's previous premier leprechauns, Charlie Gawker, suffered a stroke around 2008 that left him unable to participate any longer. Gene was up for the challenge, and bought himself proper attire. He crafted himself a special shillelagh staff from a wooden walking stick, and furnished a beautiful pot for holding gold chocolate candy coins too. A good friend, Eldonna Stenson, hand painted the shamrocks and gold Special Olympics lettering. To complete his transformation, Gene colored his hair, beard, and even his eyebrows, to a robust Irish copper. Even though Gene claims he's of German descent and not Irish, when he turns on the charm and speaks his brogue, it's hard to believe it.
Gene and his entourage of happy sprites from the Ladies Auxiliary make annual visits to local nursing homes, Assisted Living, Senior Center, Yankton Adjustment Training Center, and Sacred Heart Monastery. Their visits are always much anticipated and well received. The group of about ten revelers put on a wee happy show, with Irish music playing and a bit of St. Patty's Day jigging. Gene fondly recalls a visit they made to a group of children that they routinely visited every year, "All the gals went in ahead of me, and I heard a child shout, 'Where's the Leprechaun?!'" After that I made a big entrance and said 'Here I am!' and all the kids were thrilled. You should've seen the smiles on their faces." It's always fun making people's day better by doing something special. In the weekend evening's around St. Patrick's Day Gene goes solo, making the rounds through the pubs downtown, pot of gold in hand. He's happy to share chocolates, pose for pictures, give hugs, and maybe even a dance, but requests a donation for his Special Olympics mission. He's never encountered any trouble during his journeys, but is adamant that he doesn't do private parties. When I remarked how the red hair color made him appear so much younger, and asked why he didn't keep it dyed permanently he said, "I don't know how people can do it. Once a year is fine for me. I don't like having the chemicals on me."
Gene was raised on a Southern Wisconsin dairy farm, but travelled extensively during his tenure with IBM as a Senior Engineer and Location Manager. It was his work and experiences in South Dakota and Iowa that eventually landed him permanently in Yankton. He covered large territories and decided to get a private pilot's license in Sioux City, IA, so he could travel for work more quickly. This turned into a life-long passion for flying and Gene went on to get his commercial license as well. Gene continues to fly, on average about once a week. He uses his beloved plane of forty-three years, a 1949 Beechcraft Bonanza. It has single prop engine with a V-shaped tail. Besides flying for business and pleasure, Gene taught flying with fellow pilot, John Lillevold, when they started the Yankton Flight Training Center at the Chan Gurney Airport in 2007. Gene also made numerous Angel Flights from 1995-2005. This was a special program comprised completely of volunteers that provided free rides for patients and their support people to hospitals for medical care across the country. The
trips were dispatched out of Kansas City and the pilots donated their time, their aircraft, and fuel costs, completely free of charge. Just this past October, Gene and other volunteers with the Yankton Chapter 1029 of the Experimental Aircraft Association 9EAA) provided free rides to sixth graders as part of The Yankton Middle School's reading program, as a reward for children that had earned Reading Program certificates. Gene estimates he has 8,600 hours of flying experience, which is the equivalent to a million and a half miles.
Besides flying, Gene has always been active and had many other outdoor hobbies such as water and snow skiing, white water rafting and fishing. He has always loved travelling and regularly flies to visit his friends and family around the country. Gene has lived in other states but says, "When I was ready to retire I knew I wanted to build a house and live in Yankton. I got to know the territory through my employment and liked the area and the people." That was twenty four years ago. Gene says, "South Dakota is a great place for retired people due to its tax structure and relatively low cost of living." Besides preferring the Midwest in general, South Dakota also had the special appeal of being a good central point for his travels. A tank of gas in his airplane will get Gene six hundred miles without having to stop for refueling.
Gene is quick to point out that he's eighty years old. One would never guess it though, because he still has plenty of pep in his Riverdance-like fancy steps. Perhaps besides good genetics, and an active lifestyle, doing good deeds imbues him with his glowing vitality and twinkling eyes. He credits it to "Having a good sense of humor and thinking positive." He advises folks to, "Not to take everything too seriously and don't be satisfied with the status quo." Despite all the adventures Gene has had, he still has things he wants to experience. One of them is do go on a tandem parachute jump. Gene has other things on his bucket list and is always busy, but he still makes time for his St. Patrick's Day festivities, and doesn't plan on giving them up any time in the foreseeable future. This is incredibly lucky for Yankton indeed. As March approaches I'll be thinking green, and looking forward to seeing Gene the Leprechaun and the VFW Ladies Auxiliary in action, sharing spring cheer.