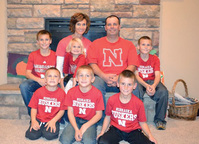 Darla Heimes traveled to more places in the first 28 years of her life than many people travel in their lifetime. The kind, down-to-earth busy mother of six sat down with me one evening to explain her travels.
Heimes was born in Kimball, SD, to Ray and Doris Janish. The second youngest of five girls, she loved their family farm and enjoyed helping her father with whatever chores he needed done outside.
"It was a great place to grow up, I loved the farm, love the country," she reflects. Her parents took the girls camping for a couple of weeks every August, traveling to a new location in the U.S. Their first camping excursions were in a tent camper pulled with a pickup and when they later graduated to a motor home her grandma came along.
One staple in their travel locations was always a pool so the girls could go swimming. Heimes recalls a huge USA sticker map that they put on the back of their camper. They put a sticker on the map corresponding to each state that they visited and she recalls people commenting at their stops about their many travels.
The family traveled so often that they hit many of the fifty states by the time Heimes had finished high school. After graduation, she took a semester of college at Black Hills State University in Spearfish, SD. Yearning to travel, she decided to switch routes and took the 12-week International Travel Academy course in Rapid City. She spent the summer of that year working at the Custer State Game Lodge in Custer, SD and that winter at a ski resort in Keystone, Colorado. She had her sights on reaching a personal goal of traveling to all fifty states by the time she reached age 30.
Heimes was then able to connect with an Interexchange Program and found herself heading to Norway. She quickly felt at home with a very kind family that had raised beautiful Pyrennes dogs on their farm. They had 30-40 pens outside their house of beautiful show dogs, all named. Heimes' love for the dogs remains to this day, a beautiful, friendly Pyrennes greets her own guests when they pull onto their place.
"Norway is just beautiful," she recalls. Her parents took the opportunity to travel to Norway to see their daughter. Because the winter Olympics were held in Norway at that time, they toured the Olympics site.
Heimes came back from Norway to the ski resort in Colorado to work for another ski season. At the end of the season, she was off to Alaska. Her roommate, who worked during the summers in the fish canneries there had helped Heimes get a job working with her for those four months. When her roommate started on a seine fishing boat, catching salmon by dragging a huge fishing net through the water, Heimes got her chance to work on the boat as well.
Heimes and her roommate found themselves as the only two girls working on the number one northeast seine fishing boat, out on the water for up to five days in a row to fish. Heimes started off as a cook, but when one of the guys left, she found herself doubling up as cook and as deckhand.
"It was just an awesome experience and it was also really hard work," she recalls. Her parents traveled again to see their daughter. When she finished her fishing adventure, they brought her back home.
She relocated back in the United States to New Jersey to be a nanny for several months before opting to try for another venture abroad. She sent out several applications for different cruise lines and was offered a spot at Clipper Cruise lines out of St. Louis, Missouri. The massive boats were an eye-opener to her.
"I didn't realize that a lot of those cruise lines are so huge. So huge. So many people." She flew to Florida then to Panama to get on the Clipper Yorktown cruise ship that she was assigned to. The ship traveled the Panama Canal, Mexico, California and Alaska.
Heimes then took part in the International Agriculture Exchange Association and traveled to Australia to live with a host family, with a four-day stop in Hawaii on her way out. What was to be a seven month stay with a family there turned into nine months because she loved it so much. Her Australian hosts lived on a ranch with their four children, the youngest just a baby. She often helped the father with his Brahman cattle and assisted with outside chores.
"That was just awesome. I loved it." Her Australian host parents and their grown children have come to the United States a couple of times to stay with Heimes and her husband.
Heimes remains close to her international host families today. "That's the good thing about traveling. You just meet so many people. You meet a lot of good, good people," she says, beaming.
The remarkable thing about her travels? She completed all of this from age 19-24. By this time, she visited most of the U.S. except the northeast states and traveled to more than six countries!
Deciding it was time to plant her feet for a while, her love of animals drew her to veterinary school and she opted for Northeast Community College in Norfolk, Nebraska. She completed their two-year Veterinary Tech program and obtained her Associates degree. During this time, she completed an internship at Iowa State. This was a fascinating experience to her, as she witnessed large animal care which is what she loves the most.
During her last year of school, she fell in love with her future husband, Bill. Knowing she wanted to visit one more country before settling down, she toured Germany and the surrounding area for four months to catch a glimpse of her family heritage. Later that year, she worked one last cruise with the Clipper cruise lines on a tour in Canada.
Then her biggest adventure began. She said "yes" to Bill's proposal and they became husband and wife. Before having any children, they headed to Australia to see her exchange family, spending three to four weeks with them during Australia's summer, which was winter in the U.S.
It appeared Heimes was going to make her goal to see all fifty states. As luck would have it, Bill's sister was planning a fall wedding in Vermont. On their way to the wedding, Heimes and her husband took extra time to travel through the beautiful fall foliage in the last northeast states on her list, reaching her goal by age 28.
Heimes has hung up her tattered running shoes and her adventures are now all in her own Hartington, Nebraska home, raising six wonderful children ages 3 to 12 while helping Bill with the farm. Thankful for her experience traveling, she's still happy to be home.
"It's nice to visit, not to live it. It was nice to go but it was always nice to come home. There's just so many places out in this world that are beautiful. I wanted to broaden my horizon. I wanted to go and see what was out there."
She's glad that she traveled when she did and treasures some mementos she has kept from her journeys. Her children excitedly showed me a coconut and some dirt that she brought home from Australia, a keepsake that they wouldn't normally experience.
The fearless, free-spirited woman wasn't intimidated to travel the world as a young woman. At age twenty-one when she went to Norway, it was her first flight oversees. "I was kind of scared, but I guess I was just trusting to other people." She recalls the primary feeling of excitement, being enthralled with the enormous 747 plane that she was getting on to start her new adventure.
She loved Australia, listing that as her favorite place that she visited. Recalling her experience there, "I loved the family. We had a really great relationship. They treated me like a daughter, and I really liked the work." Communication with family was difficult when she traveled; without today's technology of cell phones, texting and skype, she relied on letters and phone calls. She has kept many letters as keepsakes.
What surprised her the most? Throughout her travels, she never lost her faith. She was also surprised to meet so many good people. She came away from the experience knowing that there are a lot of good people in the world with really good hearts.
The appreciative traveler sums up the best part of her journey with a sunny smile. "Having good experiences with good people. I feel very blessed."