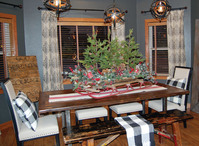 Getting in the Christmas spirit is something Michelle and Ryan List do well; from the outside of their home to the inside, they love making everything look festive and cheery.
The house is Michelle's grandparents old house which they remodeled in 2007. They tried to keep as much of the old as they could as it holds "too many memories" for Michelle.
Michelle starts decorating, usually, after Thanksgiving. The kids used to help but she mostly does the decorating herself because she likes to mess around until it looks just right. She also enjoys Christmas trees which is why she has multiple that are different themed – her farm tree being the favorite.
Even before turning into the driveway, you can see the spectacular lights from the highway. Not overdone, but just right so it feels like a warm place to visit. Once you get out of your car, the little touches of Michelle's decorating are seen. There are signs, wreaths, and even and old pair of skates. The little touches that make it
festive. Michelle enjoys finding décor in stores but some of it she makes herself. Even some of the signs are something Michelle had made for her Christmas decorating. There are also touches from the past that Michelle loves to include as Christmas is a time for family.
Once you walk inside, there is the warm Christmas aroma that invites you further into the house. Little touches of Christmas cheer are strategically placed throughout the entrance. The first room just off the entrance is actually the original front room of her grandparent's house from the 1800s. When Michelle and Ryan remodeled, they tried to keep as much of the old house as they could as it held a lot of special memories for Michelle. The front room is one of Michelle's favorite rooms.
Michelle has always been "obsessed with décor" and loves the decorating process. Every room has that special touch of Christmas spirit that makes it a warm and inviting place to celebrate the holidays.
My favorite piece, which was hard to pick, would have to be the sled on her dining room table. It is her dad's old sled that she decorated with the Christmas touch. The combination of the past with the present is a nice touch to a well-decorated home.
"Christmas time is just my favorite time."