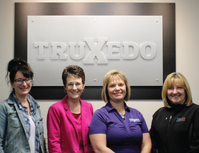 South Dakota native Kristi Palecek enjoys the variety that her job as TruXedo General Manager offers her. "I like change and that's why I like manufacturing, because there are no two days that are the same," she explains. With constant opportunities and challenges, it's as though she is always trying to put a puzzle together.
Born in Brookings and raised in Elkton, SD she spent a semester of college in Crete, NE after graduating from Elkton High School. She then transferred to South Dakota State University in Brookings and there she obtained her degree in Consumer Affairs Business.
Her husband's horticulture degree brought them to Gurney's in Yankton in 1994 and their family has been blessed with three children, now 16, 12 and 6 years old. Upon coming to Yankton, Palecek first started off as a counselor for Lutheran Social Services before taking a position at Gurney's as a night shift foreman. She moved her way up to shipping manager when the facility closed.
Palecek and her husband wanted to stay in Yankton, rather than move with Gurney's, because it was a central location to their aging parents. After Gurney's closure she worked at M-Tron for three years as a supervisor and supply chain manager and was able to train with lean concepts and learn techniques for eliminating waste within a manufacturing system.
It was the lean concept training on Palecek's resume that stuck out to Kelly Kneifl, incorporating Palecek into his vision to expand an automotive division within Shur-Co. Palecek was hired on at Shur-Co as a supervisor on the automotive side.
TruXedo has been in Yankton's market since 2000 and Palecek began her journey with the company in May 2003. Starting as a Production Supervisor for the assembly part, she oversaw the line where everything was put together. As TruXedo grew and began incorporating metal cutting, fabrication and sewing to the assembly area, Palecek oversaw those additions as well.
Palecek moved up to become an Operations Manager and then General Manager. As the company expanded, she also took on additional responsibilities to oversee Purchasing, Engineering and Human Resources. Aside from the Vice President of Sales who is responsible for sales and customer service, Palecek is responsible for everything else in the Yankton unit.
"My career kind of found me versus me finding my career. I love every minute of it," she smiled.
There are other females who hold management positions at TruXedo as well. Customer Service manager Kris Llewellyn, Human Resource Manager Jennifer Herrboldt, MIS Manager Pam Erickson, as well as their corporate Vice President of Human Resources and the Corporate Controller are female-filled positions.
When TruXedo first started, the staff was predominantly male. Because the company works mainly with light manufacturing that doesn't involve heavy lifting and welding tasks, their female population has grown and Palecek estimates that they are now approximately 70% female dominated.
For a female in manufacturing, Palecek explains that there are many opportunities. "There is no glass ceiling, you just need to try. I've never thought about, 'I'm a female doing this,' I'm just a female doing my job." She explains that she may often find herself as the only female in the room but encourages to just do your job to the best of your ability and not think about the gender piece of it.
"Be yourself. Don't box yourself in because you're a female. If you're not 100% sure of your idea, even if you think you're 80% correct, voice your opinion. It's better to be 80% correct and be heard than be 100% correct and never have your voice heard."
Manufacturing has changed over time and many still have the perception that the job is dirty and dingy, but Palecek encourages people to look at it again, from a different angle. "There are a lot of opportunities for males and females. Don't discredit or discount the manufacturing realm from what you're looking at because there are always opportunities opening up. Don't limit yourself."
The dynamic Palecek keeps busy outside of work with her family, involvement in various sports and her church, and serves on the Chamber of Commerce Board of Directors and the Yankton Area Progressive Growth Board of Directors.
She explains that balancing home life and work is a challenge that females in the workforce face. Often women tend to feel like they are the caretakers and they may not think they can be successful in the workplace at the same time. "Find a support network," she encourages, "whether it's in a spouse, in family, you need that to be successful." It seems that Palecek has found just the right balance and network in her life from the looks of her thriving career and promising future ahead.