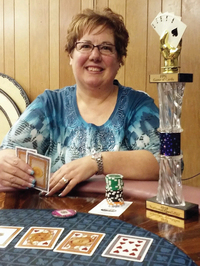 The pastime of card playing has been around thousands of years, long before binge watching Netflix to stave off winter boredom became the norm. Melissa Svanda of Tyndall, SD. regularly braves the cold and heads to Yankton for a good game of cards. Her preference, and that of many, is Texas Hold'em. Melissa was one of seven finalists from South Dakota that went to Las Vegas, Nevada to compete with others nationwide in February 2017 at the Stratosphere casino for a chance to win a place at the World Series of Poker Championship main event. As players prepare for a game, the air is abuzz with excitement. They all get their stacks of 3,000 dollars worth of chips and wait to be assigned their place at the tables. This is done by a random drawing at the beginning of each new game. Greetings and jokes are exchanged, and talk about recent games prevail.
Texas Hold'em dates back to the early 1900's and is a variation of the game Poker. The Texas Legislature cites Robstown, Texas as its birth place. The game remained in Texas, until it was brought to Las Vegas, NV in 1963 by Felton "Corky" McCorquodale. The game slowly became more popular and moved to the Golden Nugget Casino. It wasn't until the World Series of Poker Main Event Tournaments became televised and books on the subject were written in the 1980's that the game really took off. When a virtual unknown amateur; Chris Moneymaker won a seat through an online satellite event and won the whole 2003 tournament, complete with 2.5 million dollars, the world now knew that even a common Joe or Jill had the chance to play with the high rollars and win too. Now there are Free Poker Network Texas Hold'em leagues in thirteen of the fifty states, and the numbers of people dreaming of playing in the annual World Series of Poker main event are steadily growing.
Texas Hold'em consists of a total of seven cards used per player each hand. The players are each dealt only two cards in the beginning called hole cards. These cards are kept secret from the rest of the people at the table in the beginning. The remaining five cards are dealt upright in sequence by the dealer. These are for all to use in conjunction with their own pair. The goal of the round is to be the player with the five highest scoring cards or having the best hand overall. The conclusion of the game is the player that is the last person to have poker chips when everyone else has lost all of theirs. When everyone playing a round has to turn over their cards to see which is the winner, this is called a showdown. Some people will win rounds simply because they have bet so high everyone else has folded. In this instance you don't necessarily need to have had the best hand at the table, everyone else just thought so!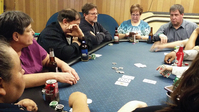 Yankton has held public Texas Hold'em games at local bars since 2008. They've played at Cheers, Rounding Third, the Landing, Happy Hourz, and will soon be at Mojo's on Monday and Friday nights starting Jan. 7th. Dawn Williams volunteered to host the leagues, and has been going strong ever since. She actually learned how to play from her husband, Terry, who's participated in the World Series of Poker main events 2015-2017. Once they married she wanted to have a league available in Yankton, so he wouldn't have to travel to Lennox or Sioux Falls. There are currently two Yankton leagues that each meet regularly one night a week. It is free for people to play and local residents have qualified to play in regional, state, and nationals tournaments. These also culminate with a chance for seats at the main event for the World Series of Poker which is usually held at the Rio Casino in Las Vegas ever summer.
Melissa has always liked cards and enjoyed playing Black Jack and Caribbean Stud. She originally learned how to play Hold'em during a visit to Las Vegas and loved it ever since. She enjoys the challenge, the camaraderie, and the opportunities to play with others in tournaments all over the country. She sometimes practices with online games on her phone during her lunch break at Welfl Construction where she is employed as an administrative assistant. In visiting with some of Melissa's fellow poker players, there appears to be as many philosophies about strategies as there are types of card games. Will Russaw, fondly nicknamed Moose, claims "I'd rather have a teaspoon of luck than a truckload of talent." Other players come from the opposite perspective and are very deliberate in their decision to go "all in" and put all of their remaining chips in for a bet, or to throw in their cards and "fold", which means to get out of that round. Melissa says she's in the middle, "conservative but she'll bet high if she has a good hand." She'd rather play fewer hands and fold, than waste chips on bad plays. If you play with the same people regularly and pay attention, sometimes you can start to read them and have hunches about whether they have really good cards. Supposedly the best first two cards to be dealt is a pair of aces, and the worst, a seven and a two. A pair of the same cards especially if they are kings, queens, or jacks are usually pretty good also.
Just like other games, there are some rules of etiquette when playing Hold'em. Besides the universal standard for courtesy, another is: "No talking from players about cards that have been shown, until the round is completely over." A third important one is "When raising the bet, be sure to do it verbally so everyone at the table is aware". An interesting focal point some of the players use at the poker table are half dollar or larger sized card protectors. These are not mandatory, but act similar in use to a paper weight. It's a fun way to show which cards on the table are actively being used by individual players. They also provide a valuable function because they keep dealers from mistakenly scooping up live cards being played, with cards other players have cast in. Protectors can also help if another player throws in their cards and they accidentally fly in with someone who is playing. If you don't have your cards guarded they can be called dead and are useless for the rest of the round. Some people use one of the poker chips from their stack or nothing at all. Dawn and Terry Williams have a collection of forty-four protectors. These can be purchased routinely at poker events. Many are given away as keepsakes for players at tournaments. These can even be ordered and customized with personal photos. Willy uses his brass military coin from where he was stationed in the Army. They come in all different shapes and sizes. Some people feel that their card protector is a lucky charm of sorts.
Most of the Yankton league players practice with free online games at sites such as Zynga Poker and World Series of Poker. They also watch the televised championships that have made superstars out of past winners. A name that comes up frequently is Daniel Negreanu, AKA the Power Kid. He is a Canadian professional poker player that has won six World Series of Poker bracelets and two World Poker Championship titles. The Williams have met Negreanu personally, and other players have said that they like him not only because of his exceptional playing ability, but also because of how welcoming and kind he is to even beginners. This is an attribute this writer has discovered is consistent while watching recent poker games with the Yankton Monday night league. As newcomers to Hold'em many are nonetheless drawn by its seeming duality of simplicity and strategy. How a player can come so close to losing all their chips, only to bounce back and be the unexpected winner at the end, or how the turn of the last community card, known as the River, can allow you to win the pot of everyone's bets is exhilarating.
All of the Yankton League players are supremely generous in answering basic questions, explaining the meanings of Hold'em jargon and sharing their advice for aspiring beginners. One of the constant refrains was to "be in it for the fun", another was "Practice, practice, practice!" Just like learning anything else the best way to get better at something, is to do it a lot. A number of regular players advocated for trying the free games online to get a sense of how to play without the pressure of face to face competition. Many of the websites give helpful information, tips, and will even show your odds, based on your cards of winning, to help in deciding how to bet. Melissa gives some sage advice for those considering whether to join a local league. It's a time commitment, just like being in a bowling, pool or dart league. "You play for yourself in Hold'em, but players really like getting to know each other and want everyone to show up consistently. It's not fair to beat the pants out of everyone one night, and never come back again." So if you are an infrequent player or have a fluctuating schedule, it's probably better to play at home or with friends when convenient instead.
Watching Melissa play was extremely helpful. She'd briefly flash me her pocket cards and give me tips, as the game progressed. When I asked Melissa what the biggest stack of chips she'd ever had or won with, she told me, "I really don't know. I don't keep exact track of my chips, it's bad luck." Melissa is soft spoken in person, but a real presence at the poker table. This writer has no doubt she is perfectly aware of all her opponents chip stacks though. For Melissa playing Texas Hold'em has been a great way to get out of the house and meet new people. It's been a way to cultivate lasting friendships and make her game even better. Playing Texas Hold'em is not purely recreational, but also a constantly evolving sport that keeps changing to remain challenging and interesting for the people who play it. For those who are playing in hopes of winning upcoming tournaments, may the cards be in your favor! For further information or questions about joining a FPN Yankton League, feel free to contact Dawn Williams at 605-661-4323.