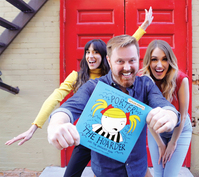 Rebecca Swift, who now lives in Bridgewater, is a makeup artist, social media director for independent films, performs in her band Trabecca, and is a mom to three, but she is also the creator and illustrator for a series of children's books called Porter the Hoarder. She works with Sean Covel, most notably the producer of the movie Napoleon Dynamite, to put these fun "read-and-find" books into small hands. Sean and Rebecca have worked with elementary schools across the state of South Dakota to put their first book, Porter the Hoarder and the Ransacked Room, in all the schools. "Porter is a great learning tool for children." With Porter, you learn counting, finding, how to sort, how to channel big emotions and that those emotions are okay. "She's such a unique character and is adored by everyone whose path she crosses."
Rebecca has been drawing since she was a kid. Her aunt Alice is cited as a huge inspiration for Rebecca. "She taught me how to draw faces, always had drawings, illustrations, and sculptures in her studio. I was fascinated by it." However, she also cites her love of Disney and animated movies as a source of inspiration. And of course, Rebecca finds inspiration in her children; Logan, Quinn, and Tommy. Rebecca also remembers doodling and drawing every day. She also remembers coming up with new characters all the time.
Rebecca's favorite book while growing up was the Little House on the Prairie series. "I never thought when I was a little girl living in Tennessee and Ohio that I would end up on the same plains of South Dakota, living in a little house in a small town being involved in the book world myself. Some full circle stuff right there!"
Porter the Hoarder is a Look-and-Find and counting book series that follows a little girl with a huge personality through different tasks and places - in her bedroom, through nature, in a grotesque grocery store, through a monster neighborhood - all in the hopes of helping her tidy up while she sorts through a wide variety of some questionable but also some really cool items. "Look-and-finds were my personal favorite when I was a kid. I had a huge collection. I was always more intrigued by pictures and illustrations and the color schemes than the words."
The character of Porter came to be once Rebecca was in her 20s and after she had children. Porter the Hoarder began while Rebecca was cleaning her daughter Logan's room when Logan was a toddler.
"I found a drawer filled with candy and wrappers and garbage and junk. She had been hoarding it and snacking at her leisure since October. This was in March." Thus, Rebecca got the idea of a little blonde character who liked to hoard things, such as garbage and candy. Rebecca had met Sean through a project and told him about her idea. "He got super excited and gave her a voice and a whole lot of personality." Rebecca's favorite part of the process is reading Sean's words and the excitement his writing gives her; the picture it creates in her head. Porter has a variety of expressions. "She's hilarious. And that sense of humor appropriately resonates with both children and adults."
Porter the Hoarder and the Ransacked Room is the first book to be released of what will be a total series of 64 books so Rebecca has no immediate plans for after. "Although I do have a side project in the works that I've written and illustrated with the help of my daughters Logan and Quinn."
Rebecca has some advice to any reader who wants to write/illustrate: "Don't be worried about silly ideas or bad ideas. Free writing and free drawing whenever possible (even if you don't think it is your best work) is always a learning experience and is so important. Just keep drawing and keep writing. Do your research to find a partner or team that is reliable and has the same passion and vision as you."