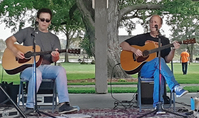 Mike Hilson and Jay Gilbertson have been popular musical staples for Yankton and beyond for well over thirty years. They have performed at countless weddings, anniversary and birthday gatherings, as well as innumerable public shows. This is an accomplishment few bands can claim. Even though they've been playing together for decades, the duo continues to expand their repertoire of songs, practice their craft and hone new skills all the time. Mike and Jay are devoted life-long musicians that consider music their full-time occupations, and true purpose in life.
Both long-time Yankton area residents, the two actually grew up only three blocks away from each other. When they were finally brought together, it was through their mutual love of guitar, at the legendary Mollet music store in downtown Yankton. Mike was working full-time on the floor at Mollet and was twelve years older than Jay, who was still in high school when they first met in 1987.
Mike had earned his Jazz performance degree at the renowned, North Texas State University in 1984, and had spent some years on the road, playing with various bands all over the country, before returning home to Yankton in 1986. Jay remembers how he'd hang around the store to get strings and check out the new guitars and amps. When he met Mike the two quickly bonded over music and became fast friends.
Jay confirms that, "Oh yeah, we hit it off right away, and he started showing me all this cool stuff on guitar. We'd just sit down and jam for hours and hours. That's how we started out."
Mike worked at Mollet for twenty years, and has fond memories of many fun evenings when the store owner, "Lanning, would let me commodore the store every Monday and Thursday after we closed, and let the guys hang out together and practice." Lanning hoped to create a loose, easy-going environment that would entice teenagers and musicians to become regulars and help drum up business as a perk. Mike laughs remembering good times and music flowing late into the night. "There were a lot of nights when we would sit and jam outside the store." They received mixed reviews, with some folks walking by and people loving the live music, while others complained about the noise to the police.
Jay was a natural with lots of enthusiasm and had been practicing on his own prior to meeting Mike. Mike recalls that while Jay was still a kid essentially, and he was still a kid at heart, they both had the mutual goal of wanting to perform as often as possible. Jay began going to gigs with the Blues Cartel which consisted of Mike, original bass player; Tom Kuecker, followed by Kevin Kathol as the second bass player and Tom Zoss on drums. Jay originally helped out as the sound technician for the band, but soon joined the others onstage as a formal band member by 1988/89.
In the following years, The Austin Buescher band was the perfect opportunity for Mike and Jay to expand and rock out at larger venues with more band members, but they were always able to tailor their music as needed to accommodate the space and occasion. They've had a great time playing acoustic sets in more cozy settings too.
When the owner of the now defunct, The Pub; Mitzi Fiedler, approached the young men with an offer for them to have a regular gig at her bar, the two men were happy to accept. "The Pub", was located in what is now the Casey's convenience store on 8th and Burleigh in Yankton. Mike and Jay were favorites until the bar closed around 1996 and was eventually torn down.
Over time Mike found himself employed in various teaching capacities, and has been an adjunct guitar instructor at USD in Vermillion since 2007. "This year we went to spring break and never came back." With the changes connected with Covid, Mike quickly adapted to holding his classes online remotely via FaceTime and Skype, which was the easiest way to do it, with most people having access to android phones. In addition, Mike is also happy to offer guitar lessons to anyone interested. He welcomes students of all ages and ranges of experience, from beginning young children to mature adult learners and everyone in between. He considers himself "an open door" and will happily accept any project in the musical realm or solo job opportunity offered.
In addition to his day job, Mike has enjoyed a long tradition of playing gigs in Pierre with a gathering of other musicians annually.
Closer to home, he's had a blast with the long-standing Austin Buescher band, which has transformed over the years with various band members phasing in and out periodically. Interestingly, Mike reveals the mystery of the band name's origin which was derived from brands of musical instruments sold at Mollet's: Austin guitars and Buescher saxophones. Mike recalls that Jay was still a kid essentially, and he was still a kid at heart when they met, and they both wanted to perform as often as possible. Even after all these years, that hasn't changed and both feel aside from the pandemic, they actually perform much more and have become better musicians. Jay shares it isn't uncommon for him to play around 130 gigs a year.
Jay likes to stay super busy filling his calendar with acoustic performances with Mike, and their occasional gigs with the electric Austin Buescher Band. He also plays with the acclaimed Rock and Roll Hall of Fame band from Hartington, Nebraska; Quazy three or four times a year. In addition he also appears with the Jet band, which includes three other musicians from Sioux Falls. Jay is also one of the Dispensers, with local band members Tom Zoss, and Kelly Lehr. Jay differentiates the types of music the bands play by describing Quazy as "having a more punkish-rock influence from entertainers such as Elvis Costello, David Bowie, the Rolling Stones and other lesser known artists from the late 70's and early 80's. The Dispensers do some rock and roll and a lot of blues rock and roll stuff, while the Austin Buescher Band is blues and jazz. Lastly the Jet band, is a little bit of everything except jazz, because it's coming from four different musicians from four different places, with different styles, and ages.
We'll play just about anything." The Jet Band is the only one that Jay is in that has a keyboard player, and this greatly expands the material a band can offer.
One of Mike and Jay's favorite things to do while performing, is to freestyle and improvise while playing well known songs. They love creating something new that has their unique sound. Whatever song they're playing, they hold a space for each other to take turns laying down the rhythm, while the other leads. This is the nature of jamming, and this is what makes guitar playing so much fun. Mike and Jay strive to make every song they play distinctive, while still sounding familiar to the crowd. As Jay tells it, "We don't want to sound exactly like the band on the record. We have the record, and want to put our own spin on it."
Mike and Jay also regularly offer live musical performances on their Facebook pages for people craving a music fix, but are leery of venturing out into public gatherings. Both men are uncertain about their fall and winter performance schedules. This summer they've enjoyed doing most of their gigs outdoor. They do their best not to mingle with the crowd and to encourage safety for themselves and everyone else. No one knows what the colder fall and winter future brings, but they're prepared to roll with whatever comes their way and always welcome inquiries through their Facebook accounts.