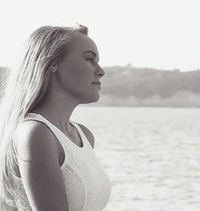 "I'll spread my wings and I'll learn how to fly. I'll do what it takes 'tilI touch the sky." These lyrics from Kelly Clarkson's song "Breakaway" couldn't better describe the path that Rachel Wood is laying for herself in the world of music.
The nineteen-year-old Yankton native began taking piano lessons when she was just three years old. "I remember just messing around onthe piano when I was little, and I'd hear a song and I'd play the melody, what I would hear," she recalls. Though the piano teacher didn't teach such young students, she agreed after encouragement from Wood's mom. Wood is thankful for the chance to learn early. Because piano is the basis of all the instruments and music theory, she feels that her early lessons have helped her significantly in her musical journey.
She later progressed to learning guitar in middle school and taught herself to play the banjo and ukulele. She was writing song lyrics as a young girl but started creating her own songs in middle school, composing music to her lyrics.
The Audition
The aspiring musician left behind Dad, Gary and Mom, DeeDee, and younger brother Elijah, and set her sights on a larger city. She's landed in Boston where she attends college at Berklee College of Music, now a third-semester student studying Voice Principal, intending to double major in song writing and performance.
With an estimated 34% acceptance rate (www.berklee.edu), just being admitted into the school is a challenge, requiring each enrollee to partake in a demanding audition and interview process. Wood took part in a world tour audition held in Denver, Colorado, where some ofthe college's teachers and coaches came to judge the enrollees.
Components of the audition included a five-minute long prepared piece, an improvisation over some music, rhythm training exercises and site reading, or singing from a random piece of sheet music where they might give you the starting pitch. The site reading progresses from easiest to hardest and she was surprised when her judge picked a piece out of the middle of the book.
She laughs, "I just biffed it." She didn't start off very well on the selected piece, so the judge stopped and selected a piece closer to the beginning of the book. She was worried that she didn't do well and felt her confidence waiver.
For the prepared piece, she chose one of her own songs and one of Taylor Swift's songs called "Never Grow Up," a fitting piece about growing up and going to college. During the audition, she felt that the Swift song might have been the wrong choice.
She laughs, "I get to the audition room they're like, these huge, built European men, and they all have accents. I can't understand them!"
Already anxious, her emotions snowballed and she started to cry during her performance of the song. Afraid she had not done very well on this routine, she was surprised when the men were very sweet as they commended her on her performance.
The nerve-wracking process wasn't over for her yet. She proceeded into the back room for the interview process where they questioned her about what musical feats she had accomplished so far, her goals and why she wanted to go to Berklee. When she wrapped this up, shehad to wait three excruciating months to find out if she made it into the school.
The Letter
Wood wasn't the first one to know if she was accepted into the school. Her parents hacked into her email and retrieved her school acceptance letter before she could even see it. On her way to high-school one morning, she came out to the kitchen to find the letter from the college on the table, waiting for her to open it. She was petrified, contemplating opening the letter for nearly ten minutes. Her talent, hard work and the grueling interview process were worth it; she was accepted. Her feelings overwhelmed her and she started to cry.
It was a mixture of emotions for her: happiness, fear, excitement, apprehension. She would be going to school where other talented, well-known artists have ventured before her: John Mayer, Charlie Puth, the drummer for the band Aerosmith and some of Pink's and Beyonce's band members. Under her excitement lay apprehension and anxiety of moving so far from home. After beginning school, she saw the talent of the other students and became intimidated, questioning her own ability.
"After I realized how many people really supported my decision, it was easier to be excited and not so worried," she reflects.
Stage Presence
Wood's musical and writing style is a mixture of the pop-rock and country genres. She explains, "I started out and I was very centered toward country but I feel like I've broadened out." During her performances, she often mixes it up between her own songs and "original" songs by other artists. She elaborates, "I don't really like the term 'original' song, because every song is an original song."
Mom DeeDee says that it's incredible to watch her daughter transform on stage. She beams, "When she gets on stage, she has so much confidence. You'd never know that she's this shy, quiet, almost timid person. But when she gets on stage she has such a big stage presence. It's really cool to see that change."
Familiar to stage appearances, Wood has performed at several festivals around South Dakota, a few appearances at the Huron State Fair and has even opened for a band in New Hampshire. After one State Fair performance, she was contacted to perform at the Country Music Hall of Fame for South Dakota in Garretson, SD. That honor was magnified when a man came up to her after her performance and told her that Shania Twain played in that same place before becoming a hit in the world of country music.
"Just to be able to be where they were, it was a cool experience," she reflects.
Boston provides Wood with many opportunities and Berklee College is a channel of connections for artists like herself. One of her favorite quotes is, "You have to go where you're appreciated, not just where you're tolerated." In the music industry, she explains, you must go somewhere where people are going to want to listen to you. Though she previously performed solo, she now has a band who has been performing with her at different venues in and around Boston. She has a person helping schedule her shows and is looking forward to performing at a big Boston music festival in September.
What's it like for Mom and Dad to see their daughter grow from a little girl on the piano to performing in concert? They both beam proudly at the question.
"Excited and teary all at the same time," says dad Gary.
While performing, Wood keeps in mind some advice she's been given. "One of my professors, Livingston Taylor, who is actually James Taylor's brother, he always says, 'Don't you dare be scared because that's being selfish and you're not going to give the audience everything that you can give them.'"
She's excited to be at the point where she can record and share her music through a connection she's made at school. A friend at school who is a MP&E Major, Music Production & Engineering, is helping her record demos that she's been sending out to different producers.
She has a Facebook page at "Rachel DeeLynn" and an emerging website at www.racheldeelynn.com where photos, music and touring schedules can be found.
Ambitions
She looks up to various role models, most of them in the music industry. She is a huge fan of country/pop artist Taylor Swift. I notice that she remarkably resembles the blonde-haired artist.
"I honestly think she's a songwriting prodigy," she states of Swift. "She was writing songs at 12 years old that could have been on the radio." She explains that it's hard to find role models in this industry that serve as excellent examples as well and Wood feels like Swift is one. She also likes Kelly Clarkson, Kacey Musgraves and Mat Kearney. She looks up to women in the entertainment industry that are vocal about what they believe in, including Reese Witherspoon, Jennifer Lawrence and Emma Watson.
"It's hard to be in the entertainment industry and not objectify yourself as a woman," she explains.
Her talents have already connected her with others in the music industry to provide more opportunities. The ambitious artist has her sights on future goals, stating, "I want to tour and I would love to get to the point where I could tour internationally." She would love to land a record deal, where you record the songs and a record company will produce them and distribute them, and has dreams of getting a publishing contract to get her music published.
Her goals are high, yet she wants to remain humble. She would like people to see her as a positive person and a good role model for others, explaining further, "I never want to get to the point where I'm not relatable."
Though she and her family have made many sacrifices for her to fulfill her dream, she explains that it is worth it. She advises others to work hard on following their dreams. "Keep going, don't give up. If you believe in what you're doing, that makes you all the more powerful. You have to want it with everything. It can't be just a hobby, it has to be your life," she explains.
The young artist shows an abundance of talent and passion for her future in the music industry, putting in hard work while never taking her eyes off her goal. It appears that she is already on her way to a promising career. She explains, "If you're doing it for the right reasons, and you really believe in what you're doing, it will come to you. It will take time, but it will come."