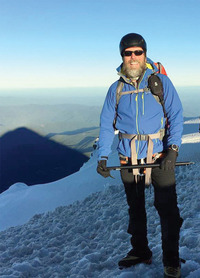 Tim James climbed a summit this past summer – an impressive accomplishment for most anyone but it's not the first for him or even the last.
In recent years, James, a Yankton attorney, and his wife Terry have become interested in mountain climbing but not in the strict sense of the word. They find the highest peak in a state and then hike to the top. Some states have peaks which are very high like Mt. Rainier in Washington state at 14,411 ft. while others like Hawkeye Point in Iowa are just a casual stroll to stand at a monument for a photo, depicting their accomplishment.
"We have always been recreational hikers and bikers, but when my wife was diagnosed with lymphoma, we decided to take another look at our life and be more active, find more exciting activities to enjoy - live a little," James said. He did an internet search looking for ideas and stumbled upon high-pointing.
This casual discovery has become a passion for the couple. Vacations and getaways are planned around high-pointing across the country.
"We choose a state, find a high point and then plan a trip around it," James said. "We find the neatest places to explore."
Of course, not all states are easy scores. That is the case with Washington. Terry chose not to complete the climb with Tim because it would be very cold and challenging. And challenging it was Tim said.
It took two attempts for James to make it up to the top of the summit.
"A climb like this takes quite a bit of planning," James said. "Along with weather conditions, a hiker has to train to make the four-day trek and also make a monetary commitment to a skilled climbing group." It's all about timing, money and finally safety.
Last year, James made the decision to go on the trip. Well in advance, he booked a spot with a tour group led by experienced climbers for June of this year and went to work. On the good advice of a friend, he purchased a bag of kitty litter and loaded it in his backpack with extra water, trying to reach a load of 40 lbs. and found some good local trails to hike over the winter months. The trek would be physically demanding and he needed to be prepared.
The Horse Trail in South Shore near Weigand-Burbach Nebraska State Recreation Area was an excellent training trail and he also hiked trails around Gavins Point Dam. Hiking at 4 a.m., James found solitude.
"You know, at the age of 57, I felt I was in good shape and had no difficulty climbing Mt. Rainier," James said.
The first climb scheduled in June ran into weather conditions which prevented them from climbing all the way to the top. The group made it to Camp Muir at 10,000 ft. at Paradise Lodge and rain, sleet, and snow in the next leg of the climb forced the climbers to quit. Messages came down telling them not to come up. Besides enduring the bad weather conditions, climbers need to be wary of slipping and falling into crevices of no return.
A spot was open in August and James took it, although he was disappointed he would miss the sight of winter and snow-covered trails going up Mt. Rainier.
"I picked that particular time of the year for the seasonal views, more snow made the route to the summit more direct," James said. "The August trek was a longer route because some of the ice areas were not as stable in the warmer weather." The group had to climb 400 ft. further up to go around a glacier and then 400 ft. back down again.
The August climb was a success andover half of the group made it to the top.
They hiked across Cowlitz and Ingraham Glaciers, leaving camp at 11 pm or midnight, climbing in the night when it wascold so as not loosen any frozen material, causing a climber to fall through the ice.
The ice bridges which covered crevices weremore stable.
All trekkers had crampons on their hiking boots and kept ice picks close athand, ready to dig into the ice to stop a fall.
They were also tethered to one another.When the 'rope up' command was given, it meant to get attached to the next guyin front. If a climber missed a foothold,the man behind could drive his ice pick below the climber's foot to stabilize him.
Another danger they watched for wasfalling material which could throw a hiker'sbalance off.
"We reached the top at 4 a.m., what a sight, what a feeling," James said. On the way down, they met two more groups headed for the summit.
The couple tackled Mt. Albert in Colorado together because it was as not as challenging as Mt Rainier. James explained it was an easier climb and no technical equipment like ice picks or tethering was needed. It was more of a gradual incline and took the couple about nine to ten hours to reach the top.
Then there was Mt. Hood in Oregon, the high point in the state of Florida, and the list goes on. This might be a check-mark on bucket list but it will take the couple a while to cross off all the destinations they have in mind. James wants to high-point all of the lower 48 contiguous states – they have hit 17 since 2014.
"The best part of high-pointing is the incredible places we see," James said. When they traveledon a deep south trip, they hit points in Arkansas, Louisiana and Mississippi. The memories that stick included driving close to the spot where Bonnie and Clyde were killed and of course, they had to stop.
Duck Dynasty couldn't be missed.
"These trips take us off the Interstate to discover wandering roads," James said. Just as the internet was useful to search for destinations, GPS devices could monitor and record elevations as well as points where a hiker was.
As they travel, the couple runs into other outdoor men and women with high-pointing destinations, curious for adventures in hiking and climbing. They have found high-pointing clubs who can be followed on the Internet and made great friends.
"The people you climb with have very similar characteristics," Jamessaid. "You become fast friends and realize you are doing something significant together." They stay in touch and follow each other's climbing adventures. They are also very encouraging and find fellowship in the satisfaction of a good climb, the achievement of a goal reached.
"I get real satisfaction climbing and I get away from people," James said. "The serenity, the scenery, natural beauty of the outdoors, there aren't words."
James admits he may have an obsession and quickly goes on todescribe the next trip this fall to states near the Appalachian Mountain Range.
"We'll be close to halfway to our goal after that trip," James said. Then he reminisces about a trip to the Michigan Peninsula and kayaking on Lake Superior – another passion the couple has taken to.