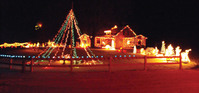 Christmas spirit can move people in different ways.
For Dan and Karen Thoene, the Christmas season is an impressive display of lights and Christmas figures plugged in the first week of December, lasting through the holiday season.
"When our kids were little, we used to drive around and see Christmas displays," Karen said. "I would just watch their eyes light up, taking in the magic of the season, and I told them someday we would do that."
That day came in 1989 when Dan decided to make a star with broomsticks and lights, measuring 10 feet from point to point.
He hung it up on a silo on their farm place north of Hartington for everyone to see. Crowd appeal encouraged him to do another decoration the next year. The couple had just erected a machine shed and it seemed the perfect place to move the star and place a nativity set below.
"The first few years the kids loved it but then they started to moan when the season came close, 'why do we have to do this' – Mom's getting crazy," Karen said.
Moving the star meant something else had to hang on the silo so Dan welded an angel, 12 ft. wide. Next came a Christmas tree on ashed by the silo.
That small start almost 30 years ago has evolved into dozens of Christmas figurines and hundreds of lights. Karen admits she has over 20 Santa Clauses alone and then there are angels, soldiers, snowmen, elves, Snoopy, Mickey and Minnie Mouse and choir people to add to the display.
"Until the last few years, I put up all the decorations myself and there were times when I was on the roof, I wondered how far could I fall and if I would get hurt," Karen said. Now the kids and grandkids make it a point to help Grandma. When the family gathers for Thanksgiving, Thoenes' seven children and several of the 13 grandchildren, old enough to help, each take a Christmas project area and go to work. Grandma thinks it's kind of nice even though it's not exactly like she wants it.
Every year Karen polls the family members, asking them for new ideas or different display sites. The only pieces which are always in the same location are the angel on the silo, the nativity on front of machine shed, a Christmas tree on a small shed by the silo and a large poinsettia, hanging on the garage.
Today, from one end of the Thoenes' farmplace, east to west, Christmas illuminates the dark winter evenings. The 400 feet of white fence on the front of the property is lined with strings of Christmas lights but they are not hung haphazardly. Karen tapes each individual bulb so it stands up and laughs as she describes it as very tedious work, taking four hours. Last year she changed the strings of lights to the LED version and Dan pointed out he didn't think they were as bright in the night, noticing the bulbs were closer together but smaller and wants her to go back to the traditional strings of lights. She always takes suggestions and is weighing the idea as she gets closer to this year's season.
Starting on November 1, Karen starts the decorating process, especially working on the most tedious jobs first when the weather is still somewhat warm. By doing something every day, she makes her deadline for the start of December. Dan even designed a tool she could use to hang lights on the garage from the ground.
Collecting the vast assortment of figures doesn't happen overnight. Karen started by going to garage sales and watching for auctions which listed Christmas decorations. She favors blow-mold figures as they are easy to set up and is not very fond of plug-in, blow-up Christmas critters. She remembers coming home from one auction with one particularly nice Christmas decoration which she paid quite a chunk of change for.
"You go to those auctions and kind of get caught up in the bidding and all of a sudden, I realized how high I was bidding," Karen said laughing. "I really, really wanted that piece." To this day Dan doesn't know what she paid – well maybe until now.
Some of the items she has accumulated are very old but still work well and add to the Christmas magic. Other pieces were given to her by people who didn't decorate anymore.
"They often said it made them feel good to drive by and see their pieces in our display," Karen said. The couple receives so many compliments about the display and throughout the year people stop them and ask if they are putting up the display again. They enjoy the traffic which slowly drives by to catch all the pieces which light the night. Recently, one car stopped and the visitors got out and walked through the display, enjoying the sights on a peaceful night and last year a bus load of elementary students stopped to walk through the display with Karen.
One year Dan built an archway across the driveway only to find the UPS truck did not fit through it and deliveries had to be walked to the house that season. They didn't do that again. Karen also incorporates patriotic pieces in her display to honor veterans and patriotism like a lighted flag and flags for the elves because their candles have long since disappeared.
The Thoenes' neighbor, Terry Hagan has gotten into the swing of the season by adding some lights and candles which lead down to Hwy 57 with a solar-lit Christmas tree on the corner. He gets help from his mom who searches garage sales in Yankton. He also set out a container of candy canes for visitors who stop to look.
West of the Thoenes' house is a large area which remains open, decorations along the back by the silo. For years it has been the family football field and there's always a game going on over the holidays. But this summer the Thoene boys have been wondering if they are getting too old for those fun times and are considering starting a target-shooting family contest.Karen, with a gleam in her eyes, quietly said, "Yes." Another wide-open area to fill with more Christmas ideas, decorations and displays. Dan has been very helpful over the years, arranging electrical hookups and boxes for all the cords in various buildings so it's easy for her to flip the switches around 4 pm every evening to start the Christmas show and then flip off about 10:30 pm. She also checks all the displays quite often during the season to make sure everything is working.
The seasonal lighting display ups the couples' electrical bill $150 but Karen is quick to add it's not about the money. "If I can put a smile on someone's face for Christmas or someone tells me it puts them in the Christmas spirit, that's why I do it," Karen said. Those are the thoughts Karen has when she's out digging decorations out of snowbanks or checking the flags each elf holds. Somebody has to do it.
The Thoenes will never be computerized and Santa and his reindeers with a sleigh will not be going on the roof again. Last year's gale-force wind storm on Christmas night flew Santa right off the roof to land in the yard near the house and that won't happen again. Karen knows there are several other pieces which were damaged and need fixing before being plugged in.
But first, Karen has just a few Halloween decorations which her grandkids need to help her put up – just a few she adds with a smile.