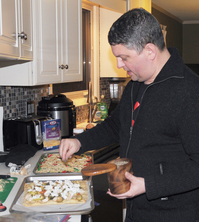 When it comes to his Super Bowl party, Steve Huff's guests may find it difficult to focus on the game.
That's because the Yankton attorney and "foodie" is planning a feed that goes beyond the typical munchies dumped in a bowl.
Huff believes the Super Bowl spread should match the special atmosphere surrounding the big game.
"Super Bowl food should be easily accessible for your guests," he says. "They should be able to pick up their food and gather in the kitchen, the living room or wherever they want."
The Super Bowl food should reflect the fun and activity surrounding the game, he says. The event has become popular not only for the game, commercials and halftime entertainment but also for the food and friendship.
"We have holidays like Thanksgiving, Christmas and New Year's. Those holidays are prim and proper," he says. "With the Super Bowl, it's about Americans getting together for a good time. People like a party atmosphere. It's all fun and no pretense."
In fact, Huff decided one specialty food isn't enough for his Super Bowl guests.
"I'm going with two items," he says. "I start with smoked blue corn nachos with marinated flat irons (steak) and a strong side selection of Dimock cheese. But I'm also making a flatbread pizza."
Why those two items? They fit Huff's definition of good Super Bowl food.
"Nachos and pizza are favorites because they're finger foods," he says. "People can grab what they want and take the food with them around the house. The steak nachos and flatbread pizza are also tasty and filling, but you don't feel weighed down."
Game Day Preparation
Just like the Super Bowl players, Huff will enter the game fully prepared. He has fine-tuned both the nachos and pizza, including a practice session with a Press & Dakotan reporter.
When it comes to food preparation, Huff keeps several balls in the air. He's very organized, with ingredients prepared and pre-cooked ahead of time or at least with a head start.
That includes marinating the meat, shredding the cheese, slicing up the vegetables and laying out the flat bread.
"I started marinating the steaks before you got here," he tells the P&D reporter. "It usually takes about 45 minutes to an hour."
Once things are in place, everything rolls along with ease. The entire cooking and grilling process takes about an hour.
Making The Meal
Good food doesn't mean spending large amounts of money on hard-to-find items, Huff says. He buys his products from Yankton establishments.
"All of these items are affordable and available locally," he advises. "You can get all of these items at Hy-Vee (supermarket), but you may need to look for certain sections or shelves. As for the meat, I like to get mine from Steiner's Locker (in Yankton)."
Meat needn't be served naked, Huff says. He offers suggestions such as scallions and bleu cheese.
With his oven full of other food, Huff takes his steak to the back yard for grilling. The grill's warmth and smoke provide a great feeling on a chilly evening.
Ever prepared, he owns more than one grill. A second grill comes in handy, as the original fire goes out and Huff switches to his second grill as a fallback plan.
Huff returns to the kitchen and checks on the work under way in the oven.
"Come here, baby!" he says as he pulls the food out for a look.
The sight pleases him tremendously. "Oh, this is wonderful! You're looking marvelous!" he responds.
Huff's wife, Tracy, arrives on the scene. At first, she joins out of curiosity. Then, she checks out the food and becomes an official sampler. She quickly nods and expresses her approval.
"This is really good! This is some of the best food that you've made," she tells her husband.
Huff exits the kitchen to check the steak, making brief stops in the family room to watch the National Football League (NFL) game on television.
He returns with a beautifully finished plate of steak.
"You have got to try this!" he said, cutting off a piece of meat for the reporter.
The steak just melts in the mouth. Much of Huff's work from the grill never makes it atop the nachos.
The Right Ingredients
For Huff, any successful meal starts with quality food. He provides a checklist of his preferences for each ingredient.
"For the nachos, I like the flat iron steaks because they cook quickly," he said. "We're going to give the steaks a Canadian rub with garlic and black pepper. The rub makes it zesty."
Huff serves up a platter of nachos with a different meat while waiting for the steak to finish grilling.
"I use andouille sausage," he says, referring to a smoked pork sausage often used in Cajun dishes.
The meat receives loving attention, but Huff advises against skimping on the chips. Whatever is chosen, the chips provide more than a crunchy bed for the toppings.
"Any type of chips, like Tostitos, will do, but I like the white and blue corn," he says. "I particularly like the blue corn. It's lower in salt and provides a dark color for the background of the nachos."
Huff points to the bed of blue chips topped with food of contrasting bright colors, pleasing to the eye as well as the palate.
When it comes to cheeses, Huff likes the varieties made at the Dimock dairy plant. Dimock, a town of about 125 residents located between Parkston and Mitchell, is well known for its cheeses, which are found in most groceries.
"I like to purchase locally-made products, like the Dimock cheese," he said. "I also think the cheese is richer. I like buying a brick of black pepper cheese."
Huff continues his work on the pizza. He coats the flatbread with olive oil, first deciding between the virgin and extra virgin varieties.
The flatbread contains a number of advantages for the pizza, he notes. The bread contains the right size and texture, along with good nutrition and fewer calories.
The flatbread also doesn't stick to the work surface, Huff says, easily pulling up the bread from the counter.
"I use Pillsbury dough for the crust. You can get pizza dough for $2.50 to $3," he says. "It serves four adults, possibly six, depending on the ingredients and how hungry everyone is."
He fills up the flatbread with a variety of toppings, including carrots, brussel sprouts and smoked chicken.
This is definitely one way to get your meat, vegetables and bread all in one delicious bite.
He uses goat cheese for the flatbread pizza.
"It's very flavorful and very impactful," he says. "It also makes for a good presentation, and it has a low melting point."
The steak nachos and flatbread pizza combine flavor and nutrition, he says. They also require less time in the kitchen and can be prepared ahead, freeing up the hosts to spend time with their guests.
Then again, it may prove difficult to keep the guests away from the kitchen. The aroma and festive appearance are sure to lure hungry guests who are craving the finished products.
The Spice Of Life
When it comes to his food, Huff prefers something with bite and zip. He revels in using a variety of peppers and spices.
Don't expect bland offerings, especially for the Super Bowl party. Make sure you have water or another beverage at hand when digging into his culinary work.
When it comes to zest, Huff holds a particular fondness for sriracha and gochujang.
Sriracha, named for a region in Thailand, is a hot sauce made from a paste of chili peppers, distilled vinegar, garlic, sugar and salt.
Gochujang, which has Korean origins, is a red chili paste containing glutenous rice, fermented soybeans, salt and sometimes sweeteners. The paste appears thick and sticky.
In addition, Huff recommends Bee's Knees Spicy Honey, a sweet and spicy mix of chili peppers and honey. He also likes chipotle kafe, a red salsa with fresh roasted peppers, tomatillos and a rich coffee finish.
While he's partial to a kick in his food, Huff remains mindful of his guests' various tastes and their dietary and health needs.
"I do have friends who tell me about anything special that they need," he says. "I can do gluten-free, vegetarian and even vegan."
Huff admits he doesn't write down recipes. Besides his own experimentation, he has learned a great deal from "Chef Staci" at Hy-Vee.
Whatever the food, Huff tries to offer beverages for any tastes. He finds that people are experimenting and trying a wider variety of potent potables.
"You're seeing more and more craft beers. And there are many good wines, both red and white, which are great complements for food," he said. "You also see a large number of people who enjoy cocktails."
As far as libations, he notes popular drinks such as a Manhattan or a Negroni.
What about those who don't partake in alcohol?
"We have a sparkling grape juice," he said. "Welch's is good, and you can add some carbonation to give it that fizz."
The drinks aren't the only colorful part of the beverages. Huff enjoys creating unique ice cubes filled with aronia berries — a type of red chokeberry — or dragon fruit, a cross between a kiwi and pear.
Master Chef
Huff's culinary pursuits give him a creative outlet, particularly after a long day in court or at the law office.
"I need a release," he says, continuing his vigor in the kitchen.
Huff can handle quantity as well as quality. "I have 15 racks of ribs waiting to be done," he said.
But that's far from his largest challenge. He offered up a meal for bidding at a fundraiser. The winner of the meal gave a call one afternoon, asking for a larger meal than originally planned. The man requested 40 Porterhouse steaks — for that evening.
Huff admits he was taken aback. "I told him, 'Dude! It's 2:30 in the afternoon, and you want 40 Porterhouse steaks by tonight?'"
However, Huff was up to the challenge. A few hours later, he gave his friend a truly memorable steak dinner for the large gathering.
"When I make a meal, some people tell me to be creative and surprise them," he says. "Others want it planned carefully."
However, all of his planning for the upcoming Super Bowl party may be for naught. One development could force cancellation of this year's party.
"With the Super Bowl in Minneapolis this year, I want to go if the (Minnesota) Vikings or Pittsburgh Steelers get in," he says. "Even if I don't have tickets, I just want to be there for it."