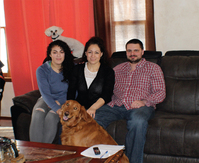 Though Maria Beekley has been in the United States for thirty years, showing her children the culture and traditions of her native Mexico is important to her. Maria, her husband Chris and daughter Alejandra Rubio warmly welcomed me into their home to talk about the family's Mexican traditions and sample one of the many delicious dishes Beekley prepares.
Maria was born in Jalisco, Mexico, and grew up on a ranch with her four brothers and three sisters. The small homestead consisted of seven houses of family members and Beekley helped with many of the chores. Her parents raised cows, horses, pigs, chickens and ducks and grew crops of peanuts, corn, beans and maguey, a plant used to make tequila. The maguey plant was only grown in Maria's area in Mexico.
The family moved from the ranch to a town in Mexico approximately the size of Yankton, SD when Beekley was twelve. It was at this age that Maria would no longer continue her education and instead help with taking care of the home. From age 12 to 16, she also experienced working in the community and what life was like outside the home.
Deciding that she wanted to explore more options than helping on the family farm or working in Mexico, at age 16 she made an impulsive decision to come to the United States to see what life had to offer. She and her two-month old daughter arrived with others in Los Angeles,
California. She later had a second daughter while still in California.
She emotionally recalls her journey to the United States. Leaving home with one change of clothes in a backpack, her family and belongings left behind in Mexico, she didn't know if or when she would see them again. She explained that at that age, she thought life was venturing out and finding your own path.
"We all just have to pick up our wings and fly," she explains.
Not able to comprehend the fear and anxiety that she encountered on her journey, I asked if it was scary for her. "When you're younger, you don't fear things as much as you probably should," she laughs. She explains that it was nice to experience something new at that age, and California was entirely different than the small Mexican town where she grew up.
She then moved to Sioux City, Iowa, where she met and married Chris and added a son to their family and later moved to Yankton where they have lived for the last five years. That young, fearless adventurer did very well for herself, now having a great family, good job and beautiful home. During her time in the United States, she endured the residency and citizenship process, which took approximately two years. She explains that she believes the amnesty at that time helped speed up her citizenship process. She studied for the citizenship exam during the four months given and passed the challenging exam.
A firm believer in passing on the Mexican culture to her children, she often cooks native dishes and keeps up with her customs. She has passed on a few recipes to her daughters, though daughter Alejandra admits that she's still learning and doesn't cook nearly as well as her mom. While Maria makes many simple yet delicious meals such as tacos and burritos, she also spends time making some of the more complicated ones which involve many steps in preparation.
When I asked Alejandra what her mom is best at making, there was no hesitation.
"Her tamales. I don't think I've ever tried any tamales like hers."
Chris nods in agreement. They explain that when they make tamales, they make approximately 600 of them at a time for various purposes.
The process to make these incredible tamales is extremely long, requiring them to start around 4:00 AM and finally finishing around 2:00 PM.
Many Mexican dishes are simple, Maria explains. Much of the meat and ingredients can be used in a variety of combinations. For example, cooked pork or steak meat can be used in a burrito, a torta or a taco. It can also be used to make a bagel sandwich. They most often use beef, steak or pork and add onion and garlic to the meat while cooking.
Most ingredients Beekley uses are easily found in this area. Alejandra explains that she has noticed that her mom has begun to "Americanize" her menu a bit, substituting flour tortillas for corn tortillas and incorporating ground beef.
Chris explains that a custom for Maria's family is celebrating large and small special occasions with parties and gatherings. I asked if they celebrate Cinco de Mayo and Chris explained that Maria is not accustomed to the holiday as it's celebrated mainly in one state in Mexico.
Maria feels fortunate to be able to visit her remaining family in Mexico on an annual basis. Though her parents are now deceased, her four brothers, who have visited her in the United States, and extended family still reside in Mexico. Her sisters are all living in the United States, all having made the journey around the same time frame. She explains that it's nice to visit everyone at home, but she is glad to be living in the United States.
Maria discusses some of the biggest differences she sees between Mexican and American culture is that here, there's always the pressure to be places at a certain time and many people are always occupied with their phones. Her Mexican culture is more laid back, explaining that it's often not so much about a schedule as just coming when you are able to make it. She also feels that her homeplace is more familyoriented but explains that it could be because much of her family lives there.
Maria feels that there are more opportunities for her and her children in the United States. She feels an advantage she has given her children was the opportunity to obtain experience with both English and Spanish languages and being able to fluidly switch back and forth between the two. Their two dogs, Nala and Paloma even know commands in both languages, showing me their knowledge of "treat" and "sit" as I watched, fascinated. Maria enjoys being in the United States and is glad that she made the decision to come here. She's happy that Chris can also experience her Mexican culture during their visits, explaining that visiting a small farm in Mexico is a much different experience than visiting a vacation resort.
After the interview, the family welcomed me to their table for delicious Sopes. The meat and ingredients used in this dish can also be used to make tacos or burritos. Maria had pre-made the Sopes "bowls," which were basically a small tortilla shaped into a tiny bowl. I watched as she fried the little bowls until crispy and I added my selection of meat, beans and toppings on top of the little tortilla. The meal was extremely delicious and enticed me to try it at home, though I know it won't be nearly as tasty as hers.
It's interesting to learn about other cultures and compare their traditions with our own. Doing this makes you really appreciate living in the United States, where so many have given us the freedom to share and carry out our individual traditions. Beekley has shared with us a few of her favorite recipes, listed below.
Sopes
Ingredients:
• Vegetable oil (to fry the tortillas)
• Maseca Instant Corn Masa flour
Toppings:
• Queso fresco
• Shredded chicken or Steak, cooked to your liking
• Lettuce
• Sour Cream
• Salsa
Instructions:
Maseca and water are mixed per packaging instructions. Small, thick tortillas are made and fried to your liking.
(You can also find pre-made Sopes bowls in some stores, usually near the tortillas). Either shredded chicken or steak can be used for topping.
If steak is used, simply cut up into small pieces and season to your liking. Once thick tortilla is fried, it is topped with choice of meat, shredded lettuce, sour cream, queso fresco, and salsa. This is a very simple dish, yet very tasty.
Posole
Ingredients:
• 3/4 cup dried chiles de arbol
• 4 or 5 dried ancho chiles
• 6 cloves garlic (2 smashed, 4 finely chopped)
• Kosher salt
• 2 pounds boneless pork shoulder, trimmed and cut in half
• 2 teaspoons ground cumin
• 2 tablespoons vegetable oil
• 1 large white onion, chopped
• 8 cups water
• 1 tablespoon dried oregano
• 1 bay leaf
• (3) 15-ounce cans white hominy, drained and rinsed
• Diced avocado, shredded cabbage, diced onion, sliced radishes and/or fresh cilantro, for topping
Directions:
Break the stems off the chiles de arbol and ancho chiles and shake out as many seeds as possible. Put the chiles in a bowl and cover with boiling water, weigh down the chiles with a plate to keep them submerged and soak until soft, about 30 minutes. Transfer the chiles and 1 1/2 cups of the soaking liquid to a blender. Add the smashed garlic and 1/2 teaspoon salt and blend until smooth. Strain through a fine-mesh sieve into a bowl, pushing the sauce through with a rubber spatula; discard the solids.
Rub the pork all over with the cumin and 1/2 teaspoon salt; set aside. Heat the vegetable oil in a Dutch oven or pot over medium heat. Add the onion and cook, stirring occasionally, until soft, about 5 minutes. Add the chopped garlic and cook 2 minutes. Increase the heat to medium high. Push the onion and garlic to one side of the pot; add the pork to the other side and sear, turning, until lightly browned on all sides, about 5 minutes.
Stir in water, oregano, bay leaf, 1/2 teaspoon salt and 1/2 cup to 3/4 cup of the chile sauce (depending on your liking). Bring to a low boil, then reduce the heat to maintain a simmer. Partially cover and cook, turning the pork a few times, until tender, about 3 hours.
Stir in the hominy and continue to simmer, uncovered, until the pork starts falling apart, about 1 more hour. Remove the bay leaf. Add some water or broth if the Posole is too thick. Season with salt. Serve with assorted toppings and the remaining chile sauce.
Carne Asada Tacos
Ingredients:
• 3 pounds flank steaks
Marinade
• 1 teaspoon salt
• 1 teaspoon ground black pepper
• 1 teaspoon garlic powder
• 1 teaspoon ground cumin
Onion Relish:
• 1 white onion or purple, chopped
• ½ cup chopped fresh cilantro
Taco Garnish:
• 1 (32 ounce) package corn tortillas
• 2 limes, cut into wedges
Directions:
• Lay the flank steak in a large glass baking dish. Season with salt, black pepper, garlic powder, and cumin. Whisk marinade until well blended, then pour over the steak in the dish. Turn over once to coat both sides.
• Heat vegetable oil in a large skillet over medium-high heat. Cut the marinated flank steak into cubes or strips. Cook, stirring constantly, until the meat is cooked through and most of the liquid has evaporated.
• Now the onion relish: In a small bowl, stir together 1 chopped white or purple onion and cilantro. Set aside to use as a relish for the tacos.
• Warm the tortillas in a skillet for about a minute on each side. Arrange two or three tortillas on a plate and lay a generous amount of beef over them. Top with a sprinkle of the onion relish and salsa. Garnish with lime wedges and serve.