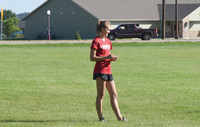 On a July evening, the Yankton Flames U-12 boys' soccer club was going through drills, preparing for the final tournament of the summer. The players go through their paces, working on ball-handling, conditioning and other aspects to be ready for one more weekend of matches.
Two coaches were directing them.
One is a parent of one of the players, a common occurrence in youth sports.
The other is a girl, just two years older than the players and with no familial ties to any of the players.
The sophomore-to-be at Yankton High School has spent the better part of a year helping Kary Gregoire coach the team of one of his sons. At this point, he considers her a co-head coach.
"Basically she's taken it over," he said. "She does quite a bit on her own."
'Soccer Has Been My Life'
Rust first began playing soccer at the age of 4. By the age of 9, she was on her first club team.
"Soccer has been my life, my passion," she said. "Basically my whole life has been soccer, lifting and running for conditioning."
Besides soccer, Rust has been into running. She had been a part of Yankton's cross country team during middle school, even competing for the Gazelles during the state meet in 2016.
That all changed on Dec. 16, 2016.
Rust was playing with the Yankton Blaze, a boys' soccer club in her age group, during an indoor tournament.
"It was an important game. It decided if we got into the championship or not," Rust said. "Another player and I were going for the ball, our legs got caught up and my knee caved.
"I knew it was an ACL (anterior cruciate ligament tear) right away."
Rust had seen some of Yankton's older soccer players — like Becca Moser and Jenae Osborn — go through ACL injuries. In fact, Rust borrowed an ice treatment device from Moser when she returned from the tournament on the day of the injury.
The injury to her left knee, though, was more severe than expected. Besides the torn ACL, she tore the medial and lateral meniscus, partially tore the medial patella femoral ligament and sprained her medial collateral ligament (MCL).
"It was definitely tough to hear. I thought it would be a simple ACL," Rust said.
Unfortunately, it was only the beginning.
In July, her knee buckled again due to a medial meniscus injury. A few months later it happened again, this time resulting in cartilage damage to the tibia.
Rust continued to work through the rehab process with each. By this past June, she was went in for another MRI due to pain. At the time, the doctor suggested the pain could just be joint calcification and treated her with lidocaine.
"They told me, 'Go out, run, play soccer, do whatever and see if it hurts. If it still hurt still, it was the joint, but if it didn't, it was the calcification,'" she said. "So I got home and went for a two-and-a-half mile run. I was feeling great, everything was going great. I had this nice runner's high and was having the time of my life.
"In the middle of my run, my mom calls me."
Rust did not take the call at the time. When she got home, her mom told her the bad news. The knee was again injured.
"They said to stop whatever you're doing and get off your feet," Rust said, recalling the phone conversation with her mother, Lori. "I went from this really good runner's high to this really low point, and I started crying."
Of course, the teen didn't go directly to the couch.
"She still said, 'The lidocaine's in my knee. I'm still going to shoot on net, mom,'" Lori said.
At this point, the process of healing her knee continues. Lexi wears a special brace, and her family is pursuing potential options to help the knee heal.
"She is too young for a knee replacement," Lori said. "Most knee replacements last only 20 years and most second knee replacements don't take as well."
Coach Rust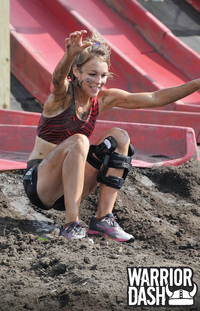 When she first suffered the knee injury, Lexi was focused on recovery. But her mother knew she would need something to fill the gap left by not playing soccer.
"My mom realized that there are going to be mental and emotional effects, too. Soccer's been my life, and it's part of who I am," Lexi said. "To go from soccer all the time to no soccer, it was definitely going to be a change that I was not ready for."
Lori talked with Gregoire about the possibility of having Lexi help out.
"It was a pretty seamless transition," Lexi said. "Kary also coaches the Flames, and their practices were right before our practices. I still had practices on the same days. I still went to the same tournaments. It was pretty smooth."
Lexi made her tournament coaching debut just a week after her first knee surgery.
"It was painful. I'd be on my feet all day," Lexi said. "But it would have hurt a lot more to have not been coaching, to have been doing nothing."
Both sides were unsure about the arrangement at first.
"I was really nervous at first, because I didn't know how they were going to respond to me being only a couple of years older than them," Lexi said. "At the beginning, I kinda stood back, watched how Kary coached, helped out if he needed help.
"As I got more comfortable around the boys and around Kary, I started to use my voice."
For the players, there was an adjustment period as well.
"Before, they would look at me when she said something," Gregoire said. "Now they know to do what she says."
From helping out, Lexi has progressed to planning practices for the team and coaching them in tournaments. When Gregoire is not available to be on the sidelines, another parent has been with Lexi on the sidelines for matches.
As a coach, Lexi has a "laid-back" approach, according to Gregoire.
"She doesn't get excited about too much. She never yells at the boys," he said. "You can tell she likes to be around it."
Earlier this summer, Lexi even got the traditional "coach" treatment of getting doused with water after a tournament victory.
"It was the Norfolk tournament, and we had just won," she said. "One of those boys started it, and they all dumped water on me.
"It's a lot of fun when they feel comfortable enough to join in like that."
Moving Forward
Lexi has done her best not to let the knee injuries slow her down, even following through on a decision to compete in a "Warrior Dash" obstacle course race that she signed up for with friend Aly Fedde before the second knee injury. She did not run the course due to her injury, but she did handle the obstacles, Lori said.
"Lexi did jump over the fire and climb the walls because the adrenaline masked the knee pain," she said. "It was so worth it. They met some great people from Gretna, Lincoln, Omaha and McCook, Nebraska. The hills and trees along the trails were breath-taking, and everyone there was in a great mood and covered with mud."
She plans to continue her coaching career as she completes high school, and possibly college, but is currently looking at a career in the medical field. Until then, though, she plans to remain on the sidelines.
"I know I could sit around and get pretty down about all this knee stuff," she said. "But I go to practice, and they're teasing me and it's light-hearted, and it just kinda brightens my day."